Will the Pirates actually demote Gerrit Cole back to Triple-A?
When the Pirates' rotation gets completely healthy, will stud rookie Gerrit Cole be demoted to Triple-A? GM Neal Huntington says it would be good business.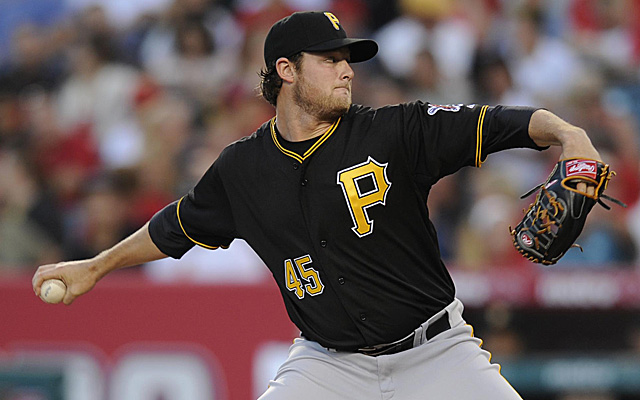 More MLB: Scoreboard | Standings | Probable Pitchers | Sortable Stats | Odds
Pirates rookie starting pitcher -- and former No. 1 overall draft pick -- Gerrit Cole has looked very good through three major-league starts. He's 3-0 with a 3.44 ERA and 1.04 WHIP, and last time out he lit up the radar gun to the tune of triple digits on several occasions.
Still, once the Pirates' battered pitching rotation gets healthier, it sounds like Cole is the man who will be sent back to Triple-A.
Jeanmar Gomez is returning from the disabled list to start Wednesday. He has a 3.26 ERA in seven starts but could also be used out of the bullpen, where they could certainly use the depth.
Wandy Rodriguez is currently on a minor-league rehab assignment and is obviously going to rejoin the rotation permanently upon his return. When A.J. Burnett recovers from his calf injury, he's also a sure bet to remain in the rotation for good.
Francisco Liriano and Jeff Locke are in the rotation and certainly aren't going anywhere either. So unless the Pirates move both Gomez and Charlie Morton to the bullpen, Cole will be squeezed out of the rotation and sent back to Triple-A Indianapolis.
Aside: Don't worry about James McDonald; he suffered a setback (post-gazette.com) and he may be out for a while.
General manager Neal Huntington seemed to confirm on his radio show Sunday that Cole will be headed back to the minors, saying the move would make "smart business sense." (via post-gazette.com)
But would it?
The Pirates claim they aren't worried about Cole's service time, so it's possible there's a workload concern. Here's what Huntington had to say on the matter -- also interesting because it seems a veiled jab at the Nationals and their handling of Stephen Strasburg last season:
Huntington: "Part of our development plan is to build guys accordingly so that when they get to the big leagues they are hopefully in a (1/2)

— Travis Sawchik (@Sawchik_Trib) June 24, 2013
"..position to log the innings without the media attention that some have gotten. We'll let you know if he ever gets to his workload." (2/2)

— Travis Sawchik (@Sawchik_Trib) June 24, 2013
With Cole in the minors, the Pirates would have the ability to keep his innings down without overworking their big-league bullpen or worsening their chances at winning. And then -- all speculation here -- maybe he could rejoin the club later in the season more free to rack up the innings in September and maybe even October.
Cole threw 132 innings in his first professional season last year (across High-A, Double-A and Triple-A). This season, he's at 86 1/3 innings (68 in Triple-A, 18 1/3 in MLB). Even if the Pirates are going to be liberal and allow him to tack on an extra 50 innings, he's already less than 100 from hitting that limit.
With the way things are going for the Pirates, it appears they'll be able to use Cole in meaningful innings down the stretch and maybe even in the playoffs. Given the amount of pitching depth they have, maybe it really does make good business sense to send him down and keep his workload under control.
Still, it's going to be awfully gutsy to make such a move if Cole continues to throw well and improve at the big-league level. Just imagine the Pirates sending down a dominant starting pitcher while in the midst of their best season since 1992. If nothing else, it just feels wrong.
Gallardo spent the first eight years of his career in Milwaukee

MLB revenues are at a record high right now, but teams aren't spending it on players

Chicago added Tyler Chatwood earlier this offseason but might not be done adding to the ro...
The Dodgers and Braves pulled off a whopper on Saturday

Sabathia will reportedly spend a 10th season in the Bronx

Fowler suffered a knee injury at Chicago's Guaranteed Rate Field