Will Thursday's debacle be the low point for 2014 Red Sox?
The Red Sox were blown out Thursday by the Yankees. They also committed five errors and needed to use a position player as a pitcher in the ninth inning.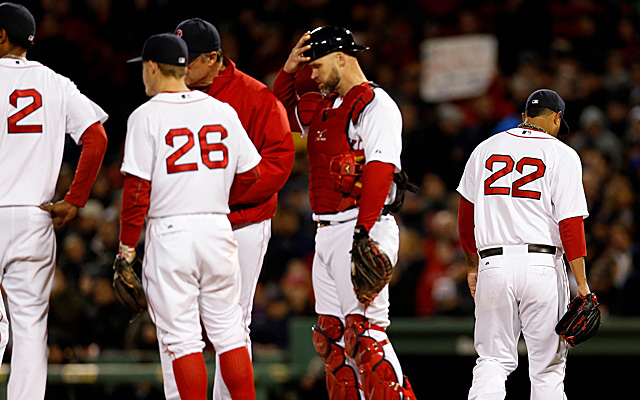 More MLB: Power Rankings | Expert Picks | Latest news & notes | Fantasy news
First things first: The Boston Red Sox are only three games under .500 and 3.5 games out of first place. That's the type of thing a series or two can solve.
Still, they haven't looked particularly good for a stretch all season, but they have looked bad in several stretches. Thursday night, they concluded a series loss to the arch rival Yankees (again) and looked utterly pitiful.
Starting pitcher Felix Doubront was knocked around the yard and chased from the game before even finishing the third inning. The defense kicked the ball around Fenway Park, ending with five errors. Reliever Craig Breslow was destroyed for five runs (only four earned, of course, because of an error) in just one inning of work.
Oh, and position player Mike Carp had to pitch the ninth inning. He'd walk five, but not many batted an eye after the carnage that had just ensued.
When the dust settled, the Red Sox had now lost five of seven games against the Yankees this season by a combined tally of 39-24. The interesting thing here is that through seven games last year, the Red Sox had won five by a combined tally of 36-17. So, thus far at least, the Yankees have flipped the script on the champs.
As we seem required to say during the second-to-last week of April, yes, it's still early. It's real early. The Red Sox still have 139 games left to play. So they've completed just 14.2 percent of their season.
On the other hand, they haven't played well at all and there were some key losses from last year's club.
So will Thursday's abysmal performance be the low point of the season?
I'm inclined to say yes.
The Red Sox had a lot of things go their way last season and, generally speaking, that type of thing is hard to replicate. They also have a massive downgrade in center field now that Jacoby Ellsbury departed.
Still, things are going to get better. Dustin Pedroia is going to hit much better and with Shane Victorino back, the top two in the order will start being a lot better about being on base for the big boppers in the middle.
Having Victorino back in the order everyday will make it easier for John Farrell to better matchup Jonny Gomes and Daniel Nava in left field and also help him better juggle Grady Sizemore and Jackie Bradley in center without having to worry about who will be in right. All four of those guys are capable of hitting better and if put in the proper position, they probably will. Will Middlebrooks is set to return from the DL, so maybe he can provide a spark.
From there, the offense should start to work itself out and that's mostly been the big problem. Felix Doubront and Clay Buchholz have been terrible in the rotation, but they're capable of better.
In all, the Red Sox need to put Thursday's beating in the rearview with the rest of their poor start. There's plenty of talent here and we know they're mentally tough after last season. And it's still early.
The World Series champions aren't complacent

Stanton swiped at his old team on his way out

Your one-stop shop for all things MLB Winter Meetings-related
Matt Harvey could be on his way out of New York

The Nationals are looking to improve on the edges of their roster

Ellsbury is due at least $68 million over the next three seasons