Win or deal? It's time for the Phillies to be honest with themselves
The Phillies say they don't want to rebuild, but can they really contend this year or next year? They owe themselves an honest answer.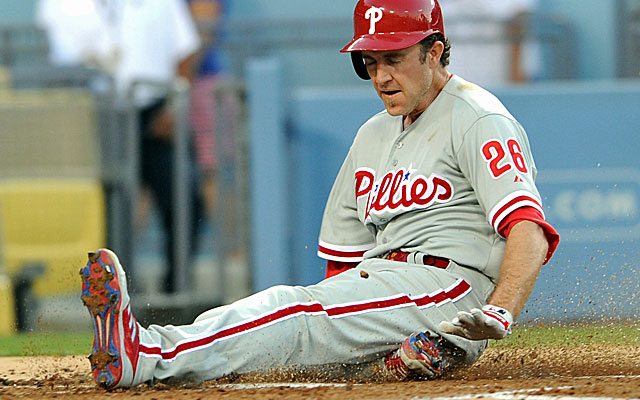 LOS ANGELES -- The Phillies don't need to be honest with us. They do need to be honest with themselves.
Are they a playoff team this year? Can they be a playoff team next year?
Can they recreate the magic of 2008, or is it time to start thinking about the magic of 2018?
Do they still believe in this group of players, or is it time to sell off their many marketable pieces (Cliff Lee, Jonathan Papelbon, Chase Utley, Michael Young, Carlos Ruiz) and bring back a haul that jump-starts a needed rebuild?
"Be careful," said one scout who knows the Phillies well, when he heard I was going to see them Friday night. "That's a sinking ship. That window closed fast. That's really not a good team."
Easy for him to say. Easy for me to say.
Not so easy for the Phillies.
"People want us to totally tear down our club," general manager Ruben Amaro said. "It just doesn't make a lot of sense."
Amaro doesn't rule out trading away some players if the Phillies don't play well over the next month. He was a limited trade-deadline seller last year (Hunter Pence, Shane Victorino, Joe Blanton), and he could be one again.
But Amaro insists that the Phillies will stick to their goal of contending every year, a goal that makes it a lot more difficult to consider trading Papelbon and, especially, Lee.
The easiest way to see the Phillies as a contender next year is with Lee atop the rotation. Trading him would bring a big return -- "Even if we opened it up, it would be an astronomical ask," Amaro says -- but replacing him with another No. 1 starter from the free-agent or trade market would be next to impossible.
Some Phillies people suggest that Papelbon is different, and that the team could actually get better in 2014 by using his $13 million salary to fill other needs. But Amaro has a hard time believing he can build a team that is closer to contending without his No. 1 starter and his closer.
"Ask the teams that don't have one," he said.
The Phillies do, and they still have spent just one day all season with a record above .500. They win a few, they lose a few (they've never been more than five games under .500, either), and they stay barely alive in the NL East mostly because the Nationals have played below expectations and the Braves have been a .500 club since the middle of April.
If there's a reason to believe in the Phillies, it's that they're healthier than they've been (Chase Utley and Carlos Ruiz came back off the disabled list recently, and scouts following the Phils say Utley in particular looks "locked in" at the plate). It's that, and also the history that reminds you this group has come back before.
"We've finally got our lineup on the field," manager Charlie Manuel said. "We could definitely make a go at things. Since I've been in Philadelphia, we've gotten off to starts like this."
But when Manuel looks at this group, does he see a playoff team?
"I wouldn't rule it out," he said. "At the same time, we've got to really play."
Manuel can only think about 2013. His contract is up at the end of the year, and while he'd like to keep managing, it's almost a given that the organization won't let him do it here (and will turn the team over to Ryne Sandberg).
Amaro needs a longer-term vision, but he said that vision does not include a rebuild.
"Our goal is to contend every year," he said. "I think we owe it to our fans to do that. They expect a quality product. ... My job is to contend every year."
That's nice to say, but the Phillies didn't contend last year, and they've only been on the edges of contention for the first half. If this group needs more than a little tweaking to turn it into a contender in 2014, the smarter move could well be to trade away the most valuable pieces and get going on building the next contender.
Again, that's easy for us to say from the outside. It's not nearly as easy when you're running the show, especially when you're still drawing nearly 40,000 fans a game (as the Phillies are).
"I think Ruben's biggest fear is if they do that, they're going to stink," said the scout who knows the Phillies well. "They'd be the fodder of WIP [sportstalk] for the next three years.
"If I was Ruben, I wouldn't do it unless I was assured I wasn't going to lose my job."
There's no reason to do it if the Phillies truly believe they can still contend this year. There's no reason to trade away Lee (and perhaps not Papelbon) if they really think they can become a championship team again next year.
Can they?
They'd better be right, and they'd better be honest. Not with us, but with themselves.
Dodgers manager Dave Roberts on Sunday announced his World Series rotation for the first four...

How should the Astros play it when one of their two aces isn't on the mound against the Do...

The former big-league infielder also worked as GM of the Puerto Rico national team
The Indians pitching coach would be getting his first MLB managerial job

In the last several years, lots of droughts have ended in MLB

The most likely scenarios are Dodgers winning in five or six games