Winning games and signing Hamels? Yes, these are the Phillies we remember
There were signs of life from the Phillies this week, on the field (three straight wins) and off (Cole Hamels' new $144 million contract). So maybe this year won't be the beginning of the end for this team, after all. But there are big decisions and big issues still to come.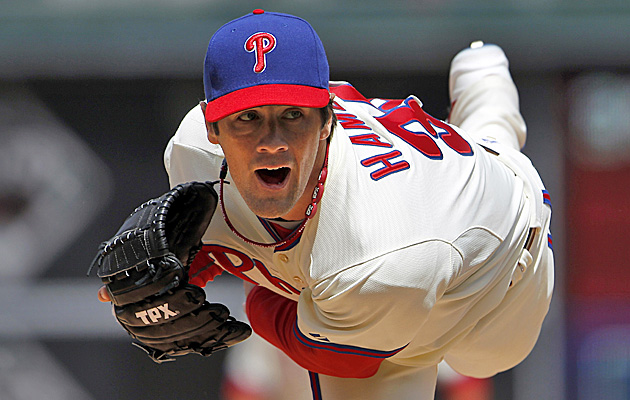 Hamels wanted to stay in Philly, and the Phillies wanted to keep him. (AP)
There were signs of life from the Phillies this week, and signs of life from the crowd Tuesday night at Citizens Bank Park.

Signs of swagger, slowly but surely returning to a team that had lost its swagger as quickly and thoroughly as it lost games during an ugly first half of the season.

Imagine if the fans and players had known that the Phillies were finalizing a new deal for Cole Hamels, a six-year, $144 million deal that was announced Wednesday morning and will keep Hamels off the July trade market and the winter free-agent market.

Yes, these are the Phillies we remember.

They find ways to win games, instead of finding ways to lose them. They find ways to sign their core players, instead of offering them to the highest bidder.

There were times in May and June that this season looked like the beginning of the end for a Phillies group that has been one of baseball's biggest success stories over the last decade.

There were times this week that you began to think this could be the miracle comeback to top their seven games back with 17 to go comeback against the Mets in 2007.

At the very least, the events of the last few days have left the Phillies with some fascinating decisions, for now and into the future.

A few things to ponder:

-- While Hamels would have been by far their biggest trade chip, the Phillies have other players who they could trade by Tuesday's 4 p.m. non-waiver deadline. Several teams have shown interest in Shane Victorino, and they could move guys like Hunter Pence, Juan Pierre and Joe Blanton, too. If they were willing to pay some of the salary, it's not out of the question that they could trade Jimmy Rollins (maybe Oakland) or Cliff Lee (maybe Texas).

On the other hand, the Phillies have won three straight. They never have had a seller's mindset. Maybe now they just give this a few more days and see if a miracle looks any more or less likely then.

Besides, one of the Phillies' selling points to Hamels (along with the $144 million) was that they will always be trying to win. How would it look if they follow up the contract by giving up on this year now?

-- While the late-inning comebacks make a Phillies miracle seem believable, the reason they had to come back was that Roy Halladay and Cliff Lee allowed six runs to the Brewers on back-to-back nights. Halladay, in particular, doesn't look like himself.

To have any realistic chance, the Phillies would need to go something like 47-18 the rest of the way. How likely is that if Halladay and Lee aren't dominating?

-- The Phillies have money. They pack Citizens Bank Park every night, and they have a new television contract on the horizon.

On the other hand, they now have four players under contract for next year whose average annual salary is $20 million or more (and another, Chase Utley, who will make $15.286 million). Oh, and three of those four players are pitchers (the other is Ryan Howard).

Even with all the revenues, this isn't a team with tons of flexibility.

On the other hand, Shane Victorino ($9.5 million this year) isn't coming back next year, and Joe Blanton ($10.5 million) probably isn't, either. And Hamels was already making $15 million, so it's not like the new deal adds anything close to $20 million a season to the payroll.

It sure would have been nice if signing Hamels had cost a little less. It no doubt would have cost less, if the Phillies hadn't stupidly waited this long to get serious about the negotiations. Still, they have the money, and the important thing was that they did get him signed.

-- If anything, the new deal sets up the Phillies better for the future.

Had Hamels left through a trade or free agency, the remaining top of the Phillies rotation would be a 35-year-old (Halladay) and a 33-year-old (Lee). Hamels is 28, so it's realistic to think he can front the rotation for years to come.

The Phillies still have big money invested in a core that is aging. But Utley and Howard have again looked like impact hitters since coming off the disabled list, and now Hamels can be counted as part of the core going forward.

The future doesn't look nearly as bleak as the picture some had painted at the darkest points in May and June. The Phillies still have issues to solve, but perhaps not impossible issues.

And the present?

This week, it looks a little less bleak. This week, a little of the swagger has returned.

"It will take more than swagger," one Phillies person reminded me Wednesday morning.

True. It's going to take a miracle.

"Miracles have happened," the same person said.

Getting Hamels signed was no miracle, it was just the Phillies doing what they always do.

And, perhaps, it's a step towards a miracle.
Rasmus essentially walked away from baseball during last season

Forrest Whitley is the Astros' top pitching prospect and set to work in Double-A this year

Jonah Keri talks to Orioles manager Buck Showalter
Contreras said on Tuesday that he's willing to pay the price

And their offseason decisions prove it

Hosmer recently signed an eight-year contract with San Diego, and his usual No. 35 was spoken...