Winter Ball Fun: Carlos Correa traded for Francisco Lindor in Puerto Rico
Two top shortstop prospects were traded for one another in the Roberto Clemente Professional Baseball League in Puerto Rico.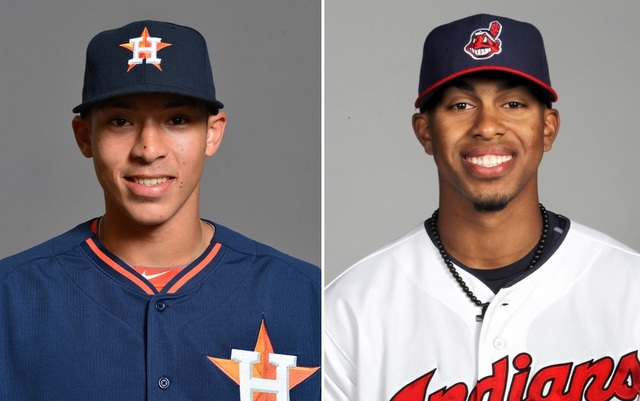 More MLB: Power Rankings | Expert Picks | Latest news & notes | Fantasy news
The Astros selected SS Carlos Correa with the first overall pick in the 2012 draft, one year after the Indians used the eighth overall selection on SS Francisco Lindor. They have since emerged as two of the very best prospects in the game, regardless of position.
On Wednesday, Correa and Lindor were traded straight up for one another ... in their winter ball league. Both players' winter ball rights are controlled by teams in the Roberto Clemente Professional Baseball League in Puerto Rico, where they grew up.
Fantastic trade in Puerto Rican winter league: Carolina sends #Astros SS prospect C. Correa to Mayaguez for #Indians SS prospect F. Lindor.

— Ken Rosenthal (@Ken_Rosenthal) May 7, 2014
Now, just to be clear, this has zero impact on MLB. Correa remains with the Astros and Lindor with the Indians, both with their respective minor league clubs. They just have new winter ball teams, should they choose (or be allowed) to play after the season.
Prospect for prospect trades (especially elite prospect for elite prospect trades) are exceedingly rare in MLB. I think the closest thing we have to one in recent years was is the Michael Pineda for Jesus Montero trade, though Pineda had a year in the show by then. Prospects are like kids, every team loves their own more than everyone else's. Winter ball is a different story though, big name minor leaguers are swapped all the time.
Correa, 19, is currently hitting .309/.369/.464 with three doubles, three triples, two homers and four stolen bases in 24 High Class-A games. The 20-year-old Lindor has a .290/.369/.449 batting line with two doubles, three triples, three homers and eight steals in 28 Double-A games.
Before the season, Baseball America ranked Correa and Lindor as the 7th and 13th best prospects in baseball, respectively. What a fun kinda sorta trade.
Chris Woodward has spent the last two seasons with the Dodgers

We heard about it being awful for years, but was it?

Then again, three trades in four days might be behind Jerry Dipoto's usual pace
Ohtani is arguably the best hitter and pitcher in Japan

The O's need rotation help, and Cobb is available for hire

The Red Sox and Cardinals are expected to make trade offers next