Winter Meetings: D-Backs could be NL West favorites after big moves
Adding Shelby Miller and Zack Greinke (while taking Greinke away from the Dodgers) to a team that finished eighth in MLB in runs scored makes them look awfully tempting in 2016.
The Diamondbacks paid a huge price to acquire right-hander Shelby Miller at baseball's Winter Meetings on Tuesday night. It will have been worth it if Arizona transforms from mediocre in 2015 to World Series competitor in 2016.
This offseason, general manager Dave Stewart has added Zack Greinke -- while taking him away from division rival Los Angeles Dodgers -- and Miller to their starting rotation, which also features left-hander Patrick Corbin in his first full season back from Tommy John surgery. The rest of the starting pitching depth includes Rubby De La Rosa, Robbie Ray, Archie Bradley, Chase Anderson, Zack Godley and, at some point in 2016, Braden Shipley. The top three are formidable, and the rest are talented.
The D-Backs adding strong starting pitching to a team that was eighth in runs scored in the major leagues in 2015 ought to scare to the Dodgers and Giants, the presumptive NL West favorites heading into the offseason. The D-Backs lineup includes Paul Goldschmidt, one of the top hitters in the league, along with A.J. Pollock and David Peralta. They could still upgrade at shortstop and second base, and the leash on Cuban expatriate Yasmany Tomas should be short. But they definitely have the makings of a contender.
Everyone still has time to improve, but with the Dodgers' deal with the Reds for Aroldis Chapman in limbo, and with the Marlins' price for Jose Fernandez so high, their biggest (and, presumably, best) plays aren't coming to fruition. The Giants added Jeff Samardzija, but were rebuffed on Ben Zobrist and still need at least one more major addition, if not two. Both clubs lost out on David Price, and of course the Dodgers are still reeling from the double whammy of losing Greinke to Arizona.
By adding Greinke and Miller, the D-Backs have more than closed the gap in the NL West. They're just as viable to win the division as either of the two perennial favorites.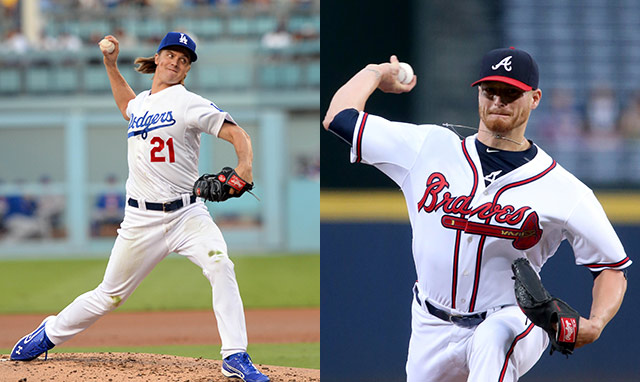 The lefty starter is coming off a terrible season

After acquiring Ian Kinsler and Zack Cozart in recent days, the Angels are trending upward

Cozart's coming off a big season as the Reds' shortstop
The veteran slugger spent the last eight seasons with Cleveland

The Padres may be poised for an active winter

Yes, Bryce Harper is going to make a lot of money next winter