With a 21-game winner in bullpen, Tigers make it to Game 5
Jim Leyland doesn't use starters on short rest, but in the right situation he will consider using them in relief. Tuesday's Game 4 was right for Max Scherzer, and the likely AL Cy Young winner helped the Tigers to a wild and crucial 8-6 win over the A's.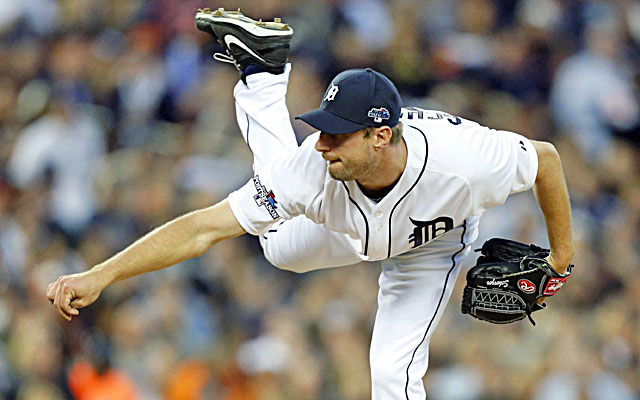 DETROIT -- The Tigers didn't exactly keep it a secret that they were ready to turn their 21-game winner into a high-priced, high-value, one-game setup man.
Jim Leyland announced it Tuesday, at his pregame press conference.
But not everyone knew that Max Scherzer was set up to be the setup man the Tigers would so badly need in Game 4 against the A's.
"Honestly, I had no idea," Doug Fister said. "I didn't know until right when they said 'Scherzer's in.'"
"I had no idea," Austin Jackson said. "I was looking at Torii [Hunter] to warm up between innings, and then I looked at the mound and I saw Scherzer there.
"I got chill bumps."
Leyland was never going to start the likely American League Cy Young winner on short rest, not even with the Tigers trailing the A's two games to one and facing elimination. Leyland never uses his starters on short rest, no matter how many times fans and writers suggest it.
But in the right situation, he will consider using them in relief.
This was the right situation. Scherzer was ready and willing, having volunteered immediately after the Tigers lost Game 3 on Monday. The Tigers absolutely had to win.
And because of the two off days in the Division Series, Leyland would still have Game 2 starter Justin Verlander (the 2011 Cy Young winner) ready to pitch Game 5 on normal rest Thursday night.
So when Scherzer offered, Leyland agreed to consider it. He called Scherzer into his office before the game Tuesday, and they talked.
"I told him your career's more important than this game," Leyland said. "But I said go out and play catch and let me know how you feel."
Scherzer told pitching coach Jeff Jones he felt he could give the Tigers two innings. Leyland didn't say anything at the time, but he quietly penciled Scherzer in for the seventh and eighth.
The plan didn't work perfectly. Scherzer entered a game that was tied 3-3, and gave up a run in the top of the seventh. But the Tigers scored twice in the bottom of the inning, Scherzer pitched out of a bases-loaded, no-out jam he created in the top of the eighth, and the Tigers added three runs in the bottom of the eighth and went on to an 8-6 win.
And now the Tigers and A's are headed for Game 5 in Oakland for a second straight October. Verlander is set up to start it for the Tigers, for a second straight October.
"You know, it's a blessing for us to have the capabilities we have," Fister said. "To have [Verlander] in Game 5, that's great. We're ready to go."
The Tigers feel a lot more ready because their offense finally woke up in the late innings of Game 4, when they scored eight times in four innings after scoring just three times in their previous 30 innings. But even with all that, they might not have gotten to Game 5 if they hadn't had Scherzer the setup man.
He had actually done the same thing once before for the Tigers, two years ago in Game 5 of the Division Series at Yankee Stadium. Just as he did Tuesday, Scherzer went to the bullpen that day on three days' rest. He came in for Fister and he gave the Tigers four key outs, while allowing one run, in a 3-2 win.
But Scherzer wasn't the story that night. He wasn't yet a 21-game winner, wasn't yet a Cy Young favorite. He was just a starting pitcher who was helping out in an all-hands-on-deck Game 5.
Tuesday was different. Tuesday, the sight of Scherzer emerging from the bullpen in the late innings of a tie game gave the Tigers a huge lift.
It didn't catch all of them by surprise. Hunter looked over once between innings, and saw Scherzer emerge from the bullpen to play catch with left fielder Jhonny Peralta.
Alex Avila knew, too.
"I'd better know," he said. "I'm the catcher."
Avila knew that starting pitchers working out of the bullpen can sometimes have extra adrenaline.
"Knowing it was a short stint, he was letting it fling," Avila said. "But in the playoffs, he's letting it fling, anyway."
Letting it fling, Scherzer's command wasn't perfect. He walked Brandon Moss to start the eighth. When Yoenis Cespedes followed with a double, the A's had the tying run at third and the go-ahead run at second with nobody out.
Leyland elected to walk Seth Smith intentionally, which looked like the right move until Scherzer fell behind Josh Reddick 3-1 on four straight fastballs. Scherzer threw two more fastballs that Reddick fouled off (one barely foul down the left-field line), before getting him to swing over an out-of-the-zone changeup for strike three.
Reddick blamed himself for swinging at a pitch out of the zone. Avila credited Scherzer.
"[Reddick] definitely swung at a pitch out of the zone, but it's hard when you've seen that many fastballs," Avila said. "To be honest, you've got to give credit to the pitch. Nine out of 10 guys will swing at that, and the one who didn't just got lucky."
Scherzer then struck out Stephen Vogt in more conventional fashion, and got pinch hitter Alberto Callaspo on a fly ball to Jackson in center field. And then he celebrated.
"I've seen him fired up before," Avila said. "That's why I nicknamed him 'Mad Max.' But that kind of emotion, the occasion called for it."
In the dugout, Verlander was impressed.
"That was amazing," he said. "I think all Tigers fans and Tigers players would have rather it be three up, three down, but it made for a great story, didn't it? Pretty intense."
And now Verlander, the Tigers and the A's are set up for what should be a pretty intense Game 5. Verlander shut out the A's in Game 5 last year, and he pitched seven shutout innings in Game 2 last Saturday.
"It's what you play the game for," he said. "This is what you dream of as a kid, be on the mound in a clinching game."
He gets the chance because Austin Jackson finally got another hit, a shattered-bat single that broke the 4-4 tie in the seventh. He gets the chance because Jhonny Peralta hit the three-run home run off Dan Straily that woke the Tigers up in the fifth, and because Fister pitched through trouble and made it through six innings.
But just as much, the guy who won the Cy Young two years ago gets the chance because the guy who should win it this year played setup man in a game the Tigers couldn't afford to lose.
"That's just the luxury we have," Avila said. "A lot of teams don't."
And despite their offensive woes and quite a few banged-up players, the Tigers are still playing.
A lot of teams aren't.
Another team rumored to be interested in Stanton has confirmed their interest

Chris Woodward has spent the last two seasons with the Dodgers

We heard about it being awful for years, but was it?
Then again, three trades in four days might be behind Jerry Dipoto's usual pace

Ohtani is arguably the best hitter and pitcher in Japan

The O's need rotation help, and Cobb is available for hire