With 'a lot left in the tank,' Mariano Rivera will get past his bad week
Mariano Rivera has had bad weeks before, but he hasn't ever had a bad year. There's no reason to believe this will become one.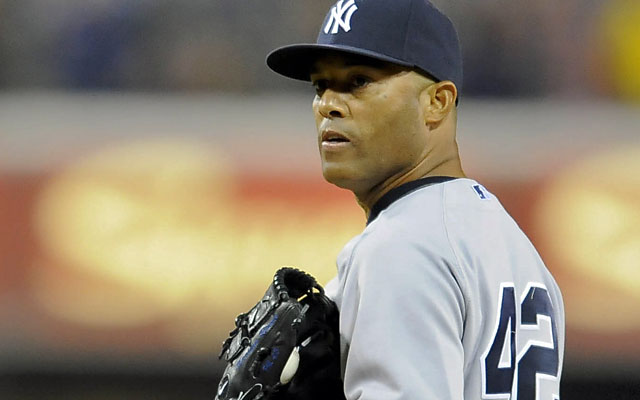 NEW YORK -- Mariano Rivera isn't stumbling to the finish line. He isn't finally at long last showing signs of age.
He just had a bad week.
He just put a few pitches in the wrong place to the best hitters in the game. He didn't give up home runs to guys who never hit home runs.

Miguel Cabrera got him, twice. It happens.
He had a bad week. That happens, too.
What makes Rivera different from everyone else who has ever held his job is that he has never let a bad week turn into a bad year. He's spent 18 seasons in the most up-and-down role in the game, and he's never been down for more than a few days at a time.
There's no reason yet to believe this time is going to be any different. There's no reason yet to believe that at age 43, Rivera is finally out of gas.


"No, there's a lot left in the tank," he said Monday. "I think the tank is getting full again. If the tank is empty, then the speed is going down. Then you have to get out of the car and push the car."
Rivera's velocity has gone down slightly, if you measure it against where he was in his first years in the big leagues. But his velocity over the last week, when he had three straight blown saves for the first time ever, was hardly out of line.
According to PitchFx, Cabrera's two home runs came on pitches clocked at 92 and 93 mph. Victor Martinez's game-tying home run Sunday came on a 91 mph cutter.
Rivera said all three pitches were higher than he wanted them. He blamed an inconsistent release point.
"Just terrible pitches," he said. "It's not like [Cabrera] hit a good pitch."
He approached the questions about his bad week with the same sense of calm he has taken to the mound all these years. He said he planned to talk to pitching coach Larry Rothschild, maybe get a little extra work in. He said he doesn't need to watch video.
"I saw [the home runs]," he said. "Why watch it again?"
There's no reason to declare this a trend, especially not when you look back and realize that in his last seven appearances before last Wednesday, Rivera faced 23 batters and retired 21 of them (the other two reached on singles).
He hasn't been struggling to reach the end of the season and the end of his brilliant career. Even with the bad week, Rivera's ERA is 2.44, not that far above his career mark of 2.22 and below that of more other closers this year.
His 35 saves rank third in baseball.
His career doesn't have much longer to run, but that's by his choice. If he did struggle to the finish line, it would take nothing away from his brilliant career.
But there's no sign yet that's even happening, not even when he just had three straight blown saves for the first time in his life.
It's going to take a lot more than that to prove this is anything but just a bad week.
They still would much rather grab the AL East, however

Sale becomes the first AL pitcher to reach 300 strikeouts since 1999

Steve Balboni's long-standing record of 36 has finally fallen
Several players called for the netting to be extended down the base lines following Wednesday's...

Maria made landfall as a Category 4 on Wednesday

The players are trying to do their job and don't want to see anyone hurt