With A-Rod, we now believe (and expect) the worst
It never gets better anymore for Alex Rodriguez, and it's never going to get any better, despite his denial of Tuesday's Miami New Times report that linked him with HGH and testosterone cream.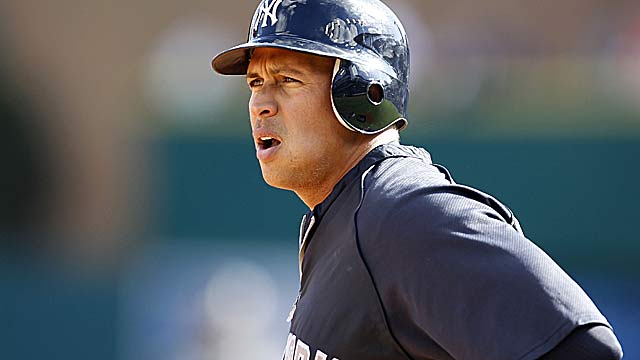 This week's story simply cost A-Rod whatever little piece of his legacy he still controlled, Knobler says.
(US Presswire)
He's done now, isn't he?
He's done in our minds, no matter what he says. We dismiss his denials, just as we dismiss his 647 career home runs.
It's not getting any better for Alex Rodriguez now. He's not coming back from this hip surgery and this steroid scandal the way he did from the last one.
That one scarred him. This one finishes him off.
You can't blame him for denying everything, as he did in a statement issued Tuesday afternoon. It wouldn't do to blame it all on baseball's "loosey goosey" steroid culture, the way he did four years ago.
It wouldn't do to say he was naive.
He's not naive now, and neither are we.
More on MLB
Column

Related links
We believe the worst now, with steroids and with A-Rod. We expect the worst.
When the Miami New Times report was published Tuesday morning, with strong allegations about A-Rod's use of HGH and testosterone cream from 2009 through last season, we didn't say, "That can't be true."
No, we said, "Of course he did."
If there's bad news, it's A-Rod. If there's a star player who gets benched in the playoffs and then gets busted for hitting on girls in the stands, it's A-Rod.
Is this one worse? Sure, it is, especially if the story holds up before Major League Baseball's investigators. If the investigation corroborates the allegations in the New Times story, Rodriguez could face a 50-game suspension.
Perhaps later there will be another press conference, another sad admission, more references to cousin Yuri, who makes it into the New Times report for paying $500 for a week's supply of HGH in 2009.

Yes, 2009, the year of A-Rod's first forced steroid confession. The year he claimed that he used steroids for a short time because of the pressure of playing in Texas, but that he stopped using them before he got to the low-pressure world of the Yankees.

That was also the year of A-Rod's first hip surgery, and when he returned to the Yankees and homered on his very first swing, it felt like he could still redeem himself. He could still regain control of the story.

He had a great postseason that fall, his first (and only) great postseason with the Yankees. He was 34 years old, still young enough that he might change what we thought of him.

Not now. This is it, now.

He's 37 now, and after surgery on the other hip, he might not play again until after he turns 38 (if then). That was last week's A-Rod story, that this year's hip surgery could possibly cost him an entire season.
This week's story simply cost him whatever little piece of his legacy he still controlled.

The records in the New Times story detail his HGH and testosterone cream purchases in 2009. No matter what the MLB investigation finds, it will be harder for anyone to believe that his 2009 recovery and playoff success wasn't drug-aided.

There were other players mentioned in Tuesday's story, some who have already been linked to drugs (Melky Cabrera, Bartolo Colon, Yasmani Grandal), some who haven't (Gio Gonzalez, Nelson Cruz).

Gonzalez has already issued a denial, via Twitter, saying he has never used performance-enhancing drugs and has never even met Tony Bosch, whose aging clinic was the subject of the New Times story. Perhaps the investigation will clear him. Perhaps he can regain control of his story, although as we've seen with steroids, that's not an easy thing to do.

It hasn't been easy for baseball to gain control of the steroid story, either.

MLB issued a statement Tuesday praising itself for having "the best and most stringent drug-testing policy in professional sports." But the fact is that every one of these steroid stories gives the sport another black eye.

We know that players will always try to beat the system. We know that the possible rewards will always outweigh the risks of getting caught for some of them.

Alex Rodriguez won plenty of those awards. Three MVP trophies. Two record contracts. One World Series championship.

He has 647 home runs, and a contract that awards him bonuses if he catches and passes Willie Mays, Babe Ruth, Hank Aaron and Barry Bonds.

It won't help him if he does. He's already done in our minds, and he's not going to get it back.

It's not going to get better now, no matter what the explanation this time.

It's not going to get better, even if he comes back from this hip surgery and this steroid scandal the way he came back from the last one. Who believes he even could do that anymore?

Who believes in A-Rod anymore?

He's done.
There's now a crowded outfield in San Diego

The former Braves star served as a race official for the Daytona 500

He'd be a good fit in the Bronx, but can they make it work and still stay under the luxury...
The slugger had shoulder surgery in November

Tebow reported to spring training with Mets position players on Sunday

Santa Clara senior Jake Brodt did the honors Saturday