With an ALCS lead but a shaky closer, Leyland has no choice but to consider a change
The Tigers won Game 1 of an ALCS that now seems tilted heavily in their favor. But closer Jose Valverde had another messy ninth inning, and afterwards manager Jim Leyland admitted that he'll consider making a ninth-inning change. Can you blame him?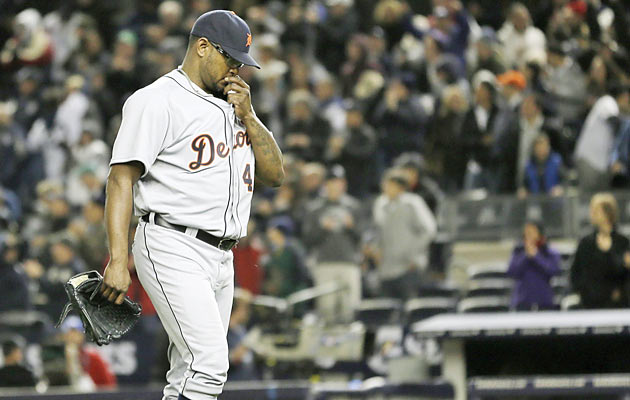 The Tigers can hardly afford more bad outings from Jose Valverde in the ninth inning. (Getty)
NEW YORK -- Jim Leyland is a loyal man, a loyal manager.

Jim Leyland sticks by his players, defends his players.

So when Jim Leyland steps into a press conference immediately after a playoff game -- a playoff win -- and doesn't immediately offer strong support for his embattled closer, you could almost bet he's ready to make a change.

Can you blame him?

One game in, the Tigers are already in a great position in this American League Championship Series, up one game to none after Saturday night's 6-4, 12-inning win.

But the only reason it was a 6-4, 12-inning win rather than a routine 4-0 win was another ugly ninth inning from Jose Valverde. And it sure feels like the only way the Tigers can mess up the rest of this series is if the back end of the bullpen messes it up.


More on Tigers-Yankees
Columns

---

Related links
Who wins World Series?
The Yankees are struggling to score runs, and now they'll be without Derek Jeter, one of the few guys in the lineup who has hit in this postseason. They have Hiroki Kuroda going on short rest for the first time in his life in Sunday's Game 2, and the Tigers will have Justin Verlander rested and ready to start Game 3 Tuesday in Detroit.

Verlander often serves as his own setup man and closer. But there are other eighth and ninth innings to play, other leads to protect.

Can Leyland count on Joaquin Benoit and Valverde to protect them?

He's wondering the same thing. He admitted that he had Octavio Dotel warming up early in the ninth inning Saturday because "there were things I didn't really like."

He admitted that he and his coaching staff planned to discuss into the night whether Valverde should continue to close. He said he would have an announcement by the time he arrives for his 1:45 p.m. ET press conference Sunday afternoon.

"We are certainly going to talk about it," Leyland said. "It will be something we discuss.

"It is a very legitimate question, but I just don't have an answer for you at this time."

Valverde, who was perfect in save situations, has been far from perfect this year. The Tigers, who were 77-0 last year when they led a game through seven innings, were 72-7 in the same situations this year.

Take away those seven losses, and the Tigers are a 95-win team, tied with the Yankees for the best record in the league.

It's not just Valverde, of course. Benoit, the eighth-inning man, has been every bit as shaky. But last week during the Division Series, when Leyland was asked if he thought about using Al Alburquerque or someone else instead of Benoit in the eighth, he quickly said that he had full confidence in Benoit.

The same obviously isn't true now with Valverde, who forced the Tigers into Game 5 in Oakland by giving up three ninth-inning runs to lose Game 4. His very next outing was Saturday, when Leyland asked him to protect a four-run lead in the ninth.

Valverde gave up a Russell Martin single and an Ichiro Suzuki home run to cut the lead in half, then a Mark Teixeira walk and Ibanez's home run to make it disappear entirely. Leyland then went to Dotel, who struck out Eric Chavez to end the inning.

Leyland even admitted that he considered to going to Dotel earlier, but didn't because Ibanez has good career numbers against him (4 for 9, with a home run and five RBI).

Dotel isn't an ideal replacement for Valverde. While he has 109 career saves, he has never had one in the postseason, and has been considered by most of his many teams as a pitcher who is better when working earlier in a game. The Tigers gave him just two ninth-inning save opportunities all season, and in one of them he didn't even get an out, walking two batters and giving up a hit to the only other one he faced.

Benoit isn't a great replacement, either. He gave up a game-tying home run last week against the A's, and nearly gave up another. Saturday, he got the final two outs in the eighth, but one was on an Eric Chavez rocket that only became an out because of a great play by Austin Jackson in center field.

As for Alburquerque, he has no major-league saves, regular season or postseason.

The problem now is that it's hard for the Tigers to have confidence in Valverde, and easy to wonder if he even has confidence in himself.

"My confidence has stayed the same," Valverde said. "What I have to do is make a pitch."

Is he healthy?

"Yes," he said. "100 percent. And with my family, everything is good, too."

But the Tigers wonder.

"I think it's more of a confidence thing," catcher Gerald Laird said. "He's got to get out and have a crisp inning. He's just making mistakes. He just needs a quick inning to get his confidence back."

That sounds fine in April, and even in June. But this is October, where one loss can change a series. The Tigers survived Valverde's meltdown to beat the A's, but it cost them the chance to start Verlander in Game 1.

Saturday, they survived another bad Valverde inning.

Can they take the chance that he has yet another one?

"Hang in there," general manager Dave Dombrowski told Valverde, as the closer stood talking to reporters in the Tiger clubhouse.

Valverde was hanging in there. You have to wonder if the Tigers will hang in there with him.

At this point, he may be the only thing they have to worry about.
J.D. Martinez is reportedly headed to Boston on a free-agent contract

Keep tabs on the top 50 free agents on the market right here

Arizona didn't waste much time turning to its fallback option following Martinez's deal with...
The former AL MVP has been one of baseball's best players in recent years

The free-agent slugger will join the Red Sox after all

Harper would prefer if reporters respect his wishes