With best rotation already, Dodgers in middle of talks for aces
L.A. has a decent chance to come away with another big-time pitcher.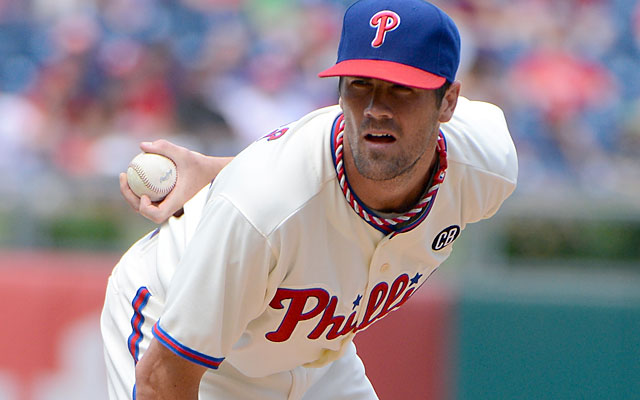 More MLB: Power Rankings | Expert Picks | Latest news & notes | Fantasy news
The Dodgers are in the middle of the talks on all of the frontline lefthanded starting pitchers, including Jon Lester, Cole Hamels and David Price (if Price can still be had).
"All of the frontline guys and all starters are possible for them," one rival GM said of the Dodgers. "I'm sure they will get something."
Though a Dodgers person warned late Monday that they "don't have anything close at this time."
Any of Lester, Hamels or Price (though the chances of Price being dealt seem to be receding) would greatly enhance a vaunted Dodgers rotation that already includes the game's best pitcher Clayton Kershaw plus Zack Greinke, Hyun-Jin Ryu, Josh Beckett and Dan Haren. The Dodgers have some concern about whether the veterans Beckett and Haren will hold up.
The Dodgers were believed to have a particular interest in Price for a few reasons. For one, he isn't a rental like Lester. For another Dodgers executive Gerry Hunsicker, formerly with the Rays, has a familairity and connection with Price. However, with Tampa Bay hanging in the AL race, he may stay put.
One rival saw the Dodgers as having a "strong chance" of landing one of the big three. based on the Dodgers' prospect ammunition and resolve to make it to the World Series with their $230-million payroll and star-studded team. They also are looking at Lester's teammate John Lackey, according to FOXsports.com. If they can't land one of the top-tier guys, perhaps they could consider Ian Kennedy or Bartolo Colon.
The Dodgers have a quartet of big-time prospects -- shortstop Corey Seager, outfielder Joc Pederson plus pitchers Julio Urias and Chris Anderson -- and several more good ones in their second tier. Seager is the top guy, but one person familiar with their thinking, said, "I can't see them moving him."
That person also thought the Dodgers would try to refrain from including two of the top four guys. Pederson would be a natural fit for Boston, which needs outfielders, and some rivals believed he could be "in play" at some point in talks with the Red Sox. A Pederson-for-Lester deal makes some sense, as was mentioned here.
Though, the Dodgers have always preffered to acquire non-rental players (such as Price), which could discourage them from giving up one of their top four prospects in a Lester deal.
The lefty starter is coming off a terrible season

After acquiring Ian Kinsler and Zack Cozart in recent days, the Angels are trending upward

Cozart's coming off a big season as the Reds' shortstop
The veteran slugger spent the last eight seasons with Cleveland

The Padres may be poised for an active winter

Yes, Bryce Harper is going to make a lot of money next winter