With Cardinals stocked with starters, Lohse very likely to leave via free agency
Righthander Kyle Lohse has excellent timing, as he's putting together by far his best season as he heads toward free agency.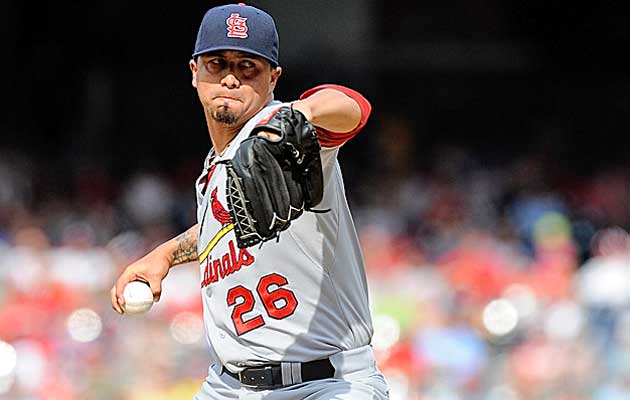 Lohse will benefit from entering a shallow market for starting pitchers. (Getty Images)
With the Cardinals deep in starting pitchers next year thanks to Chris Carpenter's expected return and a trio of young starters, Kyle Lohse is seen as very likely to leave the Cardinals via free agency this winter.
St. Louis has re-signed Jake Westebrook for 2013, giving the Cardinals eight possible starters, even without Lohse, who'll be a lot more expensive than Westbrook. The other seven are Adam Wainwright, Carpenter, Jaime Garcia, Lance Lynn plus youngsters Joe Kelly, Trevor Rosenthal and Shelby Miller, though the timetables for the much-heralded kids aren't completely certain and Lynn can swing to the pen, as he has this year.
Lohse, 33, should be an interesting free-agent case, as he's put together his two best seasons this year and last, with easily his best being this year. He is 14-3 with a 2.81 ERA and 1.08 WHIP. He's 28-11 since 2011. Before his excellent season this year, some might have viewed his turnaround as being the product of pitching guru Dave Duncan.
Based on two straight stellar years, it's possible he could try to make a case that a comparable contract is C.J. Wilson, though Lohse has had a longer track record as a starter and is a few years older. One competing GM said "Wilson's better,'' and said a $40-million, three-year deal should be more in range for Lohse. But with prices rising, the starting pitching market fairly shallow after Zack Greinke and the rich Dodgers in play, it may be hard to predict where deals might go this winter.
Sunday's MLB roundup features the D-Backs clinching a postseason spot and the Mariners going...

The 2017 season has been, by far, the worst season of Cabrera's career

The Mariners were eliminated from postseason contention with Sunday's loss
Maxwell became the first MLB player to kneel during the national anthem Saturday

The Blue Jays are not expected to bring Bautista back next season

The Dodgers have already clinched the NL West title, so the D-Backs will be a wild card te...