With eight men out, where will the home runs come from?
Mark Teixeira's injury means the Yankees will begin the season without at least eight of their 10 players who hit double-digit home runs in 2012. The Yanks have built their offense on home runs ('We're not the Bronx Bunters'), but where will the homers come from?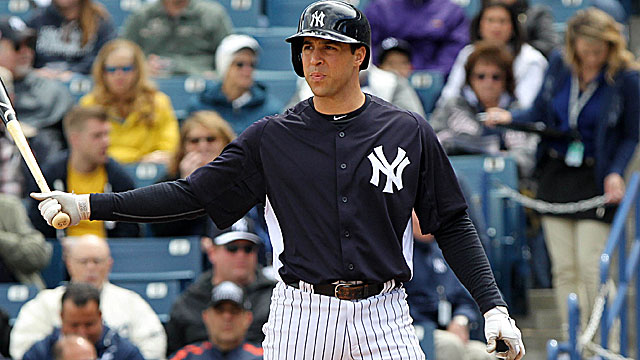 Remember, they're not the Bronx Bunters.
So where are the home runs coming from?
The Yankees hit 245 of them last year, 31 more than any other team. They hit so many home runs that one of the biggest points of discussion all season was whether they were too dependent on the home run.
"We're not the Bronx Bunters," manager Joe Girardi finally said last September.
"We're not the Bronx Bunters," general manager Brian Cashman repeated in mid-October, defending his offensive philosophy after the four-game ALCS sweep at the hands of the Tigers.
More on Yankees
Analysis

Related links
So where are the home runs going to come from?
The Yankees had 10 players hit double-digit homers last year, 10 players who combined for 227 of their 245 homers. Now, with the news that Mark Teixeira will be out for 8-10 weeks, they know for sure that eight of those 10 won't be in the opening day lineup.
And Derek Jeter still has to be listed as iffy. Of those 10, only Robinson Cano is a sure thing.
Eight men out, and who's in to replace them?
Among those eight who will be missing, the Yankees lost 179 home runs. The most significant replacements were Kevin Youkilis, who hasn't hit 20 home runs in a season since 2009, and Travis Hafner, who hasn't had a 20-homer season since 2007.
My CBSSports.com colleague Matt Snyder is right when he says we shouldn't count out the Yankees just yet. But it sure is fair to wonder if this will be the year it all falls apart.
Yes, Curtis Granderson will be back by sometime in May, and Teixeira should be, too. But Teixeira's injury involves his wrist, and history says wrist problems can linger for guys approaching their mid-30s (Teixeira will turn 33 in April).
The fact is that because of the organizational mandate to get under the $189 million luxury-tax threshold in 2014, and because the farm system hasn't produced enough, the Yankees left themselves far less margin for error this year.
They didn't overspend to overprotect against anything going wrong. Now, not even halfway through this long spring training, they've already had two big things go wrong (three, if you count Phil Hughes' troubles). Granderson got hurt, and so did Teixeira.
How long before the Yankees start complaining about this elongated WBC spring?
Granderson was hurt in an exhibition game on Feb. 24. The only reason the Yankees were playing exhibition games that early was because this was a WBC year.
Teixeira was hurt hitting off a tee before Team USA's first exhibition game on Tuesday. WBC officials were quick to remind us this wasn't WBC-related, that Teixeira just as easily could have been hitting off a tee in Tampa.
But Teixeira admitted before he got hurt that he pushed himself harder earlier in spring, precisely because he knew he needed to be ready for the WBC.
I'm not blaming the Yankees' troubles on the WBC. I am wondering how soon they'll direct the blame that way.
I'm wondering where the home runs will come from, especially in that first month of the season.
And I'm wondering when Joe Girardi or Brian Cashman will next remind us that they're not the Bronx Bunters.
Yankee home runs, 2012
*Curtis Granderson, 43
Robinson Cano, 33
*Mark Teixeira, 24
*Nick Swisher, 24
*Russell Martin, 21
*Raul Ibanez, 19
*Alex Rodriguez, 18
*Eric Chavez, 16
Derek Jeter, 15
*Andruw Jones, 14

*won't be in 2013 opening day lineup
Dioner Navarro still hopes to return someday

Christian Yelich's agent says his client's relationship with Marlins is 'irretrievably bro...

The free-agent market has been slow and one player is bracing for an even longer wait
The Mets didn't want to trade a young outfielder for an older one

Josh Harrison doesn't sound pleased Gerrit Cole and Andrew McCutchen have been traded away

The team's media contracts expire following the 2019 season