With eye toward offseason, Red Sox get creative on deadline day
The Red Sox were sellers before the trade deadline on Thursday, but not in the traditional sense, bringing back three big-league players.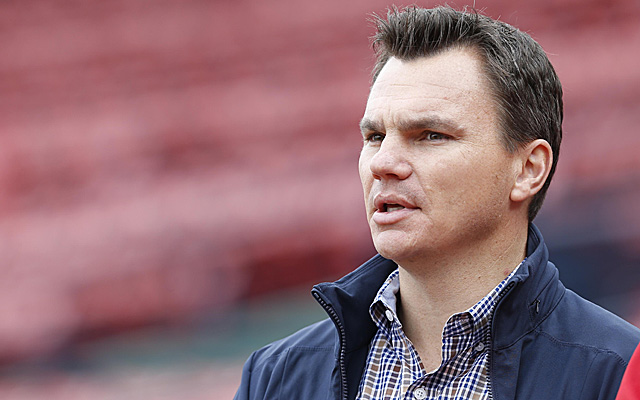 More: Trade Tracker | Heyman's latest | Heyman on Twitter
The 2013 World Series champions reshaped their future in front of the 2014 trade deadline, and in what would have been considered a surprising twist back in the spring, they did so as "sellers."
But the Boston Red Sox weren't traditional sellers, in that this wasn't one of those firesales where the team offloads veterans with value in order to get prospects in return. So this isn't a rebuilding project --  and it shouldn't be with the likes of David Ortiz , Dustin Pedroia , Mike Napoli , Shane Victorino and Clay Buchholz signed for 2015.
In dealing John Lackey and Jon Lester and in acquiring big-league talent in exchange instead of prospects, call it a retooling for next season. A reload on the fly? I don't think I would go that far. Grabbing as many big-league assets as could be had for what was being given up is more accurate.
Lackey is productive and had an interesting option for the 2015 season that would have paid him the league minimum. Surely he'll be looking for more, though, with the threat of retirement as his leverage. In dealing him, the Red Sox rid themselves of the uncertainty. With Lester, he could have been re-signed in Boston all the way back in the spring, if the Red Sox truly wanted to pay him something comparable to what he'll get on the open market.
Instead, Red Sox general manager Ben Cherington stuck with the script he's had in hand ever since dumping the Adrian Gonzalez , Josh Beckett and Carl Crawford salaries, which is to limit the long-term, big-money commitments.
So he grabbed a 28-year-old, power-hitting left fielder who is only signed through 2015 in Yoenis Cespedes . He also scooped up a 30-year-old former All-Star in Allen Craig , who is signed through 2017 (with a club option for 2018), but at only an average annual value of $8.5 million per season from 2015-17. And there's also starting pitcher Joe Kelly , who isn't eligible for free agency until after the 2018 season. He's not even arbitration-eligible until after next season and is making $523,000 this year.
Sure, there was a swap of a major-leaguer for a prospect, as lefty Andrew Miller was dealt to Baltimore in exchange for pitching prospect Eduardo Rodriguez (ranked No. 65 in all of baseball heading into the season by Baseball America), but if the Red Sox were staging some sort of fire sale, Koji Uehara , for example, could have brought back a good prospect.
Instead, Cherington started the work he'll continue in the winter. There's still work to be done, but he clearly laid the groundwork. Here are a few ways how.
•The first base and DH spots are covered with Napoli and Ortiz, so Craig could be a right fielder (in addition to a backup option at either spot, of course). But that's where Victorino plays. Maybe Victorino could shift to center, though he really doesn't belong there anymore and Jackie Bradley Jr. seems destined to stay put. Cespedes is clearly the left fielder. Or is he? There's a surplus here on the corners, especially considering that prospect Mookie Betts looks like he'll be ready real soon, too.
Honestly, this seems like a precursor to an off-season trade because there's a clear surplus here. For what? Well ...
•The Red Sox rotation for next season appears to have Clay Buchholz and Joe Kelly as sure things, with youngsters Rubby De La Rosa and Allen Webster as fine options. Brandon Workman could factor in, too. If the Red Sox are serious about revisiting talks with Lester, shipping him to the A's was a savvy move. There is no chance the A's are going to extend him, but if the Sox had moved him to, say, St. Louis or L.A., there would be a fear of him being granted a big extension before the bidding could even begin. That won't happen here.
If they don't sign Lester, the Red Sox still have plenty of pieces to trade for a frontline pitcher -- total speculation, but what if they hook up with Billy Beane again and acquire Jeff Samardzija ? -- while they also have enough money to sign someone ( James Shields ?) if they wish.
• Xander Bogaerts is clearly the future at shortstop, but there have to be questions about Will Middlebrooks at third base. Brock Holt has been a revelation, but should the Red Sox want to make a move for a third baseman, again, they have that corner outfielder surplus and some money to play with. As for Stephen Drew, who went to the Yankees, it feels like both parties needed to move on anyway, so getting anything back for him was gravy.
•Regarding Uehara, what if the Red Sox wish to bring him back? Maybe trading him changes things and keeping him keeps that door open. There are options.
It's hard to say this was a great day for the Red Sox. We don't know that yet. That much will be determined some in the coming off-season, some in 2015 and some beyond. It was absolutely an interesting and creative day from Cherington and his front office, though.