With Grant Balfour gone, Orioles pursuing Fernando Rodney to close
Baltimore still has work to do this winter, and Fernando Rodney is still looking for a new team.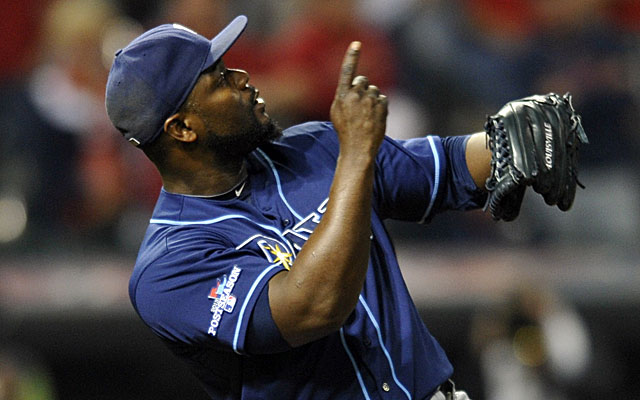 MORE: FA tracker: position players | FA tracker: pitchers
The Orioles are in talks with free-agent closer Fernando Rodney, who would fill a need that's needed filling since they traded Jim Johnson to the A's.
Baltimore and Rodney look like they could use each other now, as there aren't many closing jobs available, or for that matter, closers left on the market.
The Orioles thought they had their new closer when Grant Balfour agreed to a $15-million, two-year deal several weeks ago before issues arose on his Orioles medical. Balfour agreed to a deal for $12 million over two years with his old Tampa Bay Rays team on Thursday; he replaces Rodney as closer there.
The Mets and Mariners are among teams that could have interest in a closer, as well, as the Mets tried for Balfour; however, one source said the Mets are "not likely" to land Rodney. The Yankees also are said not interested in Rodney.
At the moment, the Orioles appear to be the team in pursuit of Rodney, who has had success in the AL East -- though not as much in 2013 as the previous year. Following his brilliant 2012 season, when he had a 0.60 ERA and 0.78 WHIP, Rodney had a 3.38 ERA and 1.335 WHIP last year. But he still had 37 saves.
The Orioles have suggested hard-throwing Tommy Hunter will close if they don't find an established closer, but they are still trying to find one, obviously. The Orioles have said they still have moves to make this winter, no surprise since they've lost several players to free agency and trades, including Johnson.
Jonah Keri first reported the Orioles had ramped up their interest in Balfour.
Wright was arrested at his home Friday

The former Tigers teammates were voted into Cooperstown by the 16-person Modern Era Commit...

The Yankees still have room for a good-sized signing even after Saturday's trade with Miam...
St. Louis gets some much needed help for their bullpen

Keep tabs on the top 50 free agents right here

Morrow thrived with the Dodgers last season