With Jeter's retirement, Yankees will say goodbye to 'Core Four' era
After 2014, the Yankees will be without Derek Jeter, Mariano Rivera, Andy Pettitte or Jorge Posada for the first time since 1994.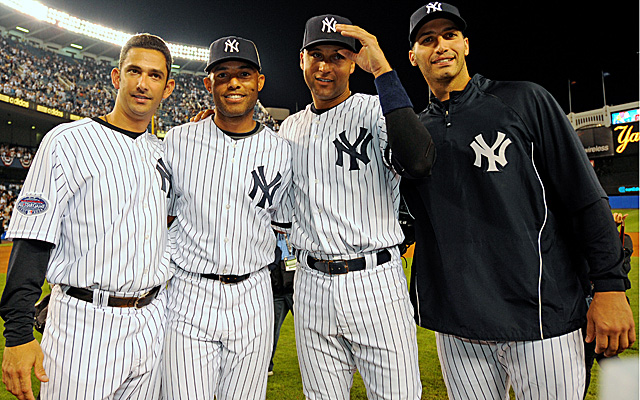 MORE: Jeter to retire after 2014 | Jeter stands tall among all-time shortstops
Remember the Yankees before 1995?
The franchise had gone through 13 seasons without a playoff appearance. OK, sure, the 1994 strike appears to have cost them the chance to break that string at 12 seasons, but the fact remains that the Yankees went from losing the World Series in 1981 to a lengthy playoff drought before returning to the postseason in 1995.
Something else happened in 1995. Four youngsters each made their big-league debuts: Andy Pettitte, Mariano Rivera, Derek Jeter and Jorge Posada. And in the ensuing 17 seasons, the Yankees missed the playoffs only twice. During that time, they'd play in the World Series seven times, winning the championship five times.
There was Pettitte. He would make 438 career starts for the Yankees in the regular season, winning 219, along with 40 postseason starts -- of which he won 18. There was Posada, who would rack up 7, 150 regular season plate appearances -- all with the Yankees -- along with 492 in the postseason.
And, of course, there was the best closer in the history of baseball in Mariano Rivera and one of the best shortstops in baseball history in Derek Jeter.
Jeter announced Wednesday that he will retire after the 2014 season. Along with him, the so-dubbed "Core Four" rides into the sunset. For most franchises, this iconic group would go down in lore as the best in history and probably remain there for generations to come. After all, five championships, seven pennants and 16 playoff berths in 18 years? That's incredible. It would be transcendent for 29 other franchises. For the Yankees, this was just the latest group of greats to carry on the winning ways of professional sports' most frequent champion.
The rest of baseball surely won't be shedding any tears over this movement. After all, the Yankees have been rather easily the best franchise in baseball since the Core Four arrived and have also received the most media coverage (the best franchise and a team in New York City? Go figure).
Even so, every fan of baseball in general must admit it's going to be weird to see the Yankees taking the field without any of the Core Four, starting in 2015. Even if it's a "happy weird," if you will.
For the Yankees and their fans, they're hoping for their next group of players to help the ballclub add multiple championships in the next generation. For the rest of baseball, a return to the pre-Core Four era would be preferable.
Regardless, when Jeter concludes his illustrious career after this coming season, it will mark the end of an indelible era. Not just for the Yankees, but for all of baseball.