With Kemp back, Dodgers have no excuses (but can they win?)
As exciting as Yasiel Puig has been, he hasn't rescued the Dodgers from last place. Can Matt Kemp, fresh off the disabled list, do that?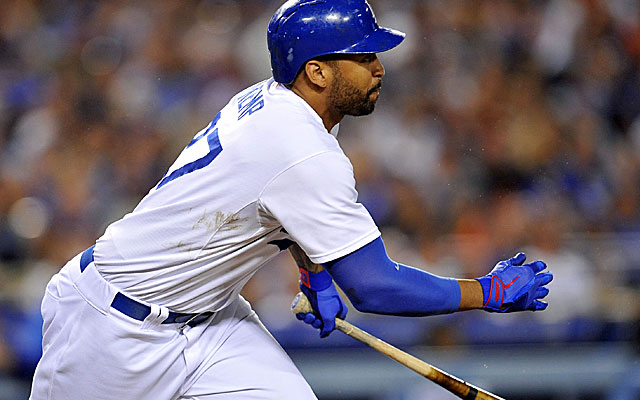 LOS ANGELES -- Yasiel Puig made the Dodgers infinitely more watchable.
But Yasiel Puig could not save this team.
Is there any reason to believe that Matt Kemp can? Is there any reason to believe in the Dodgers, who on the night of Kemp's return from the disabled list won their fourth straight game?
Kemp said he begged his way off the disabled list, promising manager Don Mattingly that he was "ready to play, ready to be himself." He told Mattingly "there's absolutely no excuses," the Dodger manager said Tuesday afternoon.
We've heard plenty of excuses about the Dodgers so far, some of them justified. Tuesday was just the third game that Kemp and Hanley Ramirez have both started; Carl Crawford, who was off to a strong start, hasn't played since June 1.
But the Dodgers have played three weeks with Puig starring as perhaps baseball's most exciting player. Even with the four-game winning streak, they're just 11-10 with Puig playing.
The Dodgers aren't giving up, nor should they. They've poured more than $220 million into this roster, and they told us this spring that it was a better team than the ones that went to the NLCS in 2008 and 2009.
For all their struggles, they're just seven games behind in a National League West race where no one is running away.
As colleague Jon Heyman wrote on Tuesday, every team in the division plans to be a trade deadline buyer. Every team is looking for starting pitching, although the Dodgers proved Tuesday night that bullpen help might be their most pressing need.
With new closer Kenley Jansen unavailable because he had pitched three straight nights, Mattingly brought in deposed closer Brandon League with a three-run lead in the ninth. League didn't get an out, and Paco Rodriguez survived a Marco Scutaro drive to the warning track in center field, with two runners on base, to get his first save.
Kemp raced back to the wall to make that game-ending catch, then punctuated it with a slap of the center-field wall.
"There's good things ahead of us," he told the Dodger crowd.
Mattingly spoke of being back at "full strength," even though Crawford remains out. Of course, Crawford's return will give the Dodgers an uncomfortable decision in the outfield, since Puig's play has turned him into a regular.
As good as he has been, though, Puig did not turn the Dodgers into a winning team.
Can Kemp do that?
Marcell Ozuna figures to be the next Marlins star on the move

Several relievers have signed in the last two days

Several teams are interested in the switch-hitting first baseman
Neshek and the Phillies are closing on a two-year contract

And the team that first drafted Cole is interested

This scout was SUPER into Jeter