With new contract, Braves make Freddie Freeman face of franchise
Freddie Freeman's eight-year, $135 million contract speaks volumes about what the Braves believe they have in him.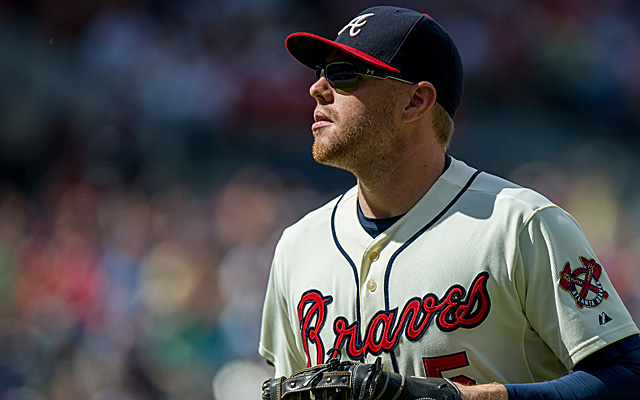 Report: Atlanta, Freeman agree to eight-year, $135 million deal
While the Atlanta Braves are by no means a small market team, the club has a reputation of being at least somewhat conservative in spending. This past season, for example, the Braves ranked 16th in the majors in payroll. They had three players make eight figures, but not a single player was playing with a contract of greater than six years. They are the very definition of a middle-market team and they operate as such.
The franchise record for an individual contract was previously six years and $90 million -- and that went to Braves icon Chipper Jones back in 2001.
So what does it tell you when the Braves give eight years and $135 million to a 24-year-old first baseman who has two good years and one great year under his belt?
It tells you that the franchise is fully committed to Freddie Freeman being the face of the franchise for a better part of a decade. He's "the man" in Atlanta and there's no question about it.
It's not just the Freeman deal that speaks volumes. There are a few more signs. 
Consider:
•Jason Heyward just avoided arbitration with a two-year, $13.3 million contract and reports indicate there hasn't been much traction in long-term talks. It's no coincidence that his deal only ate up the final two arbitration years and none of his free agency period.
•Craig Kimbrel is the best closer in the game and the Braves are about to head to salary arbitration with him, millions of dollars apart in what each party believes Kimbrel's price tag should be for 2014.
•The Braves didn't even try to keep All-Star catcher Brian McCann, who signed with the Yankees.
•As far as players outside the organization, the Braves have signed no starting-caliber position players or impact pitchers this offseason.
•Freeman gets an eight-year deal that shatters the franchise record even though he's three years away from hitting free agency. 
Yes, he was an MVP candidate -- finishing fifth in NL voting -- and is very young, but he is also a guy who hit .259 in 2012. A truly conservative team would sit back and see how Freeman fared over the next season or two before broaching the subject of such a huge extension. Instead, the Braves went a bit out of character and splurged to lock up their man through 2021.
All of this speaks volumes to the confidence Braves' brass has in Freeman as their face of the franchise for the next eight seasons.
deGrom is set to become a free agent after the 2020 season

Perkins missed most of the last two seasons due to injury

Jonathan Singleton was suspended after a third positive test for a drug of abuse
Rodriguez will join Jessica Mendoza and Matt Vasgersian on the "Sunday Night Baseball" boo...

Jeff Wilpon talked about payroll on Tuesday, and it won't make any Mets fan happy

Yelich's agent recently asked the Marlins to trade him before the spring