With no Donaldson, bittersweet All-Star Game for Colon, Balfour
Bartolo Colon and Grant Balfour are happy to be at the All-Star Game, but they also believe Josh Donaldson should be here with them.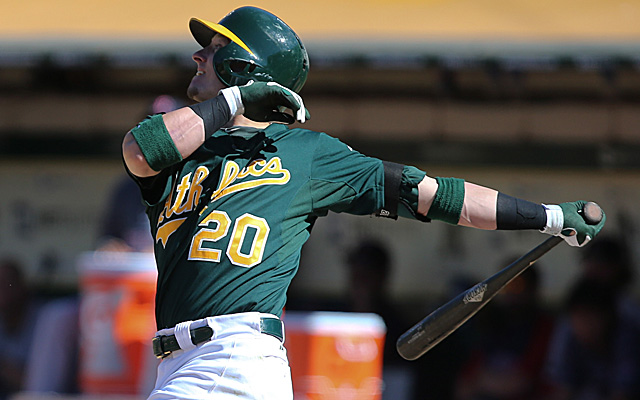 More All-Star: Patrick Corbin is enjoying the ride | Kipnis rides hot streak
NEW YORK -- The Oakland Athletics enter the All-Star Game with the second-best record in the American League and rank eighth in the majors in runs scored. And yet, they don't have a single position player here at the 2013 All-Star Game.
"It's definitely great to come here and represent the A's," said closer and first-time All-Star Grant Balfour. "Seeing [Yoenis] Cespedes in the Home Run Derby is awesome and having Bartolo [Colon] here with me is great, but I do feel like we have a good enough team that more players should have been here. But I'm sure around the league lots of people feel the same way."
The best candidate would have been third baseman Josh Donaldson. He's hitting .310/.379/.522 with 23 doubles, 16 homers and 61 RBI. He's also playing above average defense at third base. Still, Donaldson was squeezed out due to third base in the American League being so crowded. Evan Longoria and Adrian Beltre were also left off the AL team.
And though he's not in New York this week, Donaldson's teammates are thinking about him.
"Josh is an unbelievable player," Balfour said. "He plays hard, and this season he has turned the corner. You knew he had it in him, it was just a matter of it coming out -- and that's what is happening now. He's an exciting player to watch. I mean, being an ex-catcher, seeing him run down some of those balls down the line, it's amazing. I'm sure he's disappointed he's not here, but I'm sure we're gonna see him here in the future."
"Obviously I'm happy that I'm here, but I'm very proud of the job Josh Donaldson did in the first half," Colon said. "I wish he could be here. Third base is a very loaded position, but I am very proud of the job he did for us in the first half."
And if he continues to play as he has, Donaldson may well be the best position player on a World Series team -- a fine consolation prize for being an All-Star snub, no?
Does the Jackson signing mean the Giants are out on Lorenzo Cain?

Acuna edged out Shohei Ohtani and Vladimir Guerrero Jr.

There's no reason to run over the cases for and against Bonds, so let's have fun instead
The coveted right-hander would certainly be a fit in Milwaukee

We rate the best mustaches from random baseball cards because, why not?

Colon wants to break a Dennis Martinez record