With no Price and no Shields, Rays rotation has had a rough June
The Rays seemed to bring young starting pitchers to the big leagues without the usual struggles. This month has proven it's not always true.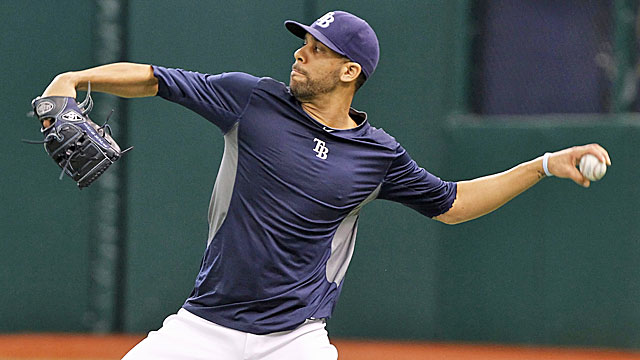 NEW YORK -- The Rays had us believing they were different.
They had us believing that they would never run out of talented, major-league ready starting pitchers. They had us believing that they could trade away an ace and still be just as good, even that they could have another ace go down with an injury and not really feel the pain of losing him.
There was no way the Rays would ever have a month like this, where their starters would go through the first 18 games with a combined ERA of 6.01, the worst of any team in baseball.
"It happens when you have young guys," Rays catcher Jose Molina said Thursday.
It happens. It turns out it even happens to the Rays.
"You have new guys," Molina said. "We don't have the same guys. I wish we had the guys we had."
James Shields is in Kansas City. David Price is on the disabled list. And the Rays have been left with a rotation that spent the first two-thirds of June as statistically the worst in the game.
It's been a little better lately. Matt Moore, whose 13.86 June ERA was the worst of any regular big-league starter, bounced back in an 8-3 win over the Yankees Thursday night, allowing three runs on four hits in 6 1/3 innings. The night before, Jeremy Hellickson went six innings in a 6-2 win in Boston.
But overall, the Rays have shown the inconsistency and stumbles that you expect from young starters -- but that we haven't come to expect from Tampa Bay starters, young or old. Overall, they're going through the worst month of starting pitching this franchise has seen since it was known as the Devil Rays.
They've found that they need Price, almost as much for the way he leads the staff as for his efforts on the mound.
"It's really irreplaceable," Moore said. "And it's not just the Cy Young pitching."
Price is the unquestioned leader of the rotation, a role that was handed down after Shields was traded. He takes the role seriously, his teammates say, and has tried to keep it up while he has been out.
Hellickson said Price sent him text messages before and after his Wednesday start. Moore and Chris Archer say they also get regular texts from Price.
It's not the same, they agree, as having him there. It's not the same safety net, they know, as having him start every fifth day.
It's enough to make you wonder about next year, since it's almost a given that the Rays will trade Price next winter, when he's two years short of free agency.
But this isn't about next year. This is about 2013, because the Rays have so far survived their subpar run of starting pitching with a surprisingly potent offense. They've hit more home runs than some of us thought they would, they've kept Evan Longoria healthier than they did last year and they've put the ball in play.
They've kept their heads above .500, and they've kept themselves alive in the American League East (where they trail the first-place Red Sox by just five games).
And Price should be back soon. The Cy Young left-hander, out a month with a left triceps strain, is scheduled for a minor-league rehab start Friday night.
With Price coming back, and Moore coming off a better start Thursday, Maddon expressed optimism that the rotation will start looking more Rays-like.
"By the end of the season, I anticipate something really good," he said.
Then again, Maddon always anticipates something good from his rotation. Then again, so do we.
Starting pitching wasn't supposed to be a problem for this team, even after the Rays traded Shields in what they hope will long be known as the Wil Myers deal.
"As Joe puts it, that's really been our DNA," outfielder Matt Joyce said.
Not this month. Not with Shields gone, not with Price out.
The Rays found themselves with a rotation too dependent on talented kids, and they pitched like talented kids. They were great at times, but they weren't consistent.
"The youngsters have faltered a bit," Maddon said. "A lot of the young guys have just been young guys. You'd like to see more consistency, but I'm not discouraged."
Moore, the 24-year-old left-hander, was great for two months, awful for three starts and significantly better Thursday night against a weak Yankee lineup.
Chris Archer, also 24, has already had three starts this month where he hasn't finished the fifth inning. In his other start, Archer went seven innings and allowed one run on two hits against the Orioles, maybe the best hitting team in baseball.
Overall, Rays starters had a 4.60 ERA in May, the worst month for a Rays rotation since September 2010. This month has been even worse, not just because of the high ERA but because Rays starters have averaged just 5.3 innings per start.
The last time a Rays rotation did that for an entire month? September 2004, when they were the Devil Rays and guys like Doug Waechter, Dewon Brazelton and Rob Bell were the starting pitchers.
Back then, there was no belief it would get better anytime soon. Now there is.
"I think getting David back will be a big positive," Maddon said.
There's plenty of time for it to change. The Rays are just three games out of a playoff spot. The hitting has carried them when the starting pitching has faltered.
>That happens with good teams, and the Rays still deserve their place among the list of good teams.
It's just harder to think of them as different, as somehow immune from the difficulties most teams face in developing young starting pitchers. Young starters are often inconsistent, but the Rays had been so good that we'd begun to think that didn't apply to them.
It turns out it did.
They're alive in the NLCS after their Game 4 win over the Dodgers

You never know what you might get from Arrieta, but what we got was brilliance in Game 4

The 2017 World Series begins Oct. 24
There will be a Game 5 after all on Thursday night

Tanaka shut the Astros down in ALCS Game 5 and has overcome a down season and past injurie...

The Yankees wouldn't chase Keuchel's bread-and-butter, those tempting pitches just at the knees...