With passion and hard work, Bryce Harper will win you over
Many fans say they hate Bryce Harper. Many baseball people said that, too, at least until they watched Harper play. "I wanted to hate him," one said. "But I couldn't." Harper's hard work and passion for the game has made fans of teammates and rivals alike. And he's only 20.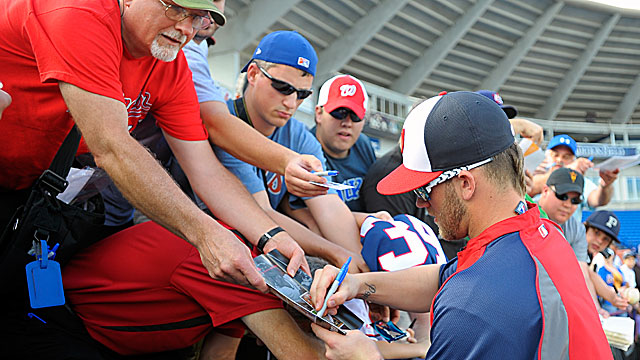 Here's how it goes with Bryce Harper:
You start off hating him, before you even know much about him. You hate him because of what you've heard, or because of what you think you've heard. You're not even sure why you hate him, but you do.
Then you see him. You see how hard he plays, how much he loves the game. You start hearing about how hard he works, or you see it for yourself.
And then . . .
"I wanted to hate him," said one longtime baseball man who coached in the National League last year. "But I couldn't."
It's amazing how many people in baseball say the same thing. Coaches and former coaches. Players and ex-players. Managers and ex-managers.
Even some of Harper's teammates with the Nationals will admit that Harper had to win them over.
"Honestly, I wasn't sure what to expect," said Denard Span, who was traded to the Nationals over the winter. "You hear some quotes. You know the perception. But he's a lot more mature than I thought. He respects the game. He hustles.
"It's hard to root against someone who plays that hard."
But many do. Even now, the mere mention of the 20-year-old Harper's name in a column or tweet can set off a string of nasty replies.
It shouldn't.
As this spring's World Baseball Classic showed, this game can still be played with passion. The Dominican Republic team that won the tournament proved it in every game, in every inning, in every at-bat.
The tournament reminded the Dominican players of how they play in the winter leagues back home. It reminded some American observers of the way the game is still played here in high schools and colleges.
It also reminded us that a few guys even play that way in the major leagues.
Jose Reyes does.
"That's the way I am," said Reyes, the shortstop for Team DR and the Blue Jays. "If you see me serious, you're going to say, 'What's wrong with Reyes?' "
Bryce Harper does, too.
"That's the way he is," Reyes said. "He's got that in his blood."
"Everybody's going to have an opinion on what I am," Harper said. "I'm going to play every single game like it's my last. I want people to be able to say that that kid played hard."
Harper skipped the WBC this year because the Nationals have him changing positions (he moved from center field to left field when the Nationals traded for Span), and because at age 20, he was going to go through his first full big-league spring camp. He quickly said he wants to play in the next WBC, in 2017.
It's no surprise to anyone who knows him that Harper watched as much of this year's tournament as he could. He watched the Dominican Republic team play, and yes, he noticed to the passion they showed.
"I love that," Harper said.
Harper relates to it, because he does play the same way. He wants to turn every single into a double, every double into a triple. He wants to make every play. He wants to throw every runner out.
"He goes 100 mph, with his hair on fire," Nationals general manager Mike Rizzo said. "I think that's what endears him to his teammates and the rest of the league."
The fact is that Harper's teammates do love him. He won them over early when he showed up in spring training last year and they saw the way he works and the way he plays. They realized that it wasn't just for show, because it can't be for show when you see it over and over and over again.
"It's not just eyewash," Nationals reliever Drew Storen said. "It's a Tuesday getaway day game. Every day, he brings it. He's got fire."
It took a little longer for the rest of the league to catch on, but Harper won his rivals over, too.
"Because he plays so hard, you think it's fake," Tigers outfielder Torii Hunter said. "It's not. Watch him when he strikes out. It's like, 'urrhhhh.' He hates it, even in spring training.
"I'll bet you most of the veteran guys will tell you they respect the way he plays."
It's true. They do.
And not just today's veterans.
"Every time I watch him, it's all out," Hall of Famer Al Kaline said. "How can you dislike someone like that?"
"You have to like him," former Braves manager Bobby Cox said. "Every single, he's thinking second right out of the box. If that makes them mad, they're in the wrong business.
"Everybody should watch him play."
The Nationals do, and people around them suggest that Harper's energy affects the way the entire team plays.
"He totally changed the complexion of that team," said Mark DeRosa, who played for the Nationals last year.
It's more than just energy, and it's more than just running hard all the time. It's a drive that Harper has, a drive that the best players in the game (or any game) always seem to have.
It's the superhuman drive to be great that every now and then gets matched up with superhuman talent.
"He's determined to be one of the best players in the history of the game," said Astros manager Bo Porter, who coached Harper with the Nationals last year. "The best guys have 'it,' and he has 'it.'
"I saw it right away."
Not everyone did. Not everyone has, even now, after Harper had a standout rookie season at age 19.
Perhaps it goes back to the way Harper emerged, how he made the Sports Illustrated cover at age 16, presented as baseball's version of LeBron James. Perhaps it was the eye-black, or the stories that were told when Harper was in the minor leagues.
Whatever it was that made you hate him, forget about it. Watch the kid play, and appreciate what he does.
Watch how he runs. Watch how he throws. See the passion.
Watch Bryce Harper enough, and you're not going to hate him.
You can't. You just can't.
The Marlins are indeed in teardown mode under new ownership

The Marlins still have more attractive pieces

The A's need outfield help, and the Cardinals have a glut
Minnesota has designs on the best starting pitcher available on the free agent market

The Cardinals have long coveted the Miami outfielder

The superstar slugger is eligible for free agency after next season