With Red Sox and Cardinals, all-DH World Series would be best for all
The Red Sox are the most DH-dependent team in baseball. The Cardinals have the most DH-friendly roster in the National League. But once again, we'll have a World Series played under different rules.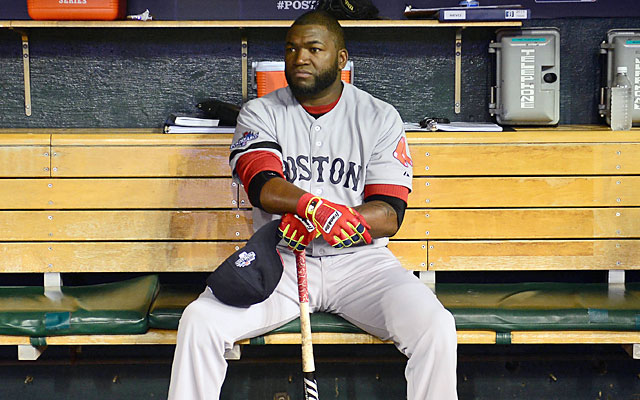 BOSTON -- I love National League baseball. I hate that three games of the World Series will be played under National League rules.
It's not good for the Red Sox. It's not all that great for the Cardinals.
It's not at all great for the fans.
Eventually, baseball will end the silliness of having the two leagues play under a different set of rules. Eventually, in all likelihood, the designated hitter will be used in both leagues.
But eventually isn't this week.
So on Wednesday night at Fenway Park, we'll see the Red Sox lineup as it was constructed, with designated hitter David Ortiz batting fourth and first baseman Mike Napoli batting fifth. And on Saturday night at Busch Stadium, we'll see either Ortiz or Napoli at first base (likely Ortiz), and the other one on the bench.
"It stinks," Napoli said Monday. "But what are you going to do? As long as we win, it's fine."
We go through this every year, but no team is as DH-dependent as the Red Sox. And few National League teams are as DH-friendly as the Cardinals.
The Cardinals expect to get Allen Craig back for the World Series, after he missed the first two rounds of the playoffs. But the thinking is that coming back from a foot injury, Craig will have a lot easier time as the DH than if he has to play first base. And Matt Adams has done well at first base in Craig's absence.
The Cardinals don't have a typical NL bench built with plenty of top pinch hitters. They were last in the league this year in batting average by pinch hitters (.201), and while Shane Robinson had a pinch-hit home run in Game 4 against the Dodgers, the Cardinals have just one hit in their other 14 postseason pinch-hit chances.
They'd be better off with Craig and Adams both getting four or five plate appearances (and with Craig able to stay off his feet by being the DH).
But this is about more than just two teams, and more than just one World Series.
With interleague play scattered throughout the schedule, it makes less sense than ever for one league to play with one set of rules and the other league with another set. Think of it this way: If you were starting from scratch, you'd never set it up that way.
It hasn't changed yet, and likely won't change for a while, because there's still enough resistance in the National League. It won't change the other way, both because the American League doesn't want to get rid of the DH and because the players union wouldn't go for it.
For now, and certainly for this week, we're stuck with what we have. We're stuck with watching Red Sox pitchers come to the plate, even though they had just one hit in 26 at-bats this season (Cardinals pitchers were significantly better). We're stuck with watching the weak Cardinal pinch hitters (Red Sox pinch hitters were significantly better).
We're stuck with a system that doesn't make sense.
"When we go to the National League park, I think we're at a bigger disadvantage than they are in the games here," Red Sox manager John Farrell said.
Farrell confirmed that Ortiz will play some first base in St. Louis, as he did in six of the 10 games the Red Sox played in NL parks in the regular season. Ortiz works out regularly at first, and he's not nearly as bad there as you might think.
"I've seen Big Papi play a lot," teammate Jonny Gomes said. "I mean, the guy can play first base. If you ask me, you can go #goldglove for Napoli, but Ortiz isn't bad there."
Playing Ortiz at first, though, takes Napoli out of the lineup. Napoli hit two of the four Red Sox home runs in the ALCS, including the one that gave the Red Sox a crucial 1-0 win in Game 3.
"But then you have Napoli's bat coming off the bench in the fifth or sixth inning," Gomes said.
That's fine, but that's not how the Red Sox were built. They were built for games with a DH, and as it turns out because of Craig's injury, Adams' development and the otherwise weak bench), the Cardinals are just as well off with a DH, too.
You can argue that the National League game is better, and I won't dispute it. But there's no question that this week, with these two teams, AL rules are a better fit.
Get 15 percent off any order of more than $75 at CBS Sports Shop

Get your sports fans something that they'll wear all year

No, you're not imagining things. This MLB offseason has been very slow compared to the last...
Francesa will retire from radio next month, so he'll have plenty of free time next summer

The Twins need help in the rotation, and they may look to the trade market to find arms

Here are the bullet-points of what went down Tuesday regarding MLB and the Braves' punishm...