With Red Sox and Cardinals, get ready for 'a true World Series'
The Red Sox and Cardinals have rarely met in interleague play. That unfamiliarity and the history of the franchises helps give this World Series an old-time feel, "a true World Series," as Cardinals coach Bengie Molina said.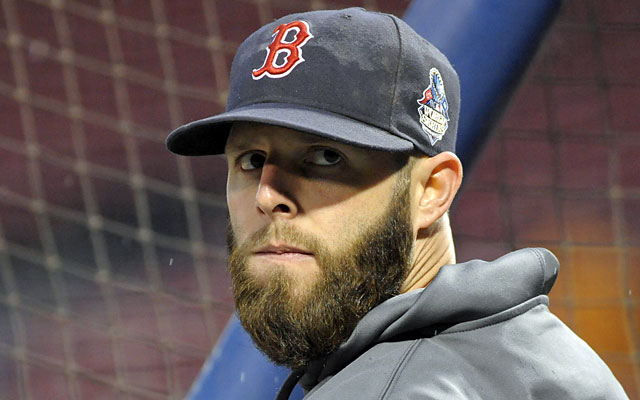 BOSTON -- The day after the Red Sox made it to the World Series, the sports guy on one of the local stations was trying to figure out the matchup.
"Nobody knows a lot about the Cardinals," the sports guy said.
Yes, the anonymous Cardinals, the team that played in the World Series two years ago and came within one win of making it back there last year. The team that won 97 games this season, tied with the Red Sox for the most victories in the majors.
The team with the best catcher in baseball. The team that sent six players to the All-Star Game in July.
Nobody knows a lot about them.
What the guy really meant is that nobody around here knows a lot about them. What he really meant is that this World Series is going to be a lot more like an old-time World Series, when the other league was just a little bit mysterious and October baseball really was just a little bit different.
"A true World Series," as Cardinals assistant hitting coach Bengie Molina said Tuesday.
Yes. What we'll see beginning Wednesday night at Fenway Park is going to be a true World Series.
"The World Series, in Boston, playing the Red Sox, storied franchises, teams that lead their leagues in wins," Cardinals left fielder Matt Holliday said. "It's worked out well. I think it's worked out well for MLB."
In this era of free agency and interleague play, World Series opponents can seem as familiar to each other as teams in their own league. But in this World Series, Cardinals Game 1 starter Adam Wainwright is going to be facing the Red Sox for the first time in his life.
"Adam said, 'I've never pitched in Boston, what's it like?'" said Chris Carpenter, the injured Cardinals starter who last pitched at Fenway in 2002. "I started talking about John Valentin and Ellis Burks, and he started laughing about how old that made me feel."
There's a sense of anticipation before every World Series, but some of the Cardinals players had that sense just for Tuesday's workout. For many of them, this was their first trip to Boston, their first look at Fenway Park.
The Cardinals last played at Fenway in 2008. The Red Sox last played in St. Louis in 2005.
Wainwright has never faced the Red Sox. Jon Lester, who starts Game 1 for the Red Sox, has faced the Cardinals only once, in that series in 2008. Only three players on the Cardinals roster have ever faced Lester, and only for 12 plate appearances, total.
Molina -- Bengie, not Yadier -- has more plate appearances against current Red Sox pitchers than anyone else in a Cardinals uniform.
"Obviously, there are a lot of unknowns," Cardinals general manager John Mozeliak said. "From the 10,000-foot view, it's kind of neat, because of the history of both organizations. This is a cool series."
It's a World Series that matches maybe the ultimate American League city with the ultimate National League city.
"Two great baseball cities," Red Sox president Larry Lucchino said during last Saturday's celebration. "They have a great baseball organization. They do it right, and they have a city that knows and loves baseball."
The lack of familiarity between the teams gives this World Series an old-time feel, but the Red Sox and Cardinals are combatting it in new-school ways. Both teams have done extensive studying of videos. Both teams have had their analytics people run all the numbers.
And then both teams have reminded their players that even though the team on the other side of the field might not be familiar, the game still is.
"Bottom line, it's not like we're going to play cricket," Red Sox catcher David Ross said.
Ross thinks the Red Sox, with their speed, actually play something of a National League-style game. Mozeliak thinks the Cardinals, with their grinding at-bats and deep lineup, sometimes can look like an American League team.
And familiarity can be overrated.
Red Sox outfielder Jonny Gomes has 11 plate appearances against Wainwright, but all of them were in 2010.
"If Wainwright's the same guy he was in 2010, then he wouldn't be the pitcher he is now," Gomes said. "Back then, he had just started throwing the cutter. I'm going to step in the box like I've never faced him before."
The Red Sox and Cardinals had no need to do that in the first round of the playoffs, when each faced a division opponent (the Rays and the Pirates) they'd seen 19 times this season alone. They didn't need to do it in the next round, when they mostly faced pitchers they'd seen a month or two months back, in ballparks they see every year.
Now they're going to play a team they rarely see, in ballparks they've rarely played in.
The Cardinals have a few guys left from the 2004 team that played the Red Sox in the World Series, including Mozeliak (who was assistant GM then), manager Mike Matheny and hitting coach John Mabry (who both played for that team), catcher Yadier Molina and Carpenter (who was hurt and couldn't pitch in that postseason, either).
"They talked about it a little, about how special [Fenway Park] is," third baseman David Freese said. "They said the crowd is going to be on top of you, it's going to be loud and they're going to hate us. There's nothing better than that.
"You go BoSox-Cardinals World Series, there's nothing better."
It's the first World Series since 1999 to match the best teams in each league. It's the rare World Series in this era to match teams and players who have rarely met before.
It may or may not turn into a great World Series, but right now, before it begins, it's feeling pretty great.
"What more could baseball ask for?" Red Sox starter Jake Peavy said. "To be in the World Series, with this city, this fan base, I don't know if you could pick a better opportunity. The St. Louis Cardinals and the Boston Red Sox. These two cities, these two fan bases, in the World Series.
"This is awesome."
This is a true World Series.