With the Royals, George Brett is a Hall of Fame difference-maker
Royals players and staff rave about the impact George Brett has made in just over six weeks as a hitting coach. But will he stay on the job?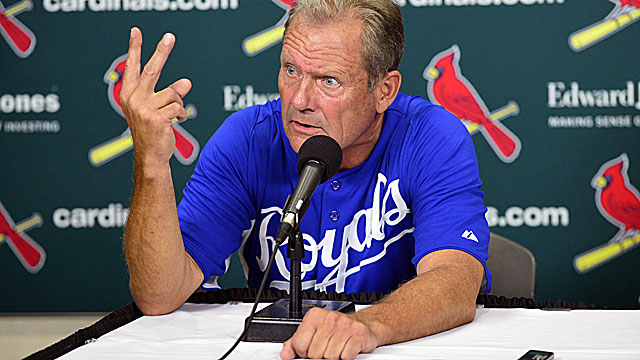 NEW YORK -- Fans always want to change the hitting coach, and I'm always telling them, it's not the hitting coach.
So it felt a little bit funny to spend Tuesday with the Royals and hear that yes, it's the hitting coach.
The improvement the Royals have made since those ugly days of late May? It's the hitting coach.
The life not just in Eric Hosmer's bat but in his legs, too? It's the hitting coach.
It's not fair to say that everything is now right with the Royals, and it's not fair to say that everything that is right happened because George Brett agreed to put his retired uniform number on his back.
But when general manager Dayton Moore and manager Ned Yost were trying to sell Brett on taking this job, they told him he could make a difference.
A little more than six weeks later, the consensus view is that Brett has done just that. And you don't need to spend too much time around Brett and around the Royals to start believing it yourself.
It is the hitting coach. It's the Hall of Fame hitting coach.
"I've never seen you swing the bat as good as you are right now," Brett says to Mike Moustakas in the Royals dugout Tuesday afternoon.
"He got me there," Moustakas replies, pointing at Brett.
Moustakas was hitting .183 with a .528 OPS on June 18, a couple of weeks after Brett took over. Entering play Tuesday, he was hitting .328 with a .894 OPS since then.
Hosmer hit two home runs in his first 68 games. He's hit seven in his last 16, tied with Chris Davis for the third-most in the big leagues in that span (behind Miguel Cabrera and Raul Ibanez).
"He's made a lot of guys relax," Billy Butler said. "Just him being here instills confidence in everyone.
"It's been great for this team."
He has been so great, it's hard to avoid asking the two most obvious questions:
First, is he going to keep doing it? Second, would he be even greater if he were the manager instead of a coach?
To answer the second question first, Brett's presence seems much less of a threat to Yost than it did when he arrived. If anything, the improvement the Royals have shown has reflected well on the manager, as well as on the new hitting coach.
The other question is tougher, in part because Brett won't answer it, possibly because he can't really answer it. The truth could well be that he doesn't know how long he wants to keep doing this.
He asked to be named as interim hitting coach when he agreed to take the job on May 30. He seems to be enjoying himself, but he says, "I enjoy it when we win. I hate it when we've got two hits in the fifth inning."
Brett said he plans to meet with Moore again when the Royals get home, but it seems pretty clear now that he'll at least stay on the job to the end of the season. After that, who knows?
"I know we're hoping," Hosmer said. "I can tell you every single person here -- me especially -- is crossing fingers hoping he stays."
That includes Pedro Grifol, who was brought in along with Brett when the Royals demoted Jack Maloof and Andre David, the hitting coaches who began the season. Grifol is the mechanics guy, working with players' swings while Brett concentrates on working with their minds.
"I think it's very important for this organization [that he stays]," said Grifol, who also gets high praise from the Royals hitters. "But that's something that's up to him."
Moore said Tuesday that he doesn't know what Brett will decide.
"I'm confident he'll be in some impactful role going forward," Moore said.
It's a fascinating situation, in part because of who Brett is and in part because of what he's doing.
You just don't see Hall of Famers show up as coaches, and you just don't expect them to throw themselves into the work as fully as Brett has.
"He's all-in," Royals pitching coach Dave Eiland said, repeating a sentiment you hear from everyone around the Royals, and from hitting coaches from other teams who have spoken to Brett.
Royals players rave about Brett's energy, his enthusiasm, his work ethic and his obvious determination to be as good as a hitting coach as he was as a player. They talk about how he's able to always emphasize the positive, to find a way to always point out what they're doing right instead of always telling them what they're doing wrong.
He tells them that if they take a bad swing, step out of the box, take a breath and take a good one. He tells them that the guy who breathes the best is the guy who wins. He tells them he believes in them.
He leaves the mechanics to Grifol, but his encouragement and emphasis on repeating good swings and forgetting bad ones has helped Hosmer and Moustakas, the two kids who the Royals have most counted on for a better future -- and the two whose early struggles were the biggest disappointment in the Royals' ugly May.
They believe in him, and so do their teammates. They believe, without a doubt, that George Brett the hitting coach has made a difference with the Royals.
"It's obvious," Butler said.
Yes, it is. It's obvious.