Woman files lawsuit claiming she was raped by Alfredo Simon
A woman has filed a lawsuit against Reds starting pitcher Alfredo Simon that alleges he raped her last year. She is seeking $15M.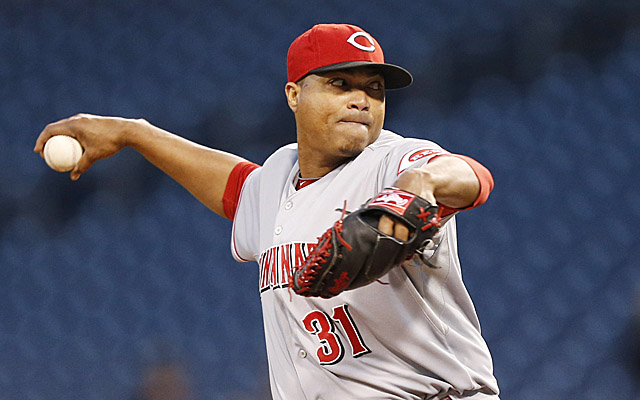 More MLB: Power Rankings | Expert Picks | Latest news & notes | Fantasy news
Reds starting pitcher Alfredo Simon has been accused of raping a woman in April of 2013, according to a lawsuit filed against him.
The lawsuit has been filed under the pseudonym of Jane Doe and seeks $15 million in damages -- $5M in compensatory damages and $10 million in punitive damages.
"The allegations are totally baseless," Simon's lawyer, Jack Quinn, told USA TODAY Sports. "Mr. Simon will defend this matter fully and will be totally exonerated."

The Reds declined comment.

Steve Kelly, a lawyer at Silverman, Thompson, Slutkin & White, LLC in Baltimore who is representing the woman, said he worked to gather facts on the case and discussed a resolution with Simon's attorney before filing the lawsuit.

"She knows this is going to be an incredibly traumatic event. It already has been," Kelly said. "You would never subject yourself to that had it not been for a real concern for the potential for this happening to other people."
As far as the alleged rape, the complaint says that the woman met Simon at a nightclub in Washington D.C. last season when the Reds were in town to play the Nationals for a four-game series. The complaint says that a man approached her saying he was Simon's manager. He offered the woman and her friends some tickets to the Nationals-Reds game the following day in addition to offering a chance to meet with Simon and Johnny Cueto, per the complaint.
Eventually, the woman accompanied Simon back to his hotel room when, the complaint says, the woman was too intoxicated to consent.
More from the lawsuit:
"However, Defendant abruptly changed his behavior from a romantic encounter to a terrifying physical attack. As soon as Defendant started to get rough with her, Jane Doe told him to stop. Defendant ignored that plea, pinning Jane Doe down on her stomach while she struggled and continued to demand Defendant stop and get off her."
The complaint notes that the woman did have a rape kit done with the police department that revealed tears, abrasions and protruding tissue. She testified before a grand jury a week later and a week after that, found out that no charges would be pursued, the complaint says.
Back in 2011, Simon was charged with involuntary manslaughter -- for allegedly firing shots in the air that ended up killing a man -- in the Dominican Republic, but he was acquitted.
Boston wants to add two big bats to their lineup, not just one

Even more relievers signed on the final day of the Winter Meetings

Keep tabs on the top 50 free agents right here
The league is not happy Ohtani's medical information leaked

Kansas City and Baltimore were quite busy at the Rule 5 Draft

Piscotty's mother was diagnosed with ALS earlier this year