World Series ratings might be lowest ever, but does it really matter?
The World Series ratings are down, but with attendance up and local ratings up, why does that matter?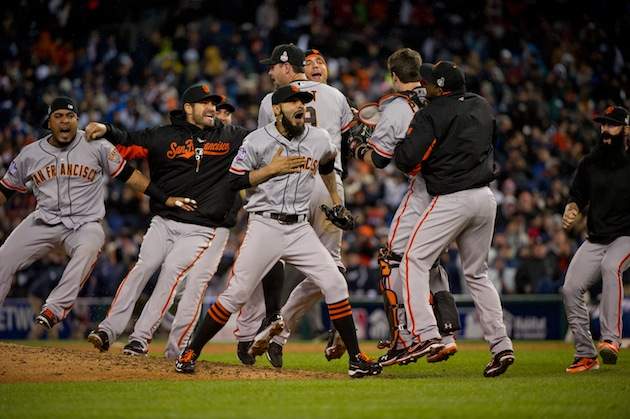 These guys don't care about the World Series ratings. (Getty Images)
After hearing throughout the World Series how bad the ratings were, is it really any surprise this year's Series likely will be the lowest-rated in history?
There are reports that this series will mark a new low for the World Series, including this one from CBSDetroit. Although there was a spike for the final game, the first two games were seen by fewer people than any other World Series game in history.
There will be plenty of people who use this as a signal of doom for baseball and its biggest stage. You can find those histrionics and overreactions other places. As for me? I just don't care. It's not that big of a deal. Why not? Well, ratings are down everywhere, especially as we move to a post-TV world, where people get their entertainment on other devices than the television. Ratings are less important now than they've ever been; ratings are an antiquated measurement for popularity -- like album sales or box-office receipts. 
Actually, the game is doing just fine.
Major League Baseball just signed an eight-year TV deal with Fox and Turner for an average of $800 million a year to broadcast postseason games. That's in addition to the ESPN deal that will pay MLB approximately $700 million a year from 2014-21, nearly double what it was paying before.
The Dodgers are banking on the possibility of local TV rights package worth as much as $4 billion, while Angels and Rangers have already signed deals worth more than $1 billion each.
According to Forbes, the average Major League baseball team's value rose 16 percent to an all-time high of $605 million in 2012. Revenue for the 30 teams was an average of $212 million in 2011. The Dodgers were sold for more than $2 billion. The Astros were sold for more than $135 million more than what Forbes had estimated the team's estimated.
Even as the World Series ratings were down, ratings for many individual teams are up- and not just the big-market teams at the top of the standings. For instance, the lowly Royals, who finished 72-90, recorded their best ratings in history. And they're not the only ones. Baseball is a regional sport, with fans supporting their team for 162 games over the course of six months. That's where the money -- and the viewership -- comes in.
And if you want to step away from TV money, attendance at Major League Baseball games is at its highest level since 2008. A total of 74.86 million fans went to big league parks this season.
So, yeah, the World Series isn't the Super Bowl -- and it will never be, because it's not a fair comparison. Football is the country's most popular sport and the Super Bowl is a singular event, the World Series is anything from four to seven games played over nine days. Few people can host seven parties over nine days. No, the media creation that is the Super Bowl, which is always held on a weekend, will get the ratings, even if people are more interested in the commercials than the game. The Super Bowl brings in nonsports fans, the World Series celebrates baseball fans.
The ratings are down, but the ratings are Fox's problem. It would only be baseball's problem if it was having trouble selling rights to the World Series -- and with Fox just re-signing its contract, that doesn't seem to be the case. It seems baseball's doing just fine.
For more baseball news, rumors and analysis, follow @EyeOnBaseball on Twitter, subscribe to the RSS feed and "like" us on Facebook.
Does the Jackson signing mean the Giants are out on Lorenzo Cain?

Acuna edged out Shohei Ohtani and Vladimir Guerrero Jr.

There's no reason to run over the cases for and against Bonds, so let's have fun instead
The coveted right-hander would certainly be a fit in Milwaukee

We rate the best mustaches from random baseball cards because, why not?

Colon wants to break a Dennis Martinez record