World Series Red Sox-Cardinals Game 4 preview: Buchholz vs. Lynn
Now that Game 3 is in the books, it's time to look ahead to Game 4. Here's a pitching preview of the matchup between Lance Lynn and Clay Buchholz.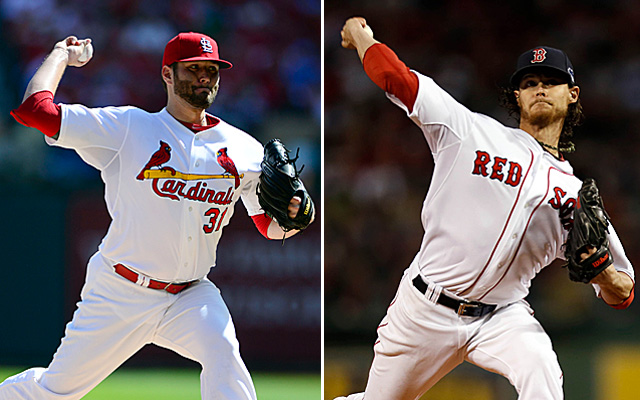 Game 3: Ends on obstruction call | Quick hits | Grades
ST. LOUIS - Now that the ridiculously wild Game 3 is in the books, it's time to immediately turn our attention to Game 4 of the 2013 World Series.
On the hill, the Cardinals will send Lance Lynn to the mound, while the Red Sox will counter with Clay Buchholz. It's pretty likely both are on a short leash and we see lots of both bullpens again like in Game 3.
Still, let's take a look at how the pitching matchups size up.
Lynn vs. Red Sox
The 26-year-old right-hander went 15-10 with a 3.97 ERA, 1.31 WHIP and 198 strikeouts in 201 2/3 innings this past regular season. He's had three appearances in the playoffs so far: A disaster against the Pirates, a good relief outing against the Dodgers and a decent start against the Dodgers, in which he gathered the victory.
The good news for the Cardinals here is that Lynn has generally been much better at home (9-3, 2.82 ERA) this season than on the road (6-7, 5.15).
As is a common theme in this World Series, Lynn has never faced the Red Sox. In terms of individual matchups, he hasn't faced a single Red Sox player more than four times, so that data is useless. Several, like Jacoby Ellsbury, Dustin Pedroia and David Ortiz have never faced him.
Buchholz vs. Cardinals
The 29-year-old righty was unbelievable during the regular season when healthy, going 12-1 with a 1.74 ERA and 1.03 WHIP. He may have ended up a Cy Young frontrunner if not for only making 16 starts due to issues with his throwing shoulder. And those may be a concern going in.
In the postseason, Buchholz hasn't been good at all. In three starts he hasn't made it past six innings and has a 5.40 ERA. The Red Sox have won two of his three starts, though.
Still, he doesn't seem right and the fact that he was given an extra day -- he was slated to pitch Game 3 -- shows he's not 100 percent. And he admits as much.
"Given the couple of days that I've been out so far, not a hundred percent," Buchholz said in his press conference before Game 3. "I've said it a couple of times this year, I don't think anybody, especially at this time of the season, is a hundred percent."
Buchholz's home/road splits this year don't show anything glaring and he, unsurprisingly, has never faced the Cardinals. He hasn't even faced any member of the Cardinals at the big-league level.
The Nats will host the All-Star Game in 2018

The Orioles are looking to trade Machado heading into his walk year

The Cardinals have been linked for a while to the Baltimore star
Gallardo spent the first eight years of his career in Milwaukee

MLB revenues are at a record high right now, but teams aren't spending it on players

Chicago added Tyler Chatwood earlier this offseason but might not be done adding to the ro...