Would Cubs go to six-man rotation upon Matt Garza's return?
With Matt Garza soon to return to the Cubs' rotation, it appears they have a problem. They currently have five guys who don't seem reasonable to be moved from the rotation. Maybe they go to a six-man rotation? Manager Dale Sveum wouldn't rule it out.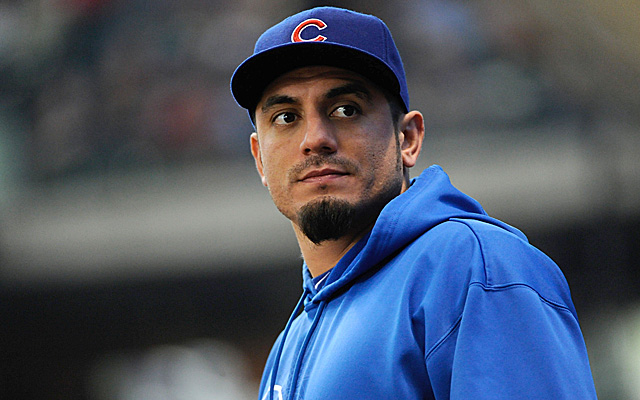 More MLB: Scoreboard | Standings | Probable Pitchers | Sortable Stats | Odds
Cubs starting pitcher Matt Garza is close to being ready to return to the starting rotation, and when that happens, the Cubs are about to be presented with a nice problem: too many starting pitchers. Garza has a Triple-A rehab start Thursday, and if all goes well he's likely to be determined ready to head back to the majors.
So, with five guys locked into the rotation right now, might they go to a six-man rotation when Garza is ready?
When asked about such an idea Tuesday before playing the Rockies, Cubs manager Dale Sveum didn't rule it out, saying it "could" happen.
"It's a tough decision because everyone has pitched pretty well and it's going to be one of those things, it's going to be unfortunate for somebody," Sveum said (ESPN Chicago). "Maybe you go to a six-man rotation for a week just because of matchups. You never know. A lot of things come into play."
As Sveum alludes to, figuring the odd man out in from the current group of five is a tall order. Scoff if you must based upon the Cubs' 16-22 record entering Tuesday, but they have had excellent starting pitching to date. Only the Cardinals, Nationals and Tigers have a better starting pitcher ERA than the Cubs' 3.40 mark -- while only the White Sox and Cardinals starters have a better WHIP.
Edwin Jackson would be the one dragging things down right now, as he has a 6.02 ERA and 1.57 WHIP, but he's also the one with a four-year, $52-million contact. He also has the most established track record in terms of logging major-league innings as a starter.
Jeff Samardzija isn't going anywhere, either, as he's shown flashes of frontline potential and the Cubs consider him part of the future core along with the likes of Starlin Castro and Anthony Rizzo. Ignore the record (poor run support and bullpen help are issues with sub-par teams, as we all know). He has a 3.70 ERA and 57 strikeouts in 48 2/3 innings.
That leaves Carlos Villanueva, Scott Feldman and Travis Wood.
Wood has to be safe. He's a 26-year-old left-hander and Monday night threw his eighth quality start in eight chances this season. He has a 2.02 ERA and 0.90 WHIP.
Feldman pretty well has to be safe, too. He has a 2.53 ERA overall, which is very impressive, but he has been dominant of late (1.60 ERA and 0.89 WHIP in his last five starts, a span that included his first career complete game).
Villanueva may be the most logical choice, given that he's mostly been a reliever throughout his career, but he's been real good as well so far this year. He sits with a 3.02 ERA and 1.01 WHIP entering Tuesday's start against the Rockies.
The Cubs' big issues this season have been the bullpen, getting on base and scoring runs. In terms of the starting rotation, there are two ways to help the bullpen.
1. Send a starter to the bullpen and hope he remains effective. This would be where Villanueva comes in.
2. Pitch deeper into the game, obviously limiting the amount of innings the bullpen can harm the team. Couldn't going to a six-man rotation help matters here? It's possible that more rest would enable the Cubs' starters to work deeper into the game.
Regardless of the route, the Cubs have an interesting situation in front of them, barring injury before Garza's ready to return.
Francisco leads the Dominican Winter League with seven home runs

Thome deserves enshrinement and here's why the case against him does not hold up

The Twins have already fortified the bullpen with Addison Reed, and now they want to address...
The Orioles likely want pitching, and the Indians have plenty of it

Halladay died in a November plane crash off the coast of Florida

The power-hitting outfielder is headed to Toronto