Would Girardi shed the pinstripes to manage his home-state Cubs?
With Dale Sveum's status not completely certain, it's worth wondering whether Yankees manager Joe Girardi might rejoin the Cubs.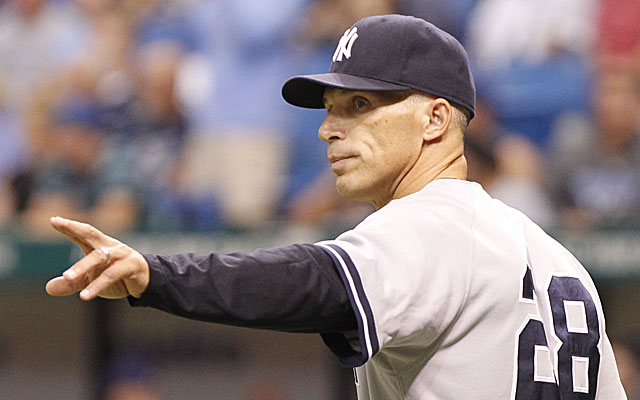 The Yankees want Joe Girardi back as their manager, and they usually get what they want. But is it possible Girardi could leave the Bronx for his home-state Cubs?
Chicago's beloved North Side team doesn't even have a managerial opening and there's no definitive evidence they will have one, but with Cubs president Theo Epstein saying publicly that they are in an "evaluation" process, it's at least interesting to wonder whether Girardi, a Peoria native who played at Northwestern and for the Cubs long before becoming a true Yankee, might consider returning to his former team.
Managers don't often walk away from the Yankees and the likely best opportunity for future titles based on their history, tradition and payroll, and Girardi has an especially strong relationship with all his bosses, including managing partner Hal Steinbrenner. Steinbrenner even consulted with him this summer before they acquired Alfonso Soriano from the Cubs (Girardi was in favor). However, if anyone else could hold an allure for Girardi, it might be the Cubs.
Yankees general manager Brian Cashman said in a phone interview that he couldn't answer how strongly Girardi might consider the Cubs should they have an opening but made clear their intention to retain Girardi, whose three-year contract expires after this season. "We'd like to have him back,'' Cashman said. "When the time becomes appropriate -- very soon -- we'll talk to him, and he'll have that opportunity. We'll put ourselves in position to have him back."
Cashman's bosses -- Steinbrenner and club president Randy Levine -- also are on board for a return for Girardi. Levine has called "miraculous" the Yankees' ability to hang in the playoff race this year considering their many injuries and other factors, attributing much of that to Girardi -- though it's all but certain they will fall short of the playoffs for the second time in his six-year tenure.
Girardi won a World Series managing the Yankees in 2009, two years after Cashman made the call to hire him over Don Mattingly, and he's averaged nearly 97 wins in his previous five seasons, virtually the same rate as predecessor Joe Torre, who did leave the Yankees after 12 years following four titles after they offered a pay cut to $5 million plus incentives on a one-year deal.
"Every year he's been really good," Cashman said of Girardi. "He brings the same energy, effort and level of detail every year. He's very consistent."
Girardi signed back with the Yankees after the 2010 season for a reported $3 million a year, and he wears No. 28 on his back, a tribute to the storied franchise's 27 World Series championships and his own hope to win the 28th, which seems like a hint. There's also no doubt he appreciates the opportunity given each year to win the World Series.
However, it's fair to say 2014 looks like it's going to be the biggest Yankee challenge in two decades given that Mariano Rivera and Andy Pettitte are retiring, Robinson Cano, Hiroki Kuroda and Curtis Granderson are free agents, Alex Rodriguez may not be available and age remains a factor. Not only that but the team's stated desire to get its payroll below $189 million may inhibit their usual free-agent largesse.
The Cubs look like they won't be ready to contend until 2015, but they are extremely stocked with top prospects, especially position players. It's still difficult to imagine Girardi leaving because the Cubs have great prospects, but it's worth noting that better days are ahead for the Cubs, who possess a  strong quartet of top positional prospects in Javier Baez, Kris Bryant, Albert Almora and Jorge Soler.
With a different regime in charge on the North Side three years ago, the Cubs chose to hire longtime minor-league manager Mike Quade, who had been serving as their interim, rather than wait and pursue Girardi. Then GM Jim Hendry proclaimed after hiring Quade that Quade was the one they wanted at a time Ryne Sandberg was a Cubs candidate and Girardi could have become one -- though it's possible Hendry figured or knew he had little or no shot at Girardi. That half-rejection shouldn't matter now, anyway, as Hendry, who is now coincidentally a Cashman adviser with the Yankees, is the one who made that call, not the current Cubs regime of Theo Epstein and GM Jed Hoyer.
Epstein  declined to comment on the Sveum situation beyond what he has said, and it would still be somewhat of a surprise if a managerial change was made two years after Sveum's hiring. And even in the event a managerial change is made it isn't known how hard he'd pursue Girardi, who he obviously knows well from previous Yankees-Red Sox battles. Epstein is said to be "very close" to Sveum, but that may not necessarily change the evaluation process. One of several factors likely being weighed, though, is the strength of the field of potential replacements.
That landscape could be altered considerably if Girardi is willing to remove the pinstripes.
Keep it locked right here for everything you need to know about the world of baseball Tues...

There have been several racially charged incidents at Fenway Park this year

Washington's right fielders have sputtered offensively since Harper went down
The good news? Wichita still has a chance to win the series Tuesday night

The 2017 season is going to shatter the all-time collective home run record

Ferrell somehow avoided going to the ground