Wright looks to add winning to love and happiness with Mets
This wasn't strictly a money-and-comfort deal for David Wright with the New York Mets. He needed to see a plan, a vision, for a winning team.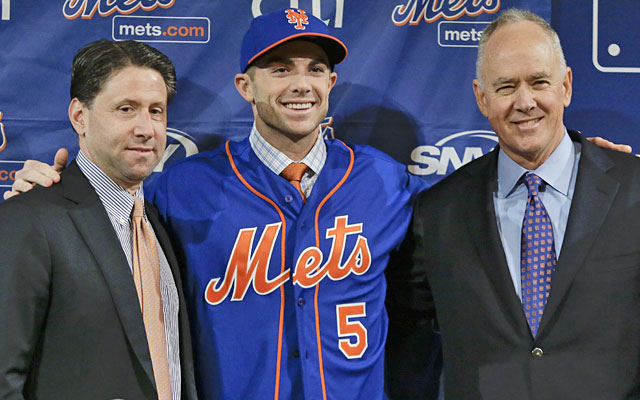 David Wright heard enough of what he wanted from Mets brass to convince him to sign a new deal. (AP)
NASHVILLE, Tenn. -- It was hard not to look at David Wright on the podium here Wednesday, buttoning a redesigned Mets jersey and soaking in his new eight-year, $138 million deal, and not see Derek Jeter … without the rings.
Bright, talented, articulate and now on deck to play his entire career in New York, Wright has it all. Except. …
Well, you know.
(Punchline goes here).
"I was as brutally honest with him as I could be," Wright said of general manager Sandy Alderson, describing talks leading up to this deal. "And he was as brutally honest with me as he could be."
Despite his burning desire to stay in New York and have the back of his baseball card list just one team over his entire career, Wright pointedly said he needed to get a few things straight to make sure this wasn't strictly a money and comfort deal.
He quizzed Alderson on the course of the Mets' minor-league system. He asked about trades that might be on the horizon. He brought up free agents expected to be on the market in coming years.
He asked for a plan. He demanded a vision.
"He wants to be on a winning team," Alderson said. "We all do, by the way."
Maybe not every one of the answers that Wright obtained was perfect. But he got enough good ones that he thinks that the Mets finally are past all of those doomsday scenarios that included bankruptcy, sale and long-term irrelevancy.
"He wanted to make sure I was going to be around and that the stuff he was reading about us selling the team was not true," Mets president Jeff Wilpon said.
As I said, maybe not every answer was perfect. Surely, this is where Wright and many of the team's fans simply will have to agree to disagree.
But the point is Wright is all in, full no-trade-clause in, and $138 million says he thinks the Mets can win.
"I can honestly say I never pictured myself in a different uniform," Wright said.
Plus, he said, "it wouldn't be as meaningful to win somewhere else. It feels like there's so much unfinished business.
"I'd like to finish what I started."
The Mets never are going to be the Yankees, despite the dreamy 1980s in Queens when, difficult as it sometimes is to remember, it really was the Mets who dominated the New York tabloids and did most of the winning in town.
And Wright never is going to be Jeter, if only because he's already 29 and has spotted Jeter five World Series rings.
But as the recipient of the largest contract in club history and now firmly on course to become the only superstar ever to spend his entire career with the Mets -- chew on that one for a while -- Wright at least is firmly positioned to have a strong say in New York baseball and how this era's Mets will be remembered.
He arrived at 21, in 2004, four seasons after their most recent World Series appearance. He already was a club anchor at 23, in 2006, when the Mets went all the way to Game 7 of the National League Championship Series before a heartbreaking loss to St. Louis.
But he hasn't seen the playoffs since, and he hasn't seen a winning season since 2008.
In discussions with the Mets, which ranged from sitting down with Wilpon at a Miami burger joint to golfing with Alderson in Virginia, he wanted hard answers that included the club's financial picture.
"We discussed that," Wright said. "It doesn't necessarily mean you have to have a $200 million payroll. It does mean you have to have the means to go out and put a team together.
"I'm no economist, and I don't pretend to be. It's not just signing free agents. It's making necessary trades. It's developing your minor leagues."
What did Alderson tell Wright regarding when the Mets will become re-acquainted, for once and for all, with stability and winning?
"Part of it is process-related," Alderson said. "We've got to have players coming, we've got to have a flexible payroll, all of those things. But ultimately you've got to win, too. And that accelerates things."
Going 46-40 over the first half of last season was part of that process. So, too, unfortunately, was going 28-48 after the All-Star break.
"When we were pretty good in the first half of the season, a lot of people started to notice," Alderson said. "Which made it more difficult when we played so poorly in the second half. In some ways, I'm happy we played poorly in the second half and not in the first half because we may have been kidding ourselves in the offseason about what we were and weren't.
"I honestly don't think we're that far away. Our pitching is strong. Our bullpen can get better. We've got some young talent we're going to infuse into the 'pen. If our pitching can be as good as it's been in stints, I think last year for example there were one or two months we had the best ERA if not in the NL in all of baseball, if we can be consistent there, we can be competitive. Even if we have to piece things together in the field."
Wright believes.
Based on the Wilpons and recent Mets history, you might say that's like believing in the tooth fairy.
But the first steps toward changing history are with moves like this. We'll see.
This spring, like Jeter, Wright is expected to be named his team's captain. And if this plays out the way that he and the club expect, he will do what Nolan Ryan, Tom Seaver, Darryl Strawberry and Dwight Gooden never did -- start and finish his career in Queens.
Today, Wright truly is Mr. Met … only with a smaller head.
Neither Josh Donaldson nor Brian Dozier have talked about a new contract extension

Francisco leads the Dominican Winter League with seven home runs

Thome deserves enshrinement and here's why the case against him does not hold up
The Twins have already fortified the bullpen with Addison Reed, and now they want to address...

The Orioles likely want pitching, and the Indians have plenty of it

Halladay died in a November plane crash off the coast of Florida