Wunderkind Polanco tearing up minors; patient Pirates resist callup
That future star Gregory Polanco is batting .420 isn't swaying the struggling Pirates.
More MLB: Power Rankings | Expert Picks | Latest news & notes | Fantasy news
Gregory Polanco, the Pirates' 22-year-old outfield phenom, is tearing up the International League with a .420 batting average, and some folks outside the Pittsburgh organization say they believe he could be ready to help Pittsburgh's struggling offense.
But the Pirates, with a recent history of individual success with their conservative approach to callups of top prospects, are showing no signs yet of going against their patient nature.
Polanco is seen as one-third of what promises to be maybe baseball's most exciting "outfield of the future," along with 2013 NL MVP Andrew McCutchen and the multitalented Starling Marte.
But when will that future come?
Polanco is dominating Triple-A to the point folks have sometimes been tracking how few pitches he has swung and missed, forcing himself into a conversation about a potential callup, at least among folks outside the Pirates organization. As of fairly recently, it was said to have been in the single digits, amazing considering Indianapolis has played 20 games.
Polanco, a five-tool player who is said to be a superb young man as well, has a .679 slugging percentage and 1.139 OPS, figures that could at least tempt a team that's having a hard time scoring runs and is a disappointing 9-14 following its breakthrough 2013 season.
The Pirates did next to nothing in the way of major-league player procurement this winter, so naturally Polanco is seen by people outside the organization as someone who could make an immediate impact and is naturally becoming a bit of a hot-button issue in the city. However, the Pirates aren't a team to bow to public pressure.
The Pirates are nothing if not patient. They also recall well that their patient approach paid off with solid to excellent starts at the big-league level for McCutchen, Neil Walker, Marte and Gerrit Cole while a somewhat quicker callup for Pedro Alvarez was followed by early big-league struggles. They kept Cole down while using the likes of Jonathan Sanchez to start games early last year, though ultimately it didn't cost them as they had their greatest season in more than two decades and made the playoffs while Cole thrived in his initial major-league foray.
So Polanco may continue to be the greatest minor-leaguer going, at least for a little while.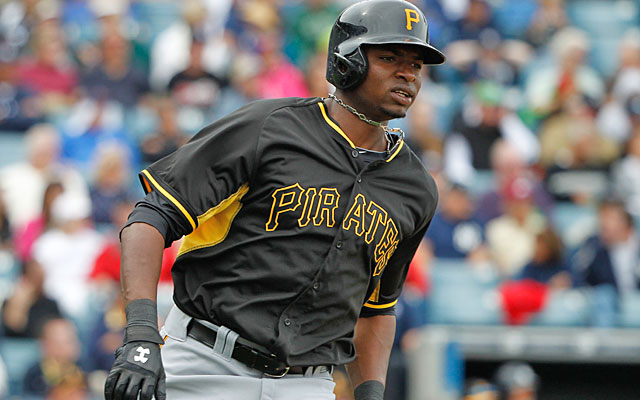 "No question he is off to a great start, but [Tampa Bay Rays outfielder Wil] Myers, McCutchen, Walker and others reinforce our conviction that a full year of Triple-A is ideal," Pirates GM Neal Huntington said. "There are some circumstances which could give comfort for a slightly shorter stay but the guys that we have pushed have had a harder time than the guys with whom we have remained patient. Our goal is to bring a player up when we believe him to be ready to thrive and not because of need."
That sounds like the call isn't necessarily coming soon for Polanco, especially since Polanco has only 22 games at Triple-A, including two in 2013. If the current trends continue of Polanco tearing the cover off the ball and the Pirates' offense floundering (they are tied for 19th in MLB with 90 runs and 22nd with a .671 OPS), the pressure could build -- though Huntington isn't one to let that affect him.
Some small-market teams consider service time in a conservative approach to calling up future stars, as a player's free agency and arbitration can be delayed with only a couple months more in the minors. That means a team's patience can be rewarded in a couple ways. However, Huntington made clear contractual considerations aren't the real factor in their analysis.
"Our evaluation of a player's readiness mentally, physically, fundamentally and personally to compete and thrive is what drives the decision to call that player up or not," Huntington said. "My job is to do everything in my power to help our people succeed. It is my hope that most will understand that those within an organization will have a better feel for a player's readiness than someone in the media who likely has a limited background with the player whom he is voicing an opinion or some scout who works for a different organization and sees the player for five days a week and proclaims the player 'ready.'"
Huntington added, "I trust our people and when we deem a player is ready, we will look to promote that player."
Polanco played at three levels last year, starred in the Futures Game and won the Dominican League MVP over the winter winter, so naturally the Pirates do view him as a future superstar. However, there has been some in-house suggestion he could use a little more time adjusting from center field to right field. And while he has played better than anyone else to date at Triple-A, and put up better numbers than anyone else in the minors, he was picked off base a time or two.
The Pirates, who finally broke through last year in a big way after an amazing 20 straight losing seasons, are currently employing Travis Snider and Jose Tabata in right field, with Snider starting OK (.250, three homers) and Tabata doing less well.
How Snider and Tabata fare is secondary, at least in the public conversation, if Polanco continues to play like the greatest minor leaguer going.
The lefty starter is coming off a terrible season

After acquiring Ian Kinsler and Zack Cozart in recent days, the Angels are trending upward

Cozart's coming off a big season as the Reds' shortstop
The veteran slugger spent the last eight seasons with Cleveland

The Padres may be poised for an active winter

Yes, Bryce Harper is going to make a lot of money next winter