X-rays negative on Hanley Ramirez's ribs, more tests planned
Although x-rays showed no fracture in Hanley Ramirez's ribs, he still has pain and is heading for more tests.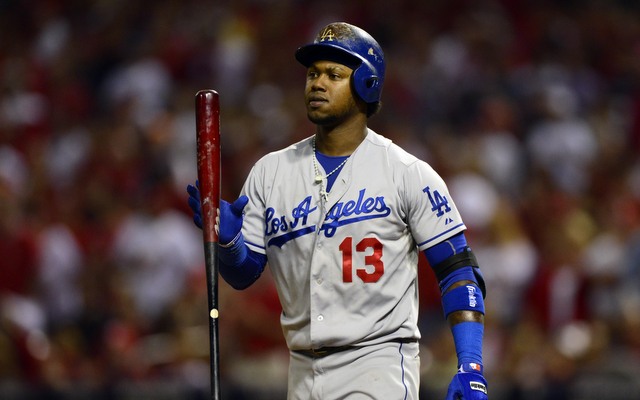 More NLCS: Game 2 recap | Game 2 quick hits | Game 2 game-ending audio
X-rays taken on Hanley Ramirez's left ribs have come back negative, manager Don Mattingly announced following Game 2 of the NLCS on Saturday. There are more tests scheduled for Sunday, however.
"We're going to do more tests tomorrow. It hurts," said Ramirez to reporters following the game.
Ramirez, 29, took a Joe Kelly fastball to the ribs in Game 1 on Friday. He stayed in the game and was tentatively scheduled to play in Game 2 before being a late scratch.
Ramirez missed time with hamstring, shoulder and back soreness in the second half of the season. Thumb and hamstring problems forced him to the DL for much of the first half. Even though there's no fracture, core injuries tend to linger and may affect him the rest of the series.
In 86 games this year, Hanley hit .345/.402/.638 (190 OPS+) with 20 home runs and 10 stolen bases. That doesn't include eight hits (.500 AVG) -- including four doubles, one triple and one homer (1.618 OPS) -- against the Braves in the NLDS.
The Dodgers can remove Ramirez from their NLCS roster due to injury, but he would not be allowed to play in the World Series if the team advances.
Dickerson had been designated for assignment by the Rays last week

Honeywell is considered a top 15 prospect overall in baseball

Troy Tulowitzki is not a pitcher, for those of you who don't know
It will be MLB's 15th game abroad and the A's third in 12 years

Dee Gordon, Zack Cozart, and Ryan Braun are among the players learning new positions this...

Adell shows part of the reason why Los Angeles drafted him 10th overall in 2017