Yadier Molina proves Cards kept right guy (and it wasn't Albert)
The Cardinals always knew there was one guy they had to keep. It wasn't Albert Pujols. It was Yadier Molina. Now he's proving them right.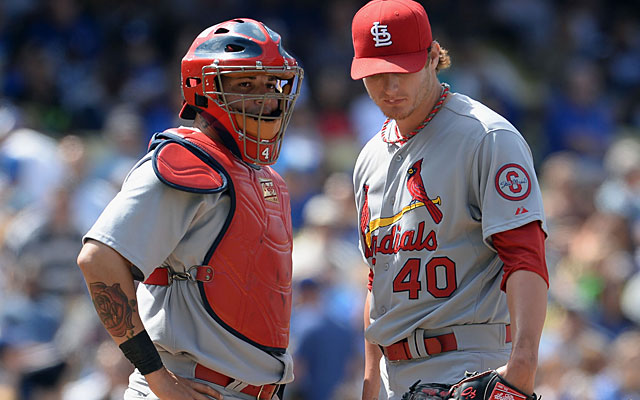 NEW YORK -- It's so easy now, anyone could do it.
Pick between Yadier Molina and Albert Pujols? One guy is the best defensive catcher in the world -- the best defensive player in the world, one of his teammates said -- and also the league's leading hitter. The other guy looks more like a full-time DH every day, and has about the same OPS as Omar Infante. (Nothing against Omar Infante, but he makes $4 million a year, not $24 million.)
Yeah, it's easy now to say that the Cardinals made sure the right guy stayed and let the right guy leave, but were you saying the same thing two years ago?
Were you saying it when Pujols was coming off three MVP awards and two runner-up finishes in six seasons? Were you saying it when Molina was a .262 hitter who often batted seventh, and not a .358 hitter who normally hits fifth?
They were.
"I remember when [Cardinals owner] Bill DeWitt and I would talk," general manager John Mozeliak said this week. "We talked about players who were coming up on free agency, and we'd ask how do you replace them. He and I always felt that [Molina] was the one where we had no answer.
"It was imperative that we kept him."
It didn't need to be either-or. There's nothing that says the Cardinals couldn't have kept Pujols and Molina. They did make offers to both. They didn't shove Albert out the door.
But only one of the two was in the "can't lose" category, and it wasn't the one most of us spent all our time talking about.
Seriously, can you imagine the Cardinals right now without Yadi?
"Definitely not," center fielder Jon Jay said.
Me neither.
This is a season where the Cardinals organization has been praised up and down, and rightfully so. They keep going to the farm system and finding one good arm after another. They've had to use four rookie starting pitchers, and yet their rotation has the best ERA (2.78) in baseball. They lost one closer in spring training and watched their first Plan B fail, and yet they have the best record in baseball (42-23 entering Thursday).
Over the past two years, they've lost a guy who was considered the game's best hitter (Pujols), a guy who many considered the game's best manager (Tony La Russa), perhaps the best pitching coach (Dave Duncan) and one of the best starting pitchers (Chris Carpenter, although he's still trying to come back).
But they kept Yadi. They kept the one guy they could least afford to lose.
"Albert Pujols was a great player, a great hitter, but there could be other great hitters," reliever Randy Choate said. "But Yadi? Defensively, he's irreplaceable."
You could say the Cardinals were fortunate that Molina didn't show much interest in leaving, that he learned from the Pujols contract saga and handled his own negotiations a year later much differently. You could also say that he agreed to what now looks like a bargain of a contract -- $75 million over five years -- seven months before he could have tested the market.
"My main thing was to stay here," Molina said. "This is the only team I've known. They did a good job. My agent did a good job."
Surely, he would have gotten more money had he waited.
"You never know," Molina said. "But you want to be at a place where you can be happy with your family."
He's in a place where he's an acknowledged leader, a place where he can win, a place where there's no question he's appreciated.
Evaluating catchers isn't easy, because even the best sabermetricians admit that numbers rarely do the position justice. Molina's numbers are good, but the areas in which he excels the most are the ones no one has yet figured out how to quantify.
Talk to other catchers about Molina, and you hear about his physical skills. Jim Sundberg says he's one of the best he has ever seen at blocking pitches in the dirt. Tim McCarver says he has never seen anyone as good at throwing behind runners.
But how do you put a number on the way Molina seems to bring out the best in every pitcher? How do you account for the way he will take responsibility for shifting the Cardinals' defense (and almost always being right)? How do you rate the way he makes his pitchers feel so comfortable on the mound?
"He's so smart now," said Adam Wainwright, who has been with Molina since 2004, when they played together at Triple-A Memphis. "He has skills, but his mind is on another level."
Cardinals pitchers will tell you how few times they shake off a pitch Molina calls, but what's just as interesting is how he reacts when a pitcher does shake him off. Cardinals closer Edward Mujica thinks back to Game 5 of last October's Division Series against the Nationals.
"I wanted to throw a changeup, and he put down a fastball," Mujica said. "He came to me and said, 'Throw whatever you want. I'll catch it.' He said, 'I won't even give you a sign.'"
Mujica pitched a scoreless inning in a game the Cardinals trailed 6-3, but famously came back to win 9-7.
And this year?
"I never shake him off," said Mujica, who has 18 saves and a 1.57 ERA.
Rookie Shelby Miller, who is fourth in the National League with a 2.21 ERA, figures he has shaken Molina off one time total in his first 12 starts.
"I think if I execute the pitch he calls, good things are going to happen," Miller said. "It's pretty much follow Yadi, and you'll be in good shape."
Miller, a first-round draft pick with a 96 mph fastball, could probably make any catcher look smart. But not every Cardinals pitcher has Miller's stuff, and none of the pitchers on Molina's Puerto Rico team in the World Baseball Classic did.
Even among Cardinals players who see him every day, what Molina did in the WBC still inspires awe. Working with a pitching staff that included no regular major leaguers ("The first time I saw them, I figured they'd have to win every game 10-9," one scout said), Molina took Puerto Rico all the way to the WBC final before losing to the Dominican Republic.
"He brings out the best in pitchers," Wainwright said. "He takes what a pitcher has and makes him the best he can be -- and a little bit more."
And now he's a .358 hitter, too. The Cardinals always thought of Molina as a tough out, a guy they liked to see coming up with a game on the line. But the numbers keep improving, too, with his OPS rising every year but one since 2006.
He finally moved up on a few MVP ballots last year, finishing fourth (with one first-place vote) in a season where Buster Posey became the first NL catcher to win the award in 40 years (since Johnny Bench).
There's a long way to go in this season, but if the vote were held today, it might well be a catcher again. It might well be Molina this time, which would give the Cardinals their fourth MVP in the past nine years.
Pujols won the first three, and nobody was arguing with the results. But we've learned something in the year-plus since he left, something the Cardinals seemed to know even before he was gone.
He may have been the Most Valuable Player. He wasn't their most valued player.
The first baseman wasn't the guy they had to keep.
The catcher was.
Despite an awful month, the Dodgers are again NL West champions

The record of 38 previously belonged to Hall of Famer Frank Robinson

The report also says that Jeter had outgoing president David Samson do the firing
This wasn't a traditional hidden ball trick, but the Blue Jays pulled it off

The Tigers essentially fired Brad Ausmus on Friday, but things are going to be ugly for a...

The club made the announcement on Friday