Yan Gomes hits walk-off HR; Root Sports says Mariners won anyway
The Indians and Mariners played a wild game Monday afternoon, so wild Root Sports forgot who actually won.
More MLB: Scoreboard | Standings | Probable Pitchers | Sortable Stats | Odds
The Mariners and Indians played a wild back-and-forth affair Monday afternoon, a game that featured five lead changes after the top of the seventh inning. Seattle blew saves in both the ninth and 10th innings, and the big blow was a three-run walk-off homer by Yan Gomes. Cleveland won the game 10-8.
The dinger was Gomes' second of the game, and it came one inning after the Indians tied the game on Tom Wilhelmsen's error. The Mariners closer dropped a flip from Justin Smoak at first base. Endy Chavez and Smoak hit solo homers in the top of the ninth and 10th innings respectively to give Seattle short-lived one-run leads.
Afterward, Root Sports either jumped the gun with a graphic or refused to admit Gomes had won the game. I like to think it was the latter: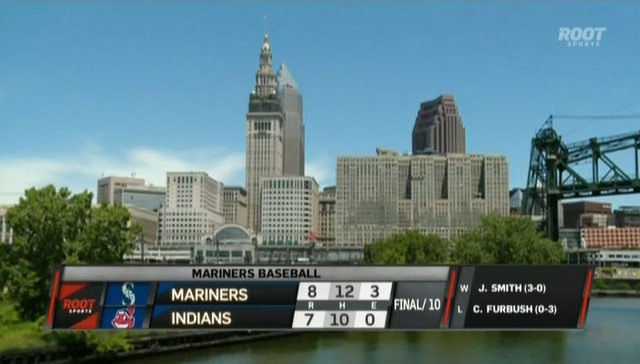 We see chyron mistakes all the time, but what we don't see all the time is crazy up-and-down games with constant lead changes in the late innings. Take a look at this graph:

Source: FanGraphs
If you're unfamiliar with Win Expectancy, or WE, I suggest this quick primer. Long story short, it's the difference in a team's chances of winning from one situation to the next. The graph shows the Mariners' and Indians' chances of winning as the game progresses, and those last few innings look very rollercoaster-ish.
Cleveland swept the four-game series from Seattle, winning three games via walk-off. They lead the Tigers by 2 1/2 games in the AL Central.
(screen cap courtesy of Eye on Hockey's Brian Stubits)
Our annual look back at the preseason predictions and rankings shows lots of good and bad

Keep it locked right here for everything you need to know about the world of baseball Tues...

There have been several racially charged incidents at Fenway Park this year
Washington's right fielders have sputtered offensively since Harper went down

The good news? Wichita still has a chance to win the series Tuesday night

The 2017 season is going to shatter the all-time collective home run record