Yankees: A-Rod disappointing, won't live up to contract
Yankees own Hal Steinbrenner admitted on Monday what we already knew: the team has been 'disappointed' in Alex Rodriguez's behavior.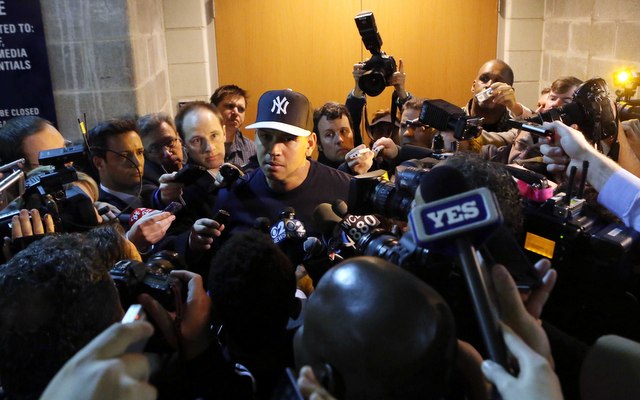 More MLB: Scoreboard | Standings | Probable Pitchers | Sortable Stats | Odds
Alex Rodriguez has yet to play in a game this season following left hip surgery in January and, in fact, he isn't expected back until after the All-Star break. His rehab work consists of hitting in the batting cage, fielding grounds hit directly at him and doing light agility drills. It's a long road back.
The Yankees kept A-Rod away from the team in spring training to avoid any distractions stemming from his ties to the South Florida anti-aging clinic Biogenesis, and they've made it no secret they consider his 10-year, $275 million contract -- which runs through 2017 with more than $100 million left to be paid -- a mistake. During a recent ESPN interview, GM Brian Cashman acknowledged Rodriguez would never live up to the contract.
Owner Hal Steinbrenner took it one step further on Monday, saying the team has been "disappointed" in their third baseman at times.
"There have no doubt been times when we've been disappointed in him, and we've conveyed that to him," Steinbrenner said (New York Post). "He understands that. Everybody's human. Everybody makes mistakes. If you've got a guy over the course of 10 years, there are gonna be times … any of us make mistakes."
Steinbrenner also confirmed the Yankees have not heard anything from MLB regarding its investigation into Biogenesis. "We haven't been told anything, so it hasn't complicated things at all ... Innocent until proven guilty, right?"
This isn't so much a George Steinbrenner-esque blasting through the media as it is an honest, fair and diplomatic answer to a question asked by a member of the media. Hal's father went out of his way to create controversy and make sure players were aware of his disapproval. Hal is much more calculated and reserved.
It's easy to forget that when A-Rod signed his record-breaking contract, he was coming off his third AL MVP award and a .314/.422/.645 (176 OPS+) batting line with 54 home runs and 156 RBI. He also had played in at least 148 games for eighth consecutive seasons. There were no PED allegations, no hints at the impending physical breakdown, nothing. He was a star.
Steinbrenner called a spade a spade. I think it's more interesting that the club has apparently already spoken to Rodriguez about their disappointment, something that went completely under the radar. A-Rod is overpaid and disappointing, yet the team was able to convey that without being controversial. That's the kind of stuff that makes it clear these are no longer The Boss' Yankees.
Dickerson had been designated for assignment by the Rays last week

Honeywell is considered a top 15 prospect overall in baseball

Troy Tulowitzki is not a pitcher, for those of you who don't know
It will be MLB's 15th game abroad and the A's third in 12 years

Dee Gordon, Zack Cozart, and Ryan Braun are among the players learning new positions this...

Adell shows part of the reason why Los Angeles drafted him 10th overall in 2017