Yankees are better with Jeter, but will he (and they) be good enough?
Derek Jeter returned to the Yankees on Thursday. He makes them better, but at age 39, coming off an ankle injury, is he good enough?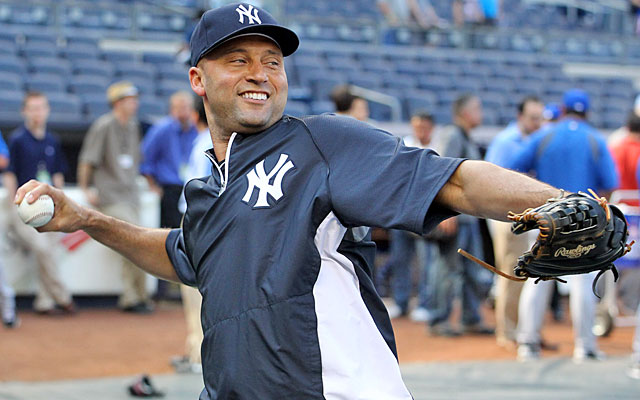 NEW YORK -- We'll see how he moves. We'll see how he hits.
It's hard to believe Derek Jeter can still be the same, not at 39 years old, not after two broken bones in his ankle. It's hard to believe that by himself he can lift this Yankee lineup from underwhelming to championship level.
But it sure was hard to see how the Yankees were going to keep winning without him.
"We're better with him here, period," Yankee general manager Brian Cashman said Thursday morning.
They beat the Royals 8-4 in Jeter's 2013 debut, and he even contributed a run scored and an RBI. But after going 1 for 4 on four ground balls, Jeter also had to leave the game with a sore right quad, and there's a real chance he won't be able to play Friday.
And also a real chance that this is what life will be like with a 39-year-old shortstop (who sometimes is the DH).
Still, it's easy to agree that the Yankees are better with Jeter, even if this turns out to be a somewhat lesser version of Jeter.
There's no way to know how the Yankees would have done in last year's ALCS if Jeter doesn't break his ankle in the 12th inning of Game 1. But it sure did feel like that series was over the minute he collapsed on the infield and couldn't get up.
There's no way to be sure Jeter can carry this Yankee team to the playoffs. But they sure don't look like a playoff team without him.
The Yankees say the reports on Jeter from his brief rehabilitation stay in Triple-A were good. Surprisingly good, they say, because 39-year-old shortstops aren't supposed to move well, and shortstops coming off serious ankle injuries aren't supposed to move well, and now Jeter is coming back trying to defy both of those certainties.
"He's running really well," Cashman said. "He's moving really well. Right now, he seems 100 percent healthy."
We'll see for ourselves. Jeter's one hit Thursday was an infield hit, but Royals third baseman Miguel Tejada didn't even throw to first. Jeter said his quad tightened on his fifth-inning ground ball to second base, and the Yankees pinch hit for him in the eighth inning.
Jeter did seem to be moving well in his four-game stay with the Scranton/Wilkes-Barre RailRiders. The .111 batting average in Triple-A isn't a concern, but the fact that Jeter never played back-to-back games at shortstop and never played a full game in the field could be.
Jeter returned to the Yankees as the designated hitter Thursday, returned a day early because both Brett Gardner and Travis Hafner got hurt Wednesday night and the Yankees decided Jeter was their best option.
Girardi suggested before Thursday's game that Jeter will play shortstop Friday night against the Twins, but that was before the problem with the quad. He wouldn't commit to any schedule beyond that, but you can bet Jeter will be lobbying soon enough to be in the lineup every single day (and most of them at short).
You can bet he won't admit the ankle is a problem, or even a concern, even if it is. Jeter's no-excuses, you-play-or-you-don't attitude is one of his most admirable characteristics.
The Yankees need Jeter to be good. They need him to make an impact. They can't know for sure that he will, and Girardi seemed more hopeful than certain when he answered a question about his expectations for Jeter.
"For him to be the Derek he was last year," Girardi said. "There's nothing that tells me he won't be, so those are my expectations."
They're better with him here. They believe that, and it's hard to argue with him.
Is he going to be good enough? Are they going to be good enough?
We'll just have to watch and see.
Fowler suffered a knee injury at Chicago's Guaranteed Rate Field

The lefty starter is coming off a terrible season

After acquiring Ian Kinsler and Zack Cozart in recent days, the Angels are trending upward
Cozart's coming off a big season as the Reds' shortstop

The veteran slugger spent the last eight seasons with Cleveland

The Padres may be poised for an active winter