Yankees aren't getting well, but they're on the verge of getting Wells
New York needs righthanded bat and is trying to finalize a trade for veteran Vernon Wells.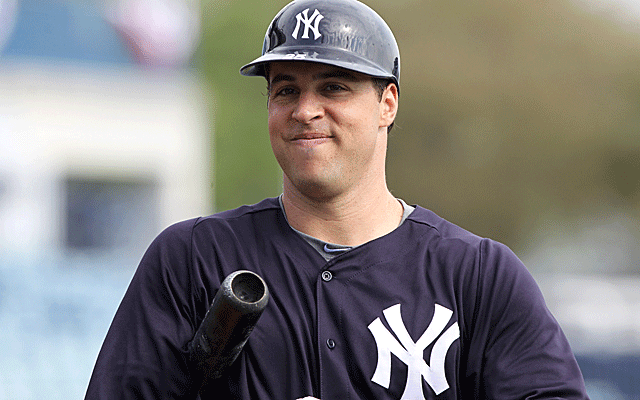 Injuries have hit the Yankees hard. Mark Teixeira might miss as much as two months.
(Getty Images)
TAMPA -- One scout here was overheard asking another, "Why are the Yankees interested in Vernon Wells?"
Responded the second scout, "Well, they must be trying to get younger.''
The second scout was kidding about Wells being part of a youth movement, we think. But Wells, a player who already has announced his retirement (it's after 2014), is actually younger than eight current Yankees, many of them by a lot.
He's also healthier. And having a big spring.
So it shouldn't come as a shock that the Yankees and Angels rekindled winter talks centered around the veteran outfielder, who is said to be on the verge of going to New York with cash, and lots of it, in a very likely deal that was first report by Yahoo's Jeff Passan.
The first scout then wanted to know what the Yankees have in abundance that the Angels could get in return.
To which the second scout responded, "injured veterans.'' (Yes, this was an actual conversation.)
Not surprisingly, the Yankees are on the wrong end of a lot of gallows humors this spring, when almost nothing has gone right.
Of course, what the Angels get back, will be a few dimes on the dollar, plus potentially a better outlook for young outfielder Peter Bourjos, who won't be having to look over his shoulder and seeing a player the Angels are paying $21 million a year on the bench and wondering when he's going to get in. (Wells got in far too often last year, by the way.)
Wells gets new scenery, and while some might wonder how the Bronx can be better scenery than Newport Beach, well, in his case it can be. (Which is why he has already signed off on the possible deal, sources told CBSSports.com.)
What the Yankees get is unclear. While Wells at 34 isn't the player he was at 30, he can be a serviceable right-handed bat, which is something they badly need. They need a lot of things. But that's right at the top of their wish list right now.
Anything can serve as positive news in a Yankees camp that is nothing short of a disaster to this point. They've lost Curtis Granderson for at least a month, Mark Teixeira for a month, or two, or maybe more, and Sunday it became clear that Derek Jeter isn't going to perform the miracle of being ready for Opening Day only six months after breaking his ankle (he may have more miracles in him, but not that one).
Yankees general manager Brian Cashman said he could see "reality'' even in Jeter's eyes when he talked to him about Opening Day, and if so, that may be a first for the miracle-working iconic shortstop.
"He had a great rehab up until last week,'' Cashman said in a comment that passed for half positive in a camp that has a pall hanging over it.
With Jeter officially saying that he's "likely'' to miss opening day (read that as close to 99 percent), $90 million of their approximately $215 million payroll will be on the disabled list to start the season, as Sweeny Murti of WFAN in New York pointed out. As far as missing home runs, the percentage is way higher than that for the team that hit a league-leading 245 dingers in 2012.
Assuming the deal is consummated, Wells would join an outfield mix that includes the just-acquired Brennan Bosch and the just-acquired Ben Francisco, as Cashman tries to piece together a roster on the move. (And by the way, he is getting around nicely, despite a broken leg suffered in a skydiving incident earlier this spring. Cashman said, "My rehab is going great,'' when someone asked.)
With Jeter's going slightly less so, athletic but error-prone Eduardo Nunez will man shortstop (the Yankees aren't interested in Yuniesky Betancourt "at this time''), joining a lineup that looks decidedly un-Yankeelike. Juan Rivera appears like he'll play first base, though the Yankees aren't admitting that yet (they may be hoping for another trade), and career backups Francisco Cervelli and Chris Stewart will form a catching duo that will be better defensively than offensively.
How much Wells will help, assuming the deal is agreed to (the trade will need commissioner's approval since the Angels will be paying the bulk of the $42 million to go on his deal thru 2014, plus possibly a physical) is open for debate. While he was one of the worst-hitting outfielders in baseball last year -- he had a .682 OPS -- and struggled so badly that competitors were openly (somewhat openly) cheering for Angels manager Mike Scioscia to play him, there's a possibility he could rejuvenate his career with a fresh beginning.
Wells is in shape, and hitting up a storm this spring. He has four home runs, a .361 batting average and a 1.112 OPS over in Tempe, Ariz.
Wells also will come cheap, though how cheap has yet to be revealed. The Angels only saved $5 million total when they took what remained on his $126 million, seven-year contract, but they will pay the vast majority of what's left -- the Yankees will pay somewhere in the single-digits (in millions) per year. The deal will need to be approved by the commissioner's office since more than $1 million will be changing hands, so nothing is expected to go down Sunday night. (The effect on the Yankees' payroll threshold would be minimal since they only get charged the amount they pay.)
The biggest reason for the Yankees to make this trade is, it can't hurt. Not when they are hurting so much.
And things aren't improving. If anything, they are getting worse.
Mariano Rivera was revealed by the New York Post to have been experiencing "severe'' headaches, but the reported tests found nothing major, and the suspicion is that he had migraines. Not fun ... But nothing that's expected to knock him out of action.
Anyway, he wasn't of a mind to discuss his headaches after his scoreless inning Sunday. "Why are we talking about this?'' Rivera said. "I pitched good today. I feel good.''
He may be in the minority at this point.
Phil Hughes (back) is hoping to avoid a stay on the disabled list, where he would join many of his well-paid brethren. Someone with the team suggested he believed Teixeira would be out until the All-Star break (although the hope remains it'll still be eight to 10 weeks from the occurrence of the injury, which would put him into May). And Alex Rodriguez is even iffier than Teixeira.
At one point on Sunday, Cashman made the comment, "We all have what we have.'' Which presumably is a variation on the famous New York line, "It is what it is.''
Even Jeter isn't making his usual upbeat proclamations come true. "The captain is sore,'' is the way the GM put it.
That reality could finally be read in Jeter's eyes is a new development.
At the moment, reality appears to be crashing down on the whole team.
The O's need rotation help, and Cobb is available for hire

The Red Sox and Cardinals are expected to make trade offers next

The free agent first baseman may be a fit in St. Louis
The front office changes in Atlanta continue

The Marlins are more likely than you think on our list

Judge finished a distant second in the balloting and he paid respect to the winner