Yankees, Cano far apart, increasing odds All-Star tests free agency
When Jay-Z became Robinson Cano's agent, many thought it was a slam dunk the All-Star 2B would stay with the Yankees. Jon Heyman has three words: Not so fast.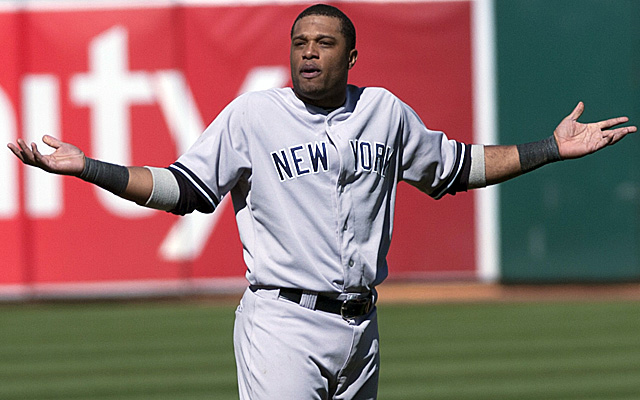 NEW YORK -- For those who figured that once Yankee-loving New York icon Jay-Z became one of Robinson Cano's agents the contract negotiations with the Yankees were going to go swimmingly, smoothly, and most of all quickly. Well, well, think again.
There's been some suggestion that Cano's people and the Yankees might pick up official contract talks sometime after the All-Star break, but it's clear they are nowhere near a deal at this point.
They may well talk, but it remains uncertain whether they have anything to talk about -- making free agency a very likely outcome for the Yankees' star second baseman at this point.
That doesn't mean he won't end up with the Yankees -- word from other players is that the Yankees remain by far and away Cano's preference, no surprise -- it just means there's a very good chance he won't have a new deal with anyone until at least November or perhaps later.
There's always that outside chance that either -- or both -- could bend, and a quick deal could be made. That would take quite a change in thinking, though.
While Cano isn't speaking abut contract talks publicly, he is said to have suggested to some friends that he'd like somewhere in the neighborhood of $275 million -- yes, the very same as the famed Alex Rodriguez Yankees contract. The Yankees aren't believed to be anywhere near that neighborhood and, in fact, at one point suggested something a lot closer to the neighborhood of a different New York infielder, David Wright, who signed his $138 million, eight-year Mets contract last winter with a year to go before free agency.
While neither Yankees honchos nor Cano's people are talking -- Cano has made clear he wants to see no negotiation updates made public -- it's pretty apparent that no deal is in sight.
Based on recent baseball history, Cano's likely foray into free agency shouldn't be a major surprise. Very few players of Cano's caliber sign a long-term deal with a year remaining before free agency -- Wright being an obvious exception. Waiting is generally how the biggest deals come about.
Baseball people who have been following these talks have started to suggest Cano and his new representatives may well take a page out of the A-Rod playbook and try the free-agent route first, perhaps partly as a way to demonstrate Cano's value. Rodriguez went to free agency before getting his record $275 million, 10-year contract, which also included $30 million in landmark bonuses, most of which he might never reach because of injuries and age.
Yankees general manager Brian Cashman declined comment, as did Brodie Van Wagenen, the co-head of CAA baseball and a Jay-Z/Roc Nation partner, who will lead the negotiations for Cano.
The threat of Cano leaving the Yankees seemed to have been dulled a bit when he signed on with the Yankees-hat-wearing entrepreneur/singer, and there's some belief that he might feel he now needs to show that he is really willing to consider leaving New York before getting what he believes is his true market value. Six years ago, A-Rod went to the extent to opting out of an existing $252 million contract -- even returning several million dollars to his original signing team, the Rangers -- so he could hit the open market. And A-Rod never wanted to leave.
While A-Rod and Cano are two different people, there's no suggestion the Yankees want to repeat that deal, and there's no real indication they are of a mind to go anywhere near it -- at least not at this point. It may be questionable whether they'd even hit the magic $200 million mark. It isn't known whether Cano has named his price, but there's no suggestion he'd sign for well below $200 million.
People who have some familiarity with the Yankees' position suggest that, if anything, it seems to have hardened in recent weeks. Whether that's because they see hiring Jay-Z as the ultimate sign that Cano wants to remain in the New York party scene or the Yankees aren't as impressed with his decent but less-than-overwhelming start is unknown. Cano is hitting .275 with 16 home runs and 43 RBI, though he's had to carry the burden of needing to produce extra with Rodriguez, Derek Jeter, Mark Teixeira and Curtis Granderson out.
The Yankees will likely try to make the case, kindly, that while Cano is terrific and one of the best 10 or so players in the game, that he doesn't quite stack up to A-Rod or Jeter (who 12 years ago signed a $189 million, 10-year Yankees deal) in terms of overall career accomplishments. Cano can counter by correctly pointing out that he is the one Yankees position player in his prime and perhaps a necessity going forward if the storied franchise wants to maintain its decade and a half run of excellence.
Both sides have their points. But there's a very good chance now that they won't all be heard until this winter.
From the rebuilding Marlins to the aggressive Angels, here's how the most active teams made...

Plenty of other teams are involved, of course

Where might the Orioles third baseman land?
Kinsler will slot in at second base for the Angels

The Marlins got a better return for Ozuna than Stanton or Gordon

The two teams are going about things in very different ways