Yankees 'can't replace' A-Rod, want him back and not suspended
Think the Yankees would love to see A-Rod suspended so they don't have to pay him? His GM says no.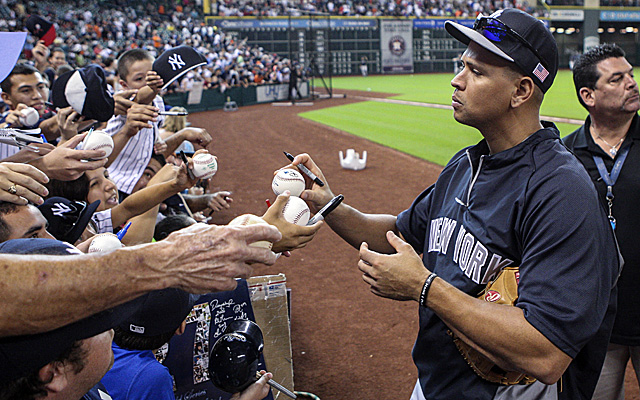 To the theory some have bandied about that the Yankees would like to be rid of Alex Rodriguez and the remaing four years and $86 million left on his contract, general manager Brian Cashman says otherwise. 
Speaking on ESPN Radio's "The Ian O'Connor Show" Sunday, Cashman maintained the Yankees want Rodriguez back on the field even if his restored salary would complicate the team's attempt to reduce payroll under the luxury tax threshold of $189 million.

"If it comes down to, would we want the player we signed to be playing that position without any problems? Absolutely, no question about that," Cashman said. "I think if people think there's some sort of benefit by losing that talent, I mean, you can't replace it. It's not like, all right, well, Alex is gone. If he winds up getting suspended and it's upheld, how do you replace that? It's not easy.

"It's not like, all right, we'll take that money and go in this direction. I think ... our fan base saw when we lost significant players at various positions, it was not easy to plug holes because the talent just doesn't exist."
From a pure baseball standpoint, Cashman's plenty correct. A-Rod hit .244/.348/.423 with seven homers and 19 RBI in 44 games last season. Overall -- and this includes A-Rod's line -- Yankees third baseman hit .231/.293/.430 with 12 homers and 52 RBI for the entire season. So they got worse production without the polarizing A-Rod.
Not only that, but the outside options are rather limited. Juan Uribe, Jhonny Peralta and Michael Young are the three best options at third in the free agency market and the Yankees don't have the chips to land a marquee hot corner guy via trade.
Rodriguez is currently in the middle of appealing a 211-game suspension due to his ties to the Biogenesis scandal.
L.A. manager Dave Roberts indicated that Puig's benching was related to more than one inci...

Manager Torey Lovullo said so on Monday
Let's see how SportsLine forecasts the race for MLB's 10 playoff spots

Monday kicks off the final week of MLB action. Let's take a look at everything that went d...

No other rookie in baseball history has hit more home runs than Judge has this year