Yankees designate Aardsma for assignment in favor of Shawn Kelley
The Yankees designated right-hander David Aardsma for assignment, opting to carry righty Shawn Kelley in their opening-day bullpen.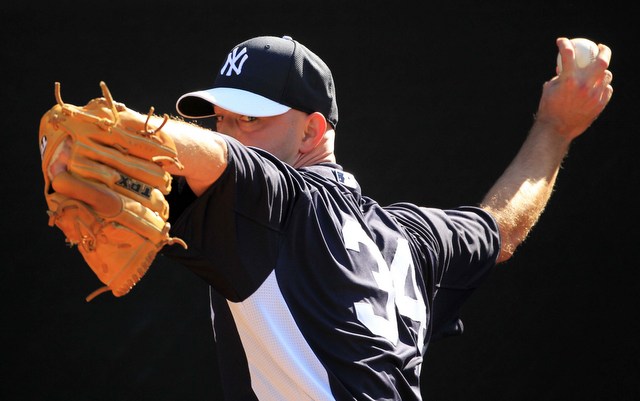 The Yankees have designated right-handed reliever David Aardsma for assignment, manager Joe Girardi announced on Friday. They were concerned that the former Mariners closer was unable to provide length out of the bullpen.
Aardsma, 31, missed basically the entire 2011 and 2012 seasons due to hip and Tommy John surgeries. The Yankees signed him to a one-year deal worth $500,000 before last season, knowing he would miss the year, though the contract included a $500,000 club option for 2013. That option was exercised over the winter. Given his salary, he's a virtual lock to be claimed off waivers.
Before blowing out his hip and elbow, Aardmsa pitched to a 143 ERA+ with 9.6 K/9 and 69 saves in 78 chances with Seattle 2009-10. He allowed three runs in 7 2/3 innings this spring while dealing with a minor groin problem.
In Aardsma's place, Girardi said the Yankees will take right-hander Shawn Kelley. They acquired the 28-year-old from the Mariners in the offseason, and he has pitched to a 114 ERA+ with 8.6 K/9 in 128 career big-league innings. He missed part of 2010 and 2011 due to Tommy John surgery.
Since Clay Rapada and Phil Hughes will open the season on the DL, the Yankees still have two open bullpen spots behind Mariano Rivera, David Robertson, Joba Chamberlain, Boone Logan and Kelley. Cody Eppley, who posted a 126 ERA+ in 46 innings last year, seems like a safe bet for one spot. Other bullpen candidates include righties Adam Warren and Sam Demel.
The Astros scored seven runs in Game 6 after scoring nine runs total in Games 1-5

The Astros are still alive, and Justin Verlander is the reason why

With a six-run lead in the ninth, the Astros used closer Ken Giles for 23 pitches
On Saturday night in Houston, it'll be CC Sabathia against Morton

The ALCS will go the distance after all with the Astros offense coming back to life in Game...

Verlander's stuff was insane during Game 6 of the ALCS