Yankees' elimination not a surprise, could be sign of what's to come
The playoffs begin next week, and the Yankees are out. That shouldn't be surprising, except that we've been so used to seeing them in.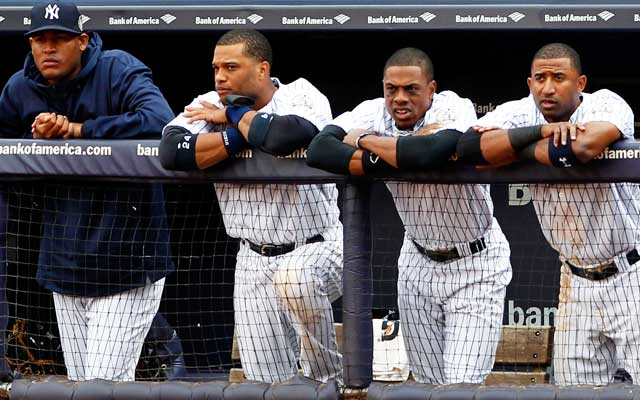 NEW YORK -- The fact is they weren't good enough.
It's no shock to see the Yankees eliminated from the playoff race, because there was really no reason they should have been in it to begin with. We had six of us at CBSSports.com offering predictions when the season began, and while all of us got plenty wrong (feel free to laugh), not one of us had the Yankees as a playoff team.
And the fact is, it's a whole lot more likely to get worse here before it gets better again.
This isn't 2008, the only other time since the 1994 strike the Yankees missed the playoffs, when they responded by signing CC Sabathia, A.J. Burnett and Mark Teixeira. The free-agent market doesn't offer answers like that this winter.
Even if it did, there's no certainty the Yankees would spend like that. And even if they did, there's nothing like the returning core that 2008 team had.
That was a blip. This could well be the sign of what's to come.
It's not a surprise. It can, to them, still feel like something of a shock.
"I'm sad because we're not going where we're supposed to go," said Mariano Rivera, the only Yankee veteran willing to speak out on elimination night.
The meaningful part of their season ended just before their game did Wednesday night, when the Indians finished off a 7-2 victory against the White Sox that left them 5 1/2 games ahead of the Yankees with four games to play. Soon after the Yankees went down meekly in the ninth inning, losing 8-3 to a Rays team that is now a much bigger force in the American League East than the Yankees are.
This is worse than 2008 in another way. The 2008 Yankees won 89 games. If baseball had two wild-card teams back then, the Yankees would have been one of them.
The 2013 team, as of now, is tied with the Orioles for the eighth-best record in the 15-team American League.
So Thursday night, for the first and only time in his career, Rivera will put on his home pinstripes for a game that will have no impact on the playoff race. When someone suggested that he might want to pitch in what will be his final game at Yankee Stadium, Rivera sounded completely unenthused.
"I'd like to thank the fans," he said. "But I'm not used to pitching for something that doesn't mean anything."
He has had a remarkable career. The Yankees have had an equally remarkable run.
And there's a real good chance that both have come to an end.
L.A. manager Dave Roberts indicated that Puig's benching was related to more than one inci...

Manager Torey Lovullo said so on Monday
Let's see how SportsLine forecasts the race for MLB's 10 playoff spots

Monday kicks off the final week of MLB action. Let's take a look at everything that went d...

No other rookie in baseball history has hit more home runs than Judge has this year