Yankees execs reportedly 'fuming' at A-Rod for arriving early
It's painfully obvious that Alex Rodriguez can do nothing right in the eyes of at least one or more Yankees executives, who continuously drop(s) anonymous statements chiding him for every offense, real and imagined, large and small.
What did A-Rod do now that already has someone in the New York Yankees front office upset at him as spring training opens?
He showed up early, that's what.
That's it?
Well, that's all it takes for Alex Rodriguez to tick off those with the Yankees who really don't like him, those who plant anonymous quotes aimed at making A-Rod look even worse than his reputation — which is pretty bad.
The New York Daily News, usually the place to find the most vitriolic A-Rod disgust, reported Rodriguez's most recent offense:
A-Rod's early arrival was a bit of a surprise, as many had pegged him for a Wednesday appearance when position players are slated to report to Steinbrenner Field.

Roughly 20 reporters and a handful of cameras were on hand at the minor-league complex to greet A-Rod, a fraction of what had been expected for his arrival.

But while the early start may have lessened the media boom, it also caught the Yankees by surprise, leaving Brian Cashman and the team's media relations staff scrambling for answers when asked about Rodriguez's rumored arrival.

The Yankees had no issues with A-Rod arriving on Monday, but team officials were fuming that he hadn't alerted them to his plans.

"He's learned nothing," said one baseball executive. "He's the same old guy. He just did what he wanted to do."

According to a source, Rodriguez was planning to work out at the complex, something he's done multiple times in the past without alerting the club. Once the Yankees requested he first take his physical, he complied immediately.

"All our players are required to take physicals before they start working," Joe Girardi said.
The nerve! Yankees position players are not required to report to camp until Wednesday, but Rodriguez came to Steinbrenner Field in Tampa on Monday morning. It was something of a media spectacle, but it also was relatively minor, in part, because A-Rod did not give anyone a head's up. The Daily News noted this, too.
Of course, it's not against the rules to arrive early at spring training. In fact, it's often appreciated by the team because it shows, on a rudimentary level, that the player is ready to go to work before it is required. Coming off the longest drug-related suspension in major league history, not to mention the second of two hip surgeries and the three least-productive seasons of his career, any team should be pleased to see that player arrive early to work.
But the Yankees aren't just any team, and they have some pious executives who have taken personally A-Rod's fall from grace. They're not happy being on the hook for $61 million more, plus milestone bonuses, over the next three years for A-Rod. And, of course, they're unhappy about what's happened since Rodriguez got caught in the Biogenesis sting.
A-Rod even says that he understands why he's made enemies.
"I created a big headache for a lot of people, so I don't blame whoever is mad at me. I understand."
That's not to excuse his past behavior, or even to make Rodriguez look like a sympathetic character. (He is, in a sad way, but even if you don't feel pity for him, it's just comical that A-Rod can't even do the right thing when he does the right thing. It's one thing for fans, or eve media, to moan about Rodriguez. But this nonsense from the front office makes A-Rod look mature by comparison, and it serves only to make a bigger controversy, which the Yankees don't need.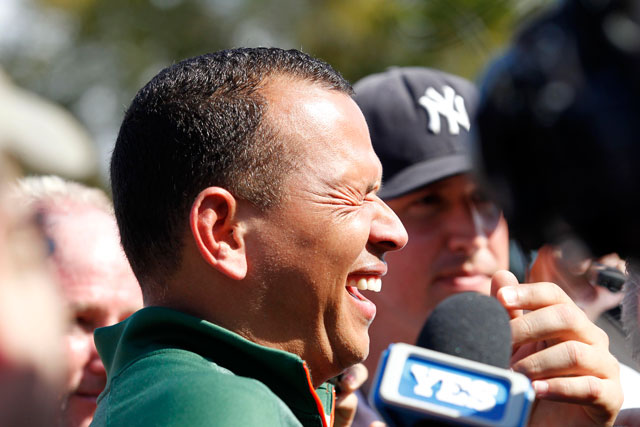 The free-agent market has been slow and one player is bracing for an even longer wait

The Mets didn't want to trade a young outfielder for an older one

Josh Harrison doesn't sound pleased Gerrit Cole and Andrew McCutchen have been traded away
The team's media contracts expire following the 2019 season

San Francisco could use more help in the outfield and at the back of the rotation

The White Sox, Athletics, Orioles and Marlins are the holdouts after the Blue Jays and Angels...