Yankees find stability with Torre, Girardi after decades of turmoil
After decades of managerial turmoil under George Steinbrenner, the Yankees have found stability these last 18 years.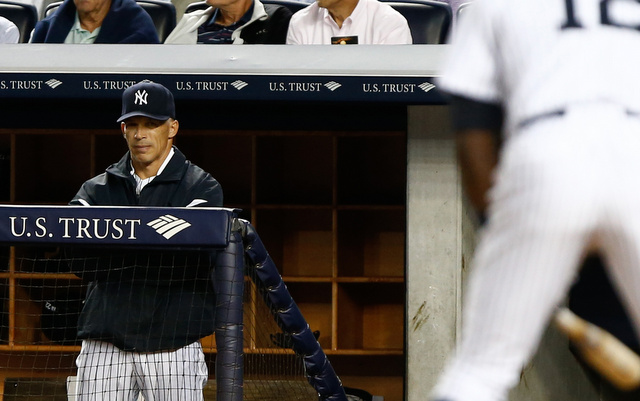 More: Knobler: Yankes are right for Girardi and he's right for them
During his heyday, late Yankees owner George Steinbrenner was known for hiring and firing personnel on a whim. That included managers and coaches. Perhaps the most well known example is Billy Martin, who was hired (and fired) as manager five times from 1975-88. Five times!
That has not been the case for almost two decades now, however. The Yankees re-signed manager Joe Girardi to a four-year contract on Wednesday afternoon, ensuring he will remain with the team through 2017. That will extend his tenure with the club to a full 10 years, a long time for any manager but especially a Yankees manager.
Girardi's predecessor Joe Torre held the job from 1996-2007, a total of 12 seasons. That means the club will have had just two different managers during a 22-year span, the kind of stability that is unheard of these days. Keep in mind that in the previous 22 years, from 1973-95, the Yankees had 12 different managers for a total of 21 stints. Heck, the team had three managers in the 1978 and 1982 seasons alone.
"I think stability is important," said Girardi on a conference call after his new deal was announced. He was referring to his family and deciding between returning to New York or listening to a potential offer from his hometown Cubs, but he might as well have been talking about the team's current situation. The Yankees need stability as much as anything right now.
The team's ties to the late 1990s dynasty years are dwindling with Mariano Rivera and Andy Pettitte now retired. Derek Jeter will walk away from the game relatively soon as well. The Yankees are transitioning from the dynasty years to ... whatever's coming next. Girardi was at the helm when the process started -- he was tasked with phasing out Jorge Posada, first from the catcher position and then out of the lineup, for example -- and this year he showed he was the guy to see it through with the way he kept the team in contention despite all the injuries as well as his handling of the Alex Rodriguez fiasco. That could have been a much bigger distraction.
The Yankees under George Steinbrenner were flat-out chaotic at times, evidenced by all the managerial changes. They were pretty much anything but stable. Sometimes that kind of unpredictability can be a good thing -- it does keep people on their toes, I suppose -- but that isn't the case for the Bronx Bombers right now. They've reached a delicate point in the franchise's history and what they need more than anything is one person who can oversee all of it. Girardi has been that guy and his new contract ensures he will remain that guy.
The former Tigers teammates were voted into Cooperstown by the 16-person Modern Era Commit...

The Yankees still have room for a good-sized signing even after Saturday's trade with Miam...

St. Louis gets some much needed help for their bullpen
Keep tabs on the top 50 free agents right here

Morrow thrived with the Dodgers last season

Boston needs a power bat, among other things