Yankees have faith they can keep Mo, Kuroda and Pettitte
New York isn't quite as confident when it comes to Rafael Soriano, who like Kuroda just rejected the $13.3-million qualifying offer.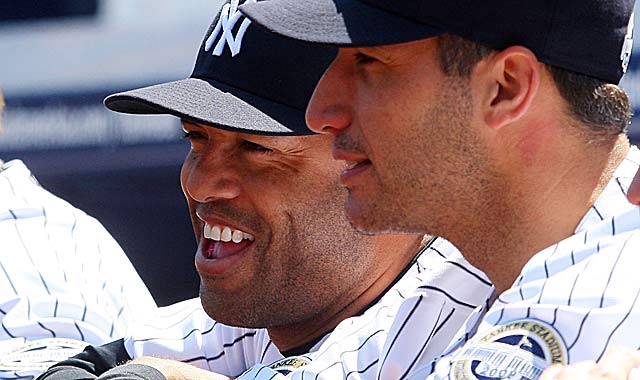 Mariano Rivera has already said he wants to return, but Andy Pettitte has yet to reveal his plans.
(Getty Images)
The Yankees have faith they can make deals with pitchers Mariano Rivera, Hiroki Kuroda and Andy Pettitte -- surely more faith than they can do a deal with Rafael Soriano at the moment.
The Yankees expect to try to work something out with Rivera in the coming week, especially now that Soriano has rejected the $13.3-million qualifying offer. The club's hope is to get Rivera done at a bit of a pay cut from his $15-million 2012 salary, as he is 43 and coming back from a knee injury.
The Yankees seem to have a fair amount of hope, too, that Kuroda will stay with them on a one-year deal, especially if he desides to stay in the states. The team sees Japan as its major competition, not the Red Sox or even nouveau riche Dodgers, who are among the interested teams in the majors. The Yankees would enhance the $13.3-million offer Kuroda rejected a bit if it meant keeping Kuroda, who is said to have enjoyed his year with the Yankees and is very willing to do a one-year deal.
Word is, Kuroda has promised to finish his terrific career with a final year back in Japan, but the Yankees believe and hope the chances are that he delays that plan a year to give them another fine season in the Bronx.
Pettitte hasn't "officially'' told the Yankees he's returning, but they seem to believe he will. He'll get a raise from the $2.5 million he took to come out of retirement last year should he pitch, as they expect.
As for Soriano, the Yankees are amenable to talking about a two-year deal with the man who stepped in for Rivera and did a terrific job in 2012. However, they don't seem to feel the need to present one at the moment, not after Soriano opted out, then joined the other seven star players who turned down qualifying offers.
The Yankees made that same qualifying offer to Nick Swisher, whom they had no intention to re-sign, and will bank another draft choice for doing so since he has at least five or six teams interested in signing him to multiyear deals.
The Yankees will need to fill right field but don't seem inclined to go to two years on Torii Hunter, who is drawing immense interest and will surely get a multiyear deal elsewhere if he so desires. The Rangers, Tigers, Red Sox and Phillies are among the logical teams for Hunter.
Colon wants to break a Dennis Martinez record

The Twins have been rumored to be interested in Darvish all winter

Rolen is one of the best third basemen of all time, but you wouldn't know it based on this...
Neither Josh Donaldson nor Brian Dozier have talked about a new contract extension

Francisco leads the Dominican Winter League with seven home runs

Thome deserves enshrinement and here's why the case against him does not hold up