Yankees hope for speedy recovery for A-Rod -- or not
Alex Rodriguez may return 'after the All-Star break.' But if he doesn't make it back to the ball field, the Yankees stand to recover $70 million-plus. And that wouldn't be so disappointing at all.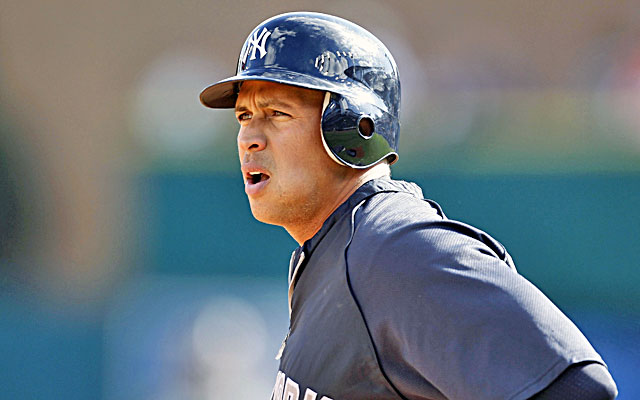 So Brian Cashman thinks Alex Rodriguez's tenure since signing his new $275 million deal hasn't exactly worked out perfectly?
And Hal Steinbrenner says the Yankees have been "disappointed" at times with the player who since signing his record contract admitted to failing a 2003 drug test, is now under suspicion by MLB of dealing with a Miami PED clinic and has engaged in many more embarrassing though far less serious episodes.
And, oh by the way, the other alleged news is they think A-Rod won't play up to to the rest of his contract, which has about $105 million to go.
That certainly is a fine example of making big headlines out of some of the most obvious statements in baseball history.
I understand, it's A-Rod. So anything related to him is interesting. But please, saying he's been "disappointing" at times soft-sells it.
Let's face it, in recent years he's been a disaster at times, disturbing at other times and disappointing most of the time.
The stories today quote Steinbrenner as saying they'd love Rodriguez to return and produce big, to live up that contract. I can't blame Steinbrenner for saying that publicly. That has to be his stance, at least for the masses.
But the reality is, A-Rod has about as much chance to earn the rest of the $105 million or so remaining as he does of joining the priesthood.
A much more likely satisfactory resolution for the Yankees would be Rodriguez retiring, and the sooner the better. The Yankees may not get a gold star for the contract (though he did play a crucial role in the 2009 World Series championship), but they get all the credit for taking out one fantastic insurance policy.
According to sources, the Yankees' policy goes pretty much like this. If A-Rod retires, the club recover can recover about 80 percent of the remaining money. So with about $105 million to go, the Yankees stand to gain about $84 million if he retires today.
There's a four-month deductible each season attached to the policy, so a clean retirement works best for the Yankees.
Of course the Yankees aren't going to say they are rooting for retirement. But understand where things stand.
A-Rod is an about-to-be 38-year-old who looked like he couldn't play at the end of last season who's trying to recover from a second hip reconstruction with an MLB drug investigation hanging over his head who's going to have to do this comeback thing clean (presumably).
Good luck with that.
Another possibility for Rodriguez is that he gives it a shot this year, quickly decides he can't do it anymore and retires. In that circumstance, things work out nicely for the Yankees.
A-Rod and Derek Jeter are both being targeted to return "after the All-Star break," a rather amorphous term that suggests no end date. But Yankees people understandably talk much more hopefully and optimistically about Jeter's return than A-Rod's.
They can hardly wait for Jeter's return. For A-Rod, they can wait.
Rodriguez is down in Tampa, where he is away from the team, hitting off a tee and fielding from a stationary position, which means they hit grounders right to him so he doesn't have to move. In other words, he's not doing much that would lead one to think he's anywhere close to the big leagues.
Meanwhile, Yankees people are saying publicly they are hoping for a speedy recovery. But we also don't see that when they say these things, behind their backs they have their fingers crossed.
Kenny White has won 8 of his last 10 MLB Over-Under picks and has a strong play for Game 1

OOTP's team ran some simulations for us on the 2017 World Series

Reddick spent half the 2016 season in L.A. and did not enjoy it
Martinez has spent most of the past decade as Joe Maddon's bench coach, but should be ready...

The Dodgers have acquired more players through trades than by any other means

Surprisingly few current Astros were originally drafted by the team