Yankees' infield range 'the worst' but team still not going for Drew
The Yankees say they are 'tapped out.' So they are living with an entirely over-30 infield.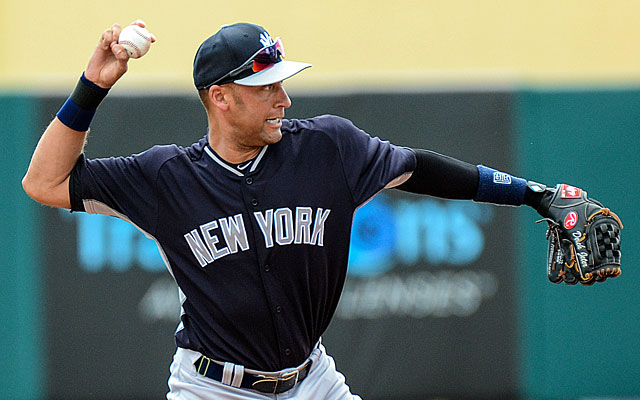 More MLB: Spring training coverage | 2014 team previews
TAMPA, Fla. -- According to one big-league scout in spring training, the Yankees have to have the least range on the infield of any major-league team. While he's only in Florida, he seems pretty certain.
"It's got to be the worst in baseball," the scout said.
And yet, the Yankees once again said they couldn't make an offer to top free-agent shortstop Stephen Drew. The Yankees and Drew's agent, Scott Boras, are said to have talked in the past couple days, but the main message for now apparently is that the Yankees are "tapped out," meaning out of money.
The Yankees doled out $458 million to free-agent stars Masahiro Tanaka, Jacoby Ellsbury, Brian McCann and Carlos Beltran, bolstering their offense and adding a pitching stud. They have had a very nice spring training overall, but the scout suggested their infield defense will be a major issue. "They have six holes," he said, referring to the spaces between the four defenders.
A Yankees person called the infield "vulnerable" but suggested he thought it would be OK, before offering great praise for the minor leaguers who've manned the infield spots in spring games. The Yankees official said he believed second baseman Brian Roberts in particualar has looked very good at bat -- though the scout wasn't so sure even about that. "He looks to me like he's swinging a weighted bat at times," the scout said. Spring stats don't mean much for veterans, and New York's infield is made up of mostly big-name veterans.
Iconic shortstop Derek Jeter is 39 and returning from a severe ankle injury, Roberts is 36, first baseman Mark Teixeira is 33 and Kelly Johnson is 32. The scout said there are issues with all four, including Teixera. "He has great hands but no lateral movement," the scout said.
The Yankees already busted through their goal to stay below the $189 million luxury-tax threshhold, and there was speculation they would keep going since there's no longer a hope to reset their rate at a much lower 17 percent. But so far they are saying they will stick with their infield as constituted.
The Cubs are facing a right-handed starter for the first time in the NLCS

The Red Sox should probably just lay low on Twitter for a while

The Yankees have lacked production out of the DH spot so far in the postseason
Frazier has come up with big hits, but his greatest impact may have come in the clubhouse

The Dodgers are trying to claim a commanding 3-0 lead on the road

The Astros are trying to rebound from a Game 3 drubbing in their first game in the Bronx