Yankees lean toward qualifying offer for Granderson, but why wait?
It appears the Yankees have been debating whether to give Curtis Granderson the $14.1 million qualifying offer, a bid that would seem to be a no-brainer.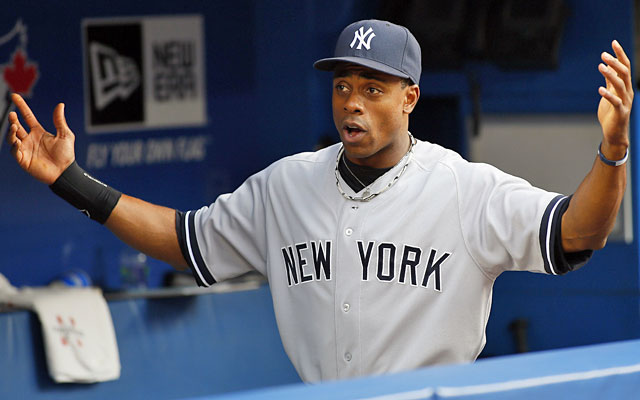 The Yankees have been leaning for days toward making the $14.1 million qualifying offer to Curtis Granderson, and most figure they will do so in the end, but even their hesitance is interesting in this case.
The deadline to make the qualifying offer is 5 p.m. ET on Monday. Sources told CBSSports.com a few days ago the Yankees would make one to Hiroki Kuroda as well as Robinson Cano.
Granderson would seem to be an obvious yes, as well.
This is a player, after all, who led baseball in home runs and runs over a two-year period, 2011-12. So it's hard to imagine him not being worth the one-year qualifying offer, and much more. It may just be a case of the Yankees being thorough, but the impression is left that they aren't eager for him to accept it.
The Yankees discussed their interest in star free-agent outfielders Carlos Beltran, Shin-Soo Choo and Jacoby Ellsbury at their recent organizational meetings, and perhaps they fear clogging up their outfield and payroll. There is also a concern within the organization about Granderson's high strikeout totals.
But realistically, there's still little reason to think Granderson would accept the qualifying offer; and presuming he doesn't, the Yankees would win a coveted first-round draft choice if he were to sign elsewhere. They could also trade him if he does accept the qualifying offer.
The Yankees may still have a little fear Granderson might accept based on a quote attributed to his agent Matt Brown, who was quoted in the New York Daily News about Granderson perhaps accepting the qualifying offer: "There's definitely a possibility of that happening."
However, Brown said in a subsequent phone conversation that that quote may be creating a bit of a misperception. Brown said he only meant to say that, of course, "there's always a chance," and that saying he would reject it without even thinking about it may not be quite so "respectful" of the club.
Most likely, it actually would be beneficial to Granderson if the Yankees decided not to make him the qualfiying offer because then he wouldn't have a draft chice attached to his signing. As Brown pointed out, his 84 home runs between 2011-12 led the majors, as did his 238 runs scored. Plus, the two hand injuries he suffered in 2013 were "freak" occurrences, not anything that should affect him going forward.
The conventional wisdom seems to be that Granderson might be able to at least match Nick Swisher's $56 million, four-year contract as a free agent. The Yankees received a draft choice when they lost Swisher, as they did when Rafael Soriano signed elsewhere. Still, the fear of him accepting has given them pause.
Here are the bullet-points of what went down Tuesday regarding MLB and the Braves' punishm...

The owners need to ratify on the new system in place, but the takeaway here is Ohtani is coming...

A preliminary report National Transportation Safety Board has shined some light on details...
John Coppolella was placed on the permanently ineligible list by MLB on Tuesday

Among other sanctions, Atlanta lost the player who was deemed the No. 1 international signing...

Among other penalties, No. 1 international prospect Kevin Maitan is now a free agent