Yankees lose a game and their cool, but Orioles just lost their heart and soul
After a crazy Saturday night in Baltimore, the American League East is set up for a fascinating final 3 1/2 weeks. Too bad that Nick Markakis, an Oriole through six years of losing, won't be able to play. Markakis suffered a broken thumb in Saturday's 5-4 Oriole win over the Yankees.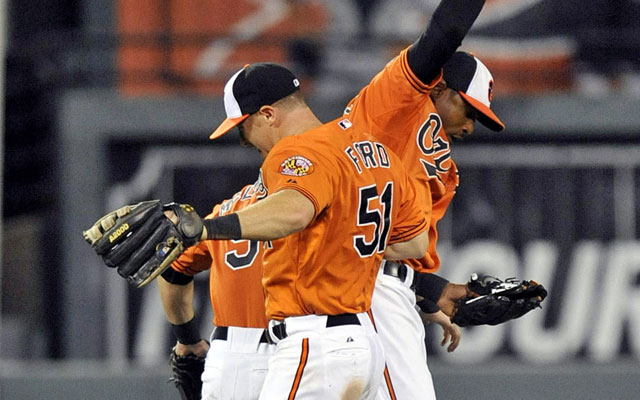 The Orioles celebrate a big win, but the victory comes with a big cost.
(US Presswire)
BALTIMORE -- So much to talk about. So much to think about.

The best thing about Saturday night was that it set up an absolutely fascinating final 3 1/2 weeks in the American League East.

The worst thing was that Nick Markakis won't be part of it.

His Orioles are tied with the Yankees for first place, for the third time in five days, incredibly and improbably tied for first with 23 games to play.

And he's got a broken left thumb, done for the year with the small chance that he could return late in the postseason.

So much happened in Saturday's 5-4 Orioles win, from the start (is CC Sabathia really healthy?) to the finish (did Jerry Meals really call Mark Teixeira out at first base?) and beyond (did Joe Girardi really get into a postgame confrontation with a writer?).


More on Yankees-Orioles
Stories
But the lasting image isn't of a blown call or a questionable elbow or even of a Yankee manager who is handling this slide a lot worse than his team is.

It's of Markakis, his thumb broken by a Sabathia fastball, and of his Orioles manager and teammates tempering their excitement over one of their biggest wins of an already amazing year.

"This is a real tough night for him . . . and for the team," said shortstop J.J. Hardy, who turned the game-saving double play (with the help of Meals' terrible call at first base). "To finally be playing for something in September, and he doesn't get to play.

"Tough. Real tough."

Orioles people will tell you that Markakis is the heart and soul of this team, the team's emotional leader. They'll tell you that the O's took off winning after the All-Star break because manager Buck Showalter made Markakis the leadoff hitter.

They'll tell you that this is about more than just losing a guy with a .298 batting average.

"We're going to learn a lot about this team the next two weeks with Nick out," first baseman Mark Reynolds said.

We already know a lot about them. We know that they win when everything says they shouldn't. We know that they win with players whose numbers and history say they shouldn't.

"We've been a sum-of-the-parts team all year," Showalter likes to say. "We certainly lost a big part, but if I know this club someone will step forward."

The Orioles are a fascinating story, but the Yankees may be on the way to becoming one, too.

There have been whispers all week that Sabathia's may not be healthy, that the elbow that forced him to the disabled list last month is hurt worse than he or the Yankees say. His performance Saturday (five runs allowed on eight hits, three of which left the park) didn't dispel the concern, and neither did Girardi's apparent testiness when asked about it.

According to reporters who were in the Yankee clubhouse, Girardi had to be separated from New York Post columnist Joel Sherman, after Sherman asked about Sabathia.

The Yankees were angry, anyway, because of Meals' game-ending call. Had Meals called Mark Teixeira safe at first, as replays showed he was, the Yankees would have scored the game-tying run.

Teixeira had just returned Saturday, after missing 10 games with a calf injury, and he told reporters that he now doesn't expect to play Sunday.

Markakis won't play Sunday, and probably won't play again until next year. While the Orioles suggested that he could come back late in the postseason (assuming they get that far), they were offering no guarantees.

"They say he's done," pitcher Joe Saunders said. "Let's hope for a miracle."

Markakis himself offered no promises, other than that he would support the team in the clubhouse and from the dugout.

"I'll be here for the guys," he said.

He'll watch, like we'll watch.

It should be fascinating.
Dioner Navarro still hopes to return someday

Christian Yelich's agent says his client's relationship with Marlins is 'irretrievably bro...

The free-agent market has been slow and one player is bracing for an even longer wait
The Mets didn't want to trade a young outfielder for an older one

Josh Harrison doesn't sound pleased Gerrit Cole and Andrew McCutchen have been traded away

The team's media contracts expire following the 2019 season