Yankees lose Game 1, and lose Derek Jeter to broken ankle
The Tigers lead the ALCS, after beating the Yankees 6-4 in Game 1 Saturday night. But things are worse than that for the Yankees, because in the 12th inning, Derek Jeter suffered a broken left ankle.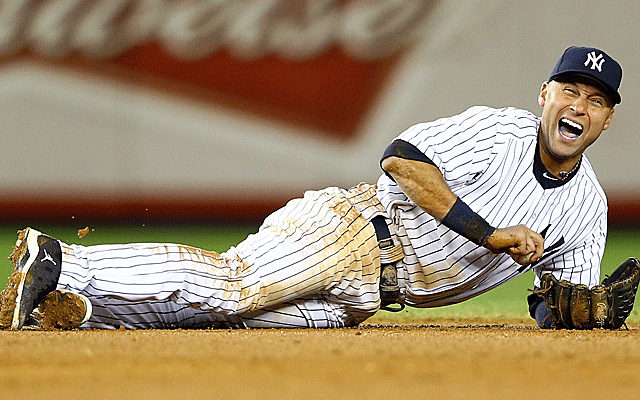 Derek Jeter breaks his left ankle in the 12th inning attempting to field a ground ball.
(US Presswire)
NEW YORK -- It's not about Alex Rodriguez.

Not anymore.

The Yankees lost Game 1 of the ALCS to the Tigers Saturday night, 6-4 in 12 innings. A-Rod wasn't good, A-Rod got booed, A-Rod got pinch-hit for.

By the end of the night, no one cared.

Derek Jeter broke his left ankle, and it's hard to imagine anything worse happening to the Yankees. He went down hard trying to field a Jhonny Peralta ground ball in the 12th inning, and he didn't get up. Jeter was helped off the field after suffering a fractured left ankle. Joe Girardi later announced that Jeter's season is over. On Sunday the Yankees will play a postseason game without their captain for the first time since 1995.
"Jete's going to tell us, 'Let's go,'" manager Joe Girardi said. "I know that's what he's going to tell us. We've only played one game. We [still] have an opportunity to do something great."
Girardi said that Jeter's career is not in jeopardy, but with a three-month recovery time, there was never a chance that he would play again in this postseason.
In fact, knowing how Jeter hates to give in to any injury, Dr. Chris Ahmad, the Yankees team physician, told him, "This is something you can't play through."
The Yankees will likely play Jayson Nix at shortstop. They'll activate Eduardo Nunez to be an extra infielder.


The Tigers lead this ALCS, one game to none. They led almost all the way, with only yet another Raul Ibanez home run in the ninth inning sending the game to extra innings.

That home run turned out to be more of a disaster for the Yankees than for the Tigers, because without it, there's no 12th inning, and that's when Jeter was hurt.

Jeter was hurt just after Delmon Young had doubled off David Phelps to give the Tigers the lead back. Young smoked a line drive to right field, and Nick Swisher chased it awkwardly.

Now the Tigers are ahead in the series. More bad news for the Yankees: Hiroki Kuroda, who starts Sunday, will be pitching on short rest for the first time in his life.

Even more bad news: Justin Verlander starts for the Tigers in Game 3 on Tuesday in Detroit.

Oh, and the Yankees, besides Ibanez, still aren't hitting. Robinson Cano is hitless in his last 22 at-bats.

A-Rod is a mess, too. But with Derek Jeter hurt, does anyone care about Alex anymore?


The Yankees have not yet provided an update on the fan's condition

Plus the Red Sox can lock down a postseason spot and all you need to know from the world of...

Neshek called Greinke an 'ahole' and a 'turd' on a message board
Ausmus' job security has been in question for years now

Sano has been out with a stress reaction in his left shin since Aug. 19

Damon Miller Jr. tweeted himself into a corner last week, and he came through with the nug...