Yankees make Girardi an offer, and the sides agree to meet again
There is a lot of speculation about Joe Girardi going around, but the most likely scenario remains the Yankees re-signing him.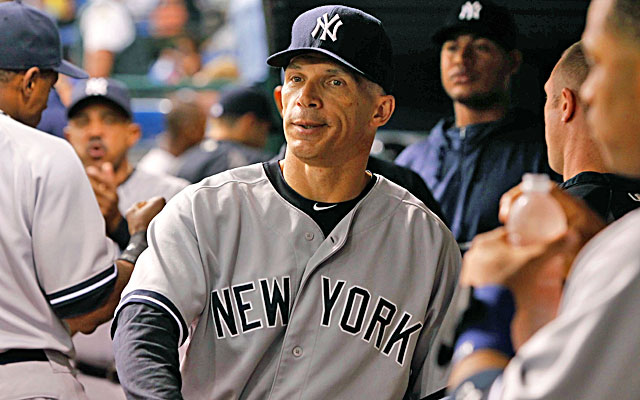 ATLANTA -- The Yankees met with Joe Girardi's representative today, as expected, and word is the team made Girardi an offer to return with a raise to the storied franchise.
Girardi's agent Steve Mandell also gave the Yankees some parameters for his return, and the sides agreed to meet again Thursday. There had been some speculation Girardi might even take a year off to maybe do TV work, but his willingness to discuss even estimations of an asking price may suggest he plans to be back managing somewhere. The raise from his current reported $3-million salary is believed to be substantial, no surprise considering Girardi's performance and the managerial landscape.
While contract negotiations are never a sure thing, all things seem positive so far. Most folks around the game suggest they'd be surprised if Girardi left the Yankees (though that doesn't come close to guaranteeing it, of course). Girardi will have plenty of outside interest, likely from the Cubs and possibly others. The Nationals are another big-market team that has a managerial opening.
One team that has been speculated on for Girardi, the Dodgers, seems like a long shot, at least. People close to the Dodgers are suggesting the club option that has yet to be picked up is a "non-issue" and that the Dodgers will meet after the postseason with Mattingly, suggesting they would likely bring him back. Mattingly, for his part, said he is unworried about his own situation and focused on the team's task as they start their playoff series here in Atlanta.
Girardi's situation is the one meriting real news. His current three-year contract, which is believed to pay him $3 million per year, is up at the end of this month. So he would need permission to talk to the Cubs or any other team until then.
He has ties to the Cubs, the team that drafted him out of Peoria, Ill., and Northwestern and employed him his first few years in the big leagues. Late longtime Chicago Tribune and Sun-Times baseball columnist Jerome Holtzman used to call Girardi "Northwestern Joe," and Mandell is based out of Chicago, but Girardi donwplayed his ties to the area when asked about the Cubs recently, mentioning that both of his parents are now gone.
Girardi plays things close to the vest but people around baseball say the great likelihood is that he returns to the Yankees for a variety of reasons. Among them ...
• Girardi called the Yankees job his "dream job" upon taking it before the 2008 season. He might have had a chance to go to the Dodgers at that time, but he jumped at the Yankees' job. He has now won four rings as a Yankee, three as player and one as manager, in 2009.
• Girardi relishes working for baseball's most historic franchise (would he wear No. 28 if he didn't?).
• Girardi is not only very close to general manager Brian Cashman but also managing partner Hal Steinbrenner.
• Girardi and his family have settled in the northern New York City suburbs of Westchester County and are thought to be happy there.
• The Yankees for more than a decade have paid their manager near the top of the scale, though Mike Scioscia and Dusty Baker are two who make more presently, at $5 million and $3.5 million, respectively. With their payroll expected to go down for 2014, the Yankees also might have a hard time claiming budgetary issues (manager salaries do not count against the luxury-tax thresshold).
That doesn't mean there's no chance Girardi leaves, and if Thursday's meeting doesn't go as well, the chances for him to stay could obviously lessen. But all sides seem positive for a return so far. 
The Reds still have one of the best hitters in the game in Joey Votto and a rising star in...

Maxwell joins a growing movement across sports

The Yankees punched their ticket to the playoffs with a win over the Blue Jays on Saturday
Sabathia's stance seems to be an increasingly popular one among athletes

Plus the A's and Brewers have hope, Giancarlo goes deep again, and much more

Matt Chapman and Matt Olson give the A's hope